Disclosure: 5 Reasons To Watch Netflix's Documentary About Hollywood's Impact On The Trans Community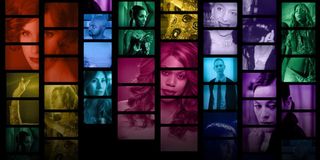 Following its world premiere at the Sundance Film Festival in January, Netflix recently released the new documentary Disclosure: Trans Lives on Screen to a global audience. Directed by Sam Feder, this in-depth look at the media's long, typically troubled history with trans representation in Hollywood and abroad.
The film features interviews from Laverne Cox, Lilly Wachowski, Brian Michael Smith, Sandra Cladwell, Jazzmun, Chaz Bono, Candis Cayne, and several more famous trans/non-binary celebrities. Disclosure is an informative, engaging, and often critical look and exploration at how our media has portrayed transgender individuals for decades, typically providing flawed, clumsy, problematic, or outright dangerous representations since the dawn of cinema. It's a thoughtful and immersive piece of film study, providing both personal and academic examinations of several prominent films and shows throughout our not-too-distant past. It's well-worth watching. Here are just five reasons why.
Great Interviews With Laverne Cox, Lilly Wachowski, Brian Michael Smith, And More
As mentioned above, Disclosure is given great perspective and reflection through its impressive roster of interview subjects, all of whom are trans, queer and/or non-binary. Laverne Cox, who also serves as an executive producer, is one of the most prominent celebrities seen throughout this film, though we also see and hear from Lilly Wachowski, Brian Michael Smith, Susan Stryker, Alexandra Billings, Jamie Clayton, Chaz Bono, Alexandra Grey, Yance Ford, Trace Lysette, Jazzmun, Mj Rodriguez, Angelica Ross, Jen Richards, Elliot Fletcher, Sandra Caldwell, Candis Cayne, Zackary Drucker, Ser Anzoategui, Zeke Smith, and Leo Sheng.
All these artists bring meaningful and emotional commentary to the film, exploring their own relationships with the media discussed and their own often-conflicted feelings towards several prominent pieces of media seen throughout the years. Everyone brings compelling and investing information and experience into the documentary.
A Vital And Informative Look At Trans/Queer/Non-Binary Representation In The Media With Valuable Insight
While movies and TV shows are often described as shallow or maybe "frivolous" things, as a way to "pass the time" or "kill a couple hours," the truth is that the media we consume — whether it's a movie, a TV show, a video game, music, magazines, or anything else — plays an incredible role in how we perceive the world, especially other people. Either consciously or not, media has directly or indirectly shaped the way we view history, politics, society-at-large (particularly outside some people's viewpoints), and the people around us (or maybe the people who sometimes aren't around us). The images we see from the media — either directly or in passing — informs or even misinforms our broader understanding of the world we live in. That's certainly been the case for the trans community.
As Disclosure reveals, many Americans haven't had many personal relationships with people inside the trans community. Therefore, as a result, their broader perceptions (or lack thereof) of trans individuals come from various forms of media. As the documentary explores in vivid detail, the movies and shows we watch — even seemingly lighthearted comedies — have negatively impacted trans people (including their own self-esteem and sense of self-worth) through their shallow, demoralizing, inaccurate, and/or sensationalized representations. As the celebrities interviewed throughout this documentary explain, without a broader context or more honest or nuanced portrayals being made available in the media, many trans people have negatively been affected by various prominent characterizations over the years. Therefore, this documentary provides valuable insight and perspective.
An Essential Look And Study At Some Popular Movies And TV Shows Through Trans Representation
Through the wealth of insight, reflection, and life experience provided by our interview subjects, we gain fascinating and essential perspectives into a variety of movies and shows throughout the past century of media. Whether it's look at lowbrow comedies or highbrow prestige dramas, every piece of media explored in Netflix's Disclosure is given keen perception and pensive critical analysis. As a result, many viewers will hopefully get some very informative and crucial breakdowns of how trans characters are represented — both poorly and not — throughout many different movies and TV shows.
It'll allow audiences to look at movies like Silence of the Lambs, Boys Don't Cry, Dallas Buyers Club, Ace Ventura, and many more from a vital social perspective, exploring some triumphs but mostly the disappointing and harmful shortcomings of these pop culture articles.
Its Thoughtful Commentary On Representation From A Number Of Voices
Through the variety of voices heard and seen throughout the streaming documentary, Disclosure creates a great platform for a number of individuals of various races, identities, and backgrounds to provide their ideas and life stories to the film's thesis — providing incredibly meaningful observations and nuanced opinions about the media explored throughout the film.
For film fans and TV lovers alike, this new documentary allows viewers to reckon with many of failures and a few of the successes that have been seen throughout these mediums. For every positive step forward, there were several steps back, particularly in how the media often used trans representation to explore horrific violence and telecast broader misconceptions that ultimately do more harm than good. Every interview is passionate but thoughtful, allowing us to see many shades of grey that come with prominent-but-problematic portrayals in popular media.
It Brings Trans Awareness And Representation To The Center Stage In An Engaging, Academic, And Worthwhile Fashion
While Disclosure is very studious and respectful in its examination of trans representation throughout the media's long and deeply complicated history, it should be noted that this Netflix documentary is never homework. The personalities on-screen are engaging, charismatic, and compelling; the editing is quick and sharp but never to the point of overly-simplifying the subject matter (at least when it comes to a two-hour documentary); many clips shown are related to different pieces of media that its audience might know or at least be familiar with, allowing them to look at it or revisit it through this keen perspective.
Thus, Disclosure becomes an academic-but-never-boring slice of film school, providing intelligent, sensitive, and worthwhile assessments, criticisms, interpretations, and theories into the media we consume. It also a reminder that there's still lots of work ahead.
Have you gotten a chance to watch Disclosure? You can check it out on Netflix here.
Your Daily Blend of Entertainment News
Will is an entertainment writer based in Pittsburgh, PA. His writing can also be found in The Playlist, Cut Print Film, We Got This Covered, The Young Folks, Slate and other outlets. He also co-hosts the weekly film/TV podcast Cinemaholics with Jon Negroni and he likes to think he's a professional Garfield enthusiast.