12 Great Movies Coming To HBO Max In July 2020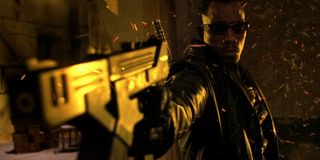 CinemaBlend participates in affiliate programs with various companies. We may earn a commission when you click on or make purchases via links.
HBO Max is still a relatively young streaming platform, yet it already seems to have caught wise to one of the biggest keys to continued success: new and exciting content additions. Just when you thought all of the DC Comics action you could ever want was the end all and know all purpose of HBO Max, some new movies have come along to make July 2020 all the more special. Here now are 12 great movies coming to HBO Max this month, with all titles currently available for viewing, unless otherwise noted.
American Graffiti
Before he blasted off to a galaxy far, far away, writer/director George Lucas delivered American Graffiti into the world. This slice of Americana tells the story of high school grads getting into various adventures on the last night of summer vacation. Funny, but bittersweet, this all-star romp features Ron Howard, Richard Dreyfuss, Cindy Williams and even Harrison Ford in its impressive cast.
Blade II
Who would have ever thought a Marvel movie would land on a platform extremely friendly to the concerns of DC Comics fans? Jokes aside, Blade II is a relic of a by-gone era when Marvel Studios wasn't a homogenous PG-13 hit factory. With this Guillermo del Toro-directed sequel in Wesley Snipes' daywalking adventure trilogy, a very R-rated sensibility prevails, and it's still a standard for all dark comic films to aspire towards.
Catch Me If You Can
Steven Spielberg caught lighting in a bottle when he made Catch Me If You Can. Bringing in Tom Hanks for another team-up, and landing Leonardo DiCaprio in the role that helped make him a household name, this story of true life thievery and suavity is an upbeat comedy with some heartfelt drama mixed in. It looks amazing in a post-HD conversion world, and if Christopher Walken doesn't break your heart in this one, you may want to see a doctor.
The Departed
If you want to make it a Leonardo DiCaprio double feature, The Departed can help arrange that particular desire. Prepare for a tonal whiplash though, as this film directed by Martin Scorsese is very far from the idyllic globetrotting that Steven Spielberg made him famous for. It's a gritty crime drama, with a cast that boasts Jack Nicholson, Matt Damon and Vera Farmiga, among others. Not to mention that those sick Scorsese needle drops pepper the soundtrack with a beautiful layer of context.
Dumb & Dumber
Ah, the carefree days of 1994; back when Jim Carrey and Jeff Daniels were able to frolic in ignorant bliss as the iconic duo that made Dumb & Dumber a certifiable hit. While the two have met up on and off in the years after this blockbuster made them a household duo, this original caper involving kidnapping, ransom money and the heads of pets falling off is still the round of dumb fun it's always been.
Enemy Of The State
Director Tony Scott's particular skill set of talents is one that's still sorely missed in the modern age of filmmaking. Enemy of the State is a prime example of the man at his best, as this espionage driven thriller pairs Will Smith with Gene Hackman in a slick and stylish action bonanza. Containing perhaps the most explosive phone call ever captured on film, time may have been a bit too kind to the paranoid plot at the heart of this beloved classic.
Innerspace
Innerspace is a movie you might recognize by the look and feel of its product, but not necessarily by the name. In case you've been trying to find out what movie contained a frantic Martin Short running around with a miniaturized Dennis Quaid zooming around in his bloodstream, while Meg Ryan tries to help investigate just why this is so important, you've come to the right place. A zany adventure on the same level of humor as director Joe Dante's other films, you'll be glad you revisited this one on HBO Max.
Justice League: The Flashpoint Paradox
While HBO Max is going to be the future home of Zack Snyder's Justice League, and potentially everything DC Comics movie fans could ask for, there's still some impressive stuff waiting for people to discover upon the platform's current lineup. A great example of that sort of content is Justice League: The Flashpoint Paradox, in which the lynchpin storyline depicted in the Flashpoint comic is brought to life in brilliantly animated color. It may not be the big live-action return of Michael Keaton, but it's something pretty impressive in its own right.
Saving Private Ryan
Another double feature of contrasting tones one could engage in is a viewing of Catch Me If You Can paired with another Steven Spielberg hit, Saving Private Ryan. The first of many collaborations between the director and Tom Hanks, the World War II drama centers around a combat unit that is tasked with saving the last surviving brother of a family that suffered heavy losses in the devastating conflict. It's a war epic that still stands out among the scores of films that cover similar content, as it remembers to inject heart into the characters we're following on the battlefield.
Superman: The Movie
One of the greatest debates DC Comics fans still have on a regular basis is who the best big screen Superman happens to be. A good number of fans cite Christopher Reeve's portrayal of the Man of Steel in 1978's Superman: The Movie, and they'd be absolutely right to say so. Balancing the warmth of Clark Kent with the strength and wisdom of Superman, Reeve made the world believe a man could fly. Though it also helps that Gene Hackman was along for the ride, as he's the best Lex Luthor a Superman could ever ask for.
Twelve Monkeys
Time travel can be, for lack of a better term, complicated. Terry Gilliam's cult classic Twelve Monkeys highlights the most problematic angle of this often discussed plot device, as Bruce Willis has to travel throughout human history in an attempt to prevent a massive pandemic that brings our species to its knees. If you loved the Syfy Channel series adaptation of the film, or just happen to like watching Brad Pitt go crazy, you need to throw this movie into your queue.
Motherless Brooklyn
Edward Norton wanted to make Motherless Brooklyn into a movie for a little over 20 years, and 2019 finally saw the fruits of his labors make it to theaters worldwide. Unfortunately, the detective noir story that sees him investigating an ensemble of familiar faces (also including Bruce Willis) didn't seem to go over too well in a particularly dismal month for the box office overall. But much like how Doctor Sleep has found an audience in HBO Max subscribers enjoying its theatrical and extended cuts, now's the perfect time to let this atmospheric mystery into your living room.
Available July 25
Much like any other streaming service, HBO Max is adding some heavy hitting titles to the streaming library in the month to come. As such, keep in mind that all titles are subject to change and availability, so you'll want to check the library often to make sure what you're looking for is in the right place. Until next time, stream safely, and we'll see you back here before the end of the month. Though if you aren't currently a subscriber, you should check out the 7-day free trial that could serve as a gateway to your future HBO Max membership.
Your Daily Blend of Entertainment News
Senior Movies Contributor
CinemaBlend's James Bond (expert). Also versed in Large Scale Aggressors, time travel, and Guillermo del Toro. He fights for The User.