Lin-Manuel Miranda's Wife Has The Best Reaction When He Kisses Actresses In Hamilton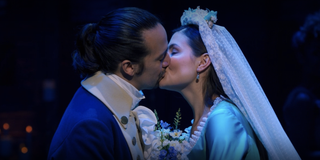 You have to give it up for Vanessa Nadal. As Lin-Manuel Miranda's wife, she has a ton of special insight into all things Hamilton. When she recently shared her thoughts about the play during a live-tweeting session for Disney+'s Hamilton film, she revealed she has a pretty hilarious reaction whenever she has to watch him kiss one of his co-stars.
Lin-Manuel Miranda and Vanessa Nadal got married in 2010, but they'd been together long before that -- as he said during his first Tony Awards speech for In The Heights, she loved him even when he was "broke and making breakfast." She's never been one to sugarcoat what it's like trying to balance their busy family life with his demanding career -- and her willingness to keep it real on Twitter has endeared herself to Hamilton fans.
So it's not a surprise that she joined in on a #Hamilfilm live tweeting session this weekend. As Hamilton cast and crew and fans alike streamed the film on Disney+ and shared their reactions, she offered up her own unique insights and commentary -- including how she feels about watching her husband lock lips with co-stars like Phillipa Soo and Jasmine Cephas Jones:
Of course, she's (probably) joking -- and even if she did really boo them, it seems like the cast would be in on the joke. Through the rest of her tweets, Vanessa Nadal made it very clear that she's tight with the cast of the original Broadway Hamilton cast and loves the musical just as much as the rest of us. She complimented their performances and called out some of her favorite lines and moments from the show. She also shared some cool insights into the creative process, like what was going on in her and Lin-Manuel Miranda's lives when he wrote certain songs.
Vanessa Nadal also summed up the feeling that a lot of us had while watching the Hamilton film -- that it reminded her what an amazing experience it is to sit in a theater and watch a live performance, and that she can't wait until we can all experience that again. That's one of the reasons Disney and Lin-Manuel Miranda made the right call in releasing the Hamilton film early. It was originally supposed to premiere in theaters in October 2021, but getting the chance to see it now has been a big boost for fans.
The impromptu and planned live-tweeting Hamilton viewing sessions are the closest thing a lot of us will get to having a 'live' theater-going experience this year. Sure, we're not all sitting in the room where it happens, but at least we can collectively laugh about Jonathan Groff's spit. Having members of the Hamilton extended family joke with us only made it more memorable.
Have you watched Hamilton on Disney+ yet? What did you think? Let us know in the comments!
Your Daily Blend of Entertainment News