Cristin Milioti: 7 Fascinating Things To Know About The Palm Springs Star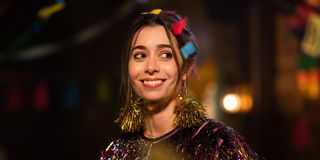 Few people working in Hollywood can hold a candle to just how lovable Cristin Milioti is. For proof, she has captured the heart of Josh Radnor on How I Met Your Mother, Leonardo DiCaprio (for a time, at least) in The Wolf of Wall Street, and, most recently, Andy Samberg in Palm Springs within the last seven years, and that is only three of the many we could have mentioned.
Now, granted, the 34-year-old New Jersey native's on-screen love connection with the Brooklyn Nine-Nine star in the Hulu original sci-fi rom-com can be partially credited to the film's Groundhog Day style twist, but who knows? Andy Samberg could have been trapped in a time loop with someone completely insufferable: a rare kind of role in Cristin Milioti's career, which spans from a Grammy-winning performance in the stage production of Once, to a more heroic turn as a woman stuck in Star Trek-esque simulation on Black Mirror, and another anthology, more romantic this time, called Modern Love, in which she plays a woman whose doorman becomes her matchmaker.
Clearly, the actress is the perfect match for a fun time at the movies, in front of the TV screen, or on Broadway, but there is more know about her from behind-the-scenes than you may realize. With that in mind, the following seven bits of interesting trivia should provide a deeper insight into the life of Cristin Milioti that you have been looking for to fall in love with her all over again.
Cristin Milioti Took Piano Lessons For The Broadway Adaptation Of Once
While Cristin Milioti's screen acting background dates back to 2006, during which she scored a recurring role on The Sopranos, her true breakout was onstage as the female lead of Once, the 2012 Broadway adaptation of the Oscar-winner about a man and woman falling in love through music. While the actress' singing talent was undeniable in her audition, she still had to brush up on her piano skills, according to an interview with Playbill, and enlisted her friend and trained pianist, Santino Fontana, to help her learn a couple of new pieces over the course of a "harrowing 10 or 12 days" before officially cast.
Milioti went through a similar experience with How I Met Your Mother, having had to learn ukulele for her famous rendition of "La Vie en Rose" on the show.
The How I Met Your Mother Cast Did Not Recognize Cristin Milioti From The Wolf Of Wall Street
Speaking of the long-running CBS sitcom, during a 2014 interview for The Hollywood Reporter, Cristin Milioti was asked if she is recognized more often as the title role of How I Met Your Mother or as Jordan Belfort's first wife, Teresa Petrillo, in The Wolf of Wall Street. Not only does she claim more people recognize her as "The Mother" (revealed as Tracy McConnell in the finale), but none of her HIMYM co-stars realized she was in the Oscar-nominated biopic from director Martin Scorsese when they would ask her about it. Milioti would just politely voice subtle praises of it before they would figure it out on their own.
Cristin Milioti Heavily Researched Quantum Physics For A Scene Cut From Palm Springs
Despite little recognition for a role that must have been a lot of work (from the perm to her Brooklyn accent), at least her efforts made it into the final cut of The Wolf of Wall Street. The same cannot be said for the "deep dive" Cristin Milioti took when researching black holes to prepare for a speech in which her Palm Springs character Sarah attempts to explain the time loop she and Nyles (Andy Samberg) are trapped in while attending a wedding in the titular California town. However, as she reveals in an interview with Vulture, when she first saw the trippy romantic comedy, she discovered that all but "maybe a couple of lines" had been cut.
Cristin Milioti's Midwesterner Boyfriend Helped Her Develop Her Accent on Fargo
Preparation for her role as a Minnesota police officer's cancer-stricken wife in Season 2 of the FX anthology series Fargo did not take as much effort as explaining quantum physics, fortunately. During a 2015 appearance on the Today show, Cristin Milioti explained how she was able to develop a convincing Midwestern accent with help from an on-set dialect coach, as well as her own Wisconsin-native boyfriend. While she notes that her then beau's natural voice is slightly different from her character's, that did not stop her from going "full-tilt" on the accent, enough to even be asked to dial it back.
Cristin Milioti Cried Over Her How I Met Your Mother Character's Fate
Another reason playing a terminally wife on Fargo would not much of a challenge for Cristin Milioti is how that describes her, arguably, most famous role to date. The series finale of How I Met Your Mother confirmed a longstanding fan theory that "The Mother" has actually been dead the entire time Ted Mosby (Josh Radnor) is relaying their love story to his children, revealing she did succumb to a terminal illness.
According to her testimony to Vulture, Milioti burst into tears when Radnor and co-creator Craig Thomas filled her in on the soon-to-be polarizing ending, but would become one of its biggest supporters after realizing the intention to tell an authentic and inspiring, yet otherwise heartbreaking, tale unlike any sitcom before.
Cristin Milioti Had A Brush With Death By A City Bus Advertising Her Own TV Show
Her infamous How I Met Your Mother story arc is not Cristin Milioti's only personal experience with death. In fact, a city bus bearing an awfully familiar face came dangerously close to sealing her fate as she explained while promoting her short-lived sitcom A to Z on Conan in 2014 with the following words:
Host Conan O'Brien then described the shock Cristin Milioti must have felt in the moment at the sight of a TV ad bearing her own profile best: "To see yourself just before you die..." Indeed, it is quite the concept.
Cristin Milioti Approached Her Real And Virtual Black Mirror Characters Differently
Speaking of unique concepts, Black Mirror has almost always been a prime choice when it comes to inventive story ideas, including the Season 4 opener "U.S.S. Callister." The Emmy-winning episode stars Cristin Milioti as one of several office workers unwittingly copied to a digital file and uploaded into a virtual world resembling an old school sci-fi series by their tyrannical incel colleague (Jesse Plemons). Milioti talked to TV Guide about how she varied her portrayal of "Nanette" by whichever world she was acting in, seeing her "real world" persona as someone forced into "keeping her head down," but becoming trapped in a computer program "releases this tiger within her" to lead the rebellion against her captor.
Be sure to check back for additional information and updates on the Palm Springs actress, as well as even more inside looks into the lives your favorite celebrities, here on CinemaBlend.
Your Daily Blend of Entertainment News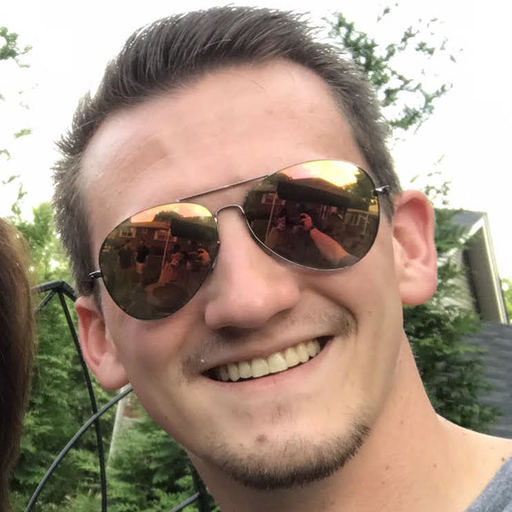 Jason has been writing since he was able to pick up a washable marker, with which he wrote his debut illustrated children's story, later transitioning to a short-lived comic book series and (very) amateur filmmaking before finally settling on pursuing a career in writing about movies in lieu of making them. Look for his name in almost any article about Batman.