Tenet Actor Marvels At How So Much In Christopher Nolan's Movies Is Not CGI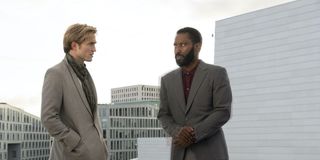 Tenet is going to be the death of us all. If you're a big fan of Christopher Nolan movies then you've been waiting for the surreal-looking film for months and every time it looks like we might finally get it, it gets snatched away again. While the decision to delay the release of Tenet yet again may be the right one from a global health perspective, it doesn't make the decision any less aggravating, especially as actor Himesh Patel is teasing us with what to expect when we do finally see it.
Himesh Patel made his Hollywood debut in the Danny Boyle Beatles-inspired film Yesterday, but he's going to make his big leap to the blockbuster scene at whatever point Christopher Nolan's Tenet sees the light of day. Based on his comments to GQ, he clearly had an amazing time making the movie, and we're destined to be just as blown away by everything as the actor says that very nearly everything that we will see in the movie was done practically and without CGI. According to Patel...
Blowing up a plane onset is honestly about the simplest thing to do out of everything that can be glimpsed in the trailers for Tenet. At least it's simple enough to understand just how that was done. Tenet is clearly doing some unusual things with time, based on what we've seen, and that's where some of the visuals would seem to be a bit more complicated. As Himesh Patel says here, we're probably seeing some digital effects work to make it all look real, but perhaps not near as much as we might think.
At this point, digital post-production is standard procedure for all movies and as such taking care of effects digitally is largely the simpler, and cheaper, way to get it all done. Of course, Christopher Nolan is as focused on the process of filmmaking as much as he is making sure the final product is what he wants, and so frequently he goes above and beyond to not simply make sure something works, but to make sure it's done in a way that best serves the theatrical process.
He cares so much about film as a medium that one of the major reasons that Tenet hasn't been released digitally after multiple delays is simply that Christopher Nolan is dedicated to the traditional theatrical experience. I certainly can't wait to see Tenet just as Nolan intended, if and when that ever becomes possible again.
CinemaBlend's resident theme park junkie and amateur Disney historian. Armchair Imagineer. Epcot Stan. Future Club 33 Member.
Your Daily Blend of Entertainment News
Thank you for signing up to CinemaBlend. You will receive a verification email shortly.
There was a problem. Please refresh the page and try again.