13 Movies To Stream Or Rent If You Liked Greyhound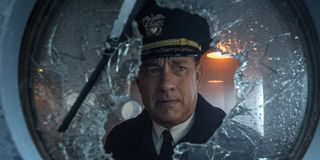 CinemaBlend participates in affiliate programs with various companies. We may earn a commission when you click on or make purchases via links.
Subscribers to AppleTV+ were treated with some historical fiction starring Hollywood's favorite history buff, Tom Hanks, on July 10. Based on the novel The Good Shepherd by C.S. Forester, Greyhound follows a U.S Navy captain's struggle to outwit German U-boats stalking his convoy during first Atlantic crossing.
To its biggest fans, the film, which star Tom Hanks also wrote the screenplay for, is a good, old fashioned, action-packed seaside epic that anyone with a keen interest in stories from World War II (real or imagined) would fall for. Of course, what about those without an AppleTV+ subscription or even those who are subscribers but watching Greyhound only ignited a thirst to watch even more of the most intense combat ever put to celluloid?
We might just have what you are looking for with the following films, not all of which are are depictions of war, but do invoke similar themes of leadership and courage in the face of insurmountable odds. By sea, land, air, or even horse, these are 13 movies fittingly accompany Greyhound.
Saving Private Ryan (HBO Max)
In the midst of D-Day, a group of army rangers accept a mission to rescue the younger brother (Matt Damon) of three soldiers killed in combat, leading them directly into enemy territory.
Why Greyhound Fans Will Like It: Anyone who calls themselves a fan of Greyhound has probably seen Saving Private Ryan, but understandably so, may not want to watch it again, but for those have not seen Steven Spielberg's boldly authentic, Oscar-winning portrait of World War II, also led by Tom Hanks, you owe it to yourself to bear witness to it.
Stream Saving Private Ryan on HBO Max here.
Rent Saving Private Ryan on Amazon here.
U-571 (HBO Max)
After receiving an SOS signal from a German U-boat, a crew of American soldiers pretend to be Nazis in order to infiltrate the wrecked watercraft in hopes to take control of much desired code breaking device.
Why Greyhound Fans Will Like It: Matthew McConaughey, Harvey Keitel, and rock star Jon Bon Jovi are among the star-studded cast of director Jonathan Mostow's U-571, another War World II era epic from the naval perspective, featuring Oscar-winning sound editing, thats adds the intriguing element covert espionage into the mix.
Stream U-571 on HBO Max here.
Rent U-571 on Amazon here.
Master And Commander: The Far Side Of The World (Starz)
A British Royal Navy captain (Russell Crowe) seeks to sail his crew farther than most would dare in order to defeat a French enemy ship during the Napoleonic Wars.
Why Greyhound Fans Will Like It: While Greyhound is, undoubtedly, a story of exceptional bravery amid strong rival forces, at least the titular ship's crew had the advantage of weaponry far superior to the H.M.S. Surprise in Master And Commander: The Far Side Of The World, a film praised shedding light on the horrors of war circa 1805.
Stream Master and Commander: The Far Side of the World on Starz here.
Rent Master and Commander: The Far Side of the World on Amazon here.
Black Hawk Down (Starz)
A staff sergeant (Josh Hartnett) and his crew attempt rescue the 160 Army Rangers left behind in Somalia after a tragic accident turns a mission to capture the countries top lieutenants becomes a fight for survival.
Why Greyhound Fans Will Like It: If the struggle to outmaneuver rival armies by boat sounds wretched to you, imagine being one of the soldiers from Ridley Scott's brutal account of a real 1993 incident in Black Hawk Down: stranded in enemy territory with nothing but a rifle and your own wit to protect you.
Stream Black Hawk Down on Starz here.
Rent Black Hawk Down on Amazon here.
The Perfect Storm (Amazon Rental)
The decision to brave a forthcoming storm in the North Atlantic puts a crew of commercial fisherman in grave danger when the strength of the weather proves to be nearly unprecedented.
Why Greyhound Fans Will Like It: From Air Force One director Wolfgang Petersen, The Perfect Storm may not be a war movie, but it is a heart-pounding, and heartbreaking, story inspired by a real 1991 tragedy that pits George Clooney, Mark Wahlberg, and others against what is truly the fiercest threat man can encounter at sea: nature.
Rent The Perfect Storm on Amazon here.
Apollo 13 (Amazon Rental)
Three aspiring moonwalkers (Tom Hanks, Kevin Bacon, and Bill Paxton) soon aspire to return safely to Earth, with the help of their grounded NASA colleagues, after their spacecraft suffers a life-threatening malfunction in April 1970.
Why Greyhound Fans Will Like It: In addition to being yet another film inspired by a true event and another historical thriller starring Tom Hanks, director Ron Howard's Apollo 13 is also a powerful story of the death-defying bravery show by inexperienced travelers and, arguably, the finest astronaut film ever made.
Rent Apollo 13 on Amazon here.
A Bridge Too Far (Netflix, Amazon Prime, Hulu)
In September 1944, Operation Market Garden is carried out in attempt to seize several bridges that seem to hold the key to ending World War II, but several tantalizing circumstances result in insurmountable tragedy.
Why Greyhound Fans Will Like It: A fascinating who's who of British and American A-listers, circa 1977, make up the cast of A Bridge Too Far, another story true story depicting the Allied Forces' attempt to outwit the Germans, while losing many lives in the process.
Stream A Bridge Too Far on Netflix here, on Amazon Prime here, or on Hulu here.
Rent A Bridge Too Far on Amazon here.
War Horse (Netflix)
A young man (Jeremy Irvine) joins the army in hopes of retrieving his beloved horse, named Joey, years after he had been sold into the cavalry in World War I-era England.
Why Greyhound Fans Will Like It: One of director Steven Spielberg's more heart-warming tales of locating lost loved ones in a war-torn land is War Horse, based on the novel by Michael Morpurgo that also inspired an acclaimed stage drama.
Stream War Horse on Netflix.
Hostiles (Netflix)
US Cavalry Captain Joseph J. Blocker (Christian Bale) begrudgingly accepts the responsibility of escorting an ailing Cheyenne chief (Wes Studi) through uncivilized land where bloodthirsty natives roam.
Why Greyhound Fans Will Like It: Screenwriter and director Scott Cooper presents what could be considered the closest thing to a post-Civil War equivalent of Greyhound's cat and mouse game in Hostiles, which also serves as a brutally honest depiction of the era with its powerful social commentary and merciless violence.
Stream Hostiles on Netflix here.
Jarhead (Netflix)
During the Gulf War, a Marine sniper (Jake Gyllenhaal) becomes part of Operation Desert Shield in Saudi Arabia, where, from his perspective, the real fight is between him and his own demons.
Why Greyhound Fans Will Like It: Survival is the recurring through line topic that makes every movie on this list comparable to Greyhound, but Jarhead, an adaptation of Anthony "Swoff" Swofford's memoir from 1917 director Sam Mendes, is a combat film that puts a different kind of spin on that theme by putting the survival of one soldier's sanity in question.
Stream Jarhead on Netflix here.
Rent Jarhead on Amazon here.
Darkest Hour (Amazon Rental)
The fate of the British Empire rests in the hands of its newly appointed prime minister Winston Churchill (Gary Oldman), who struggles with the decision to continue fighting or negotiate with Adolf Hitler during World War II.
Why Greyhound Fans Will Like It: Winston Churchill had his first taste of combat fighting in the trenches of World War I, but as Gary Oldman's Academy Award-winning performance in director Joe Wright's Darkest Hour seems to prove, the pressure of being the one in charge of a whole country during wartime is unimaginable.
Rent Darkest Hour on Amazon here.
Battleship Potemkin (Amazon Prime, HBO Max)
A Russian naval crew's mutinous response to unfit meal service envelopes into a national riot, leading to the massacre of many innocents in 1905.
Why Greyhound Fans Will Like It: Before World War II had even began, the 1925 Soviet film production of Battleship Potemkin showed the world the extent of the damage a military vessel can cause without even touching land in this controversial classic of the silent era that was inspired by true events.
Stream Battleship Potemkin on Amazon Prime here or HBO Max here.
Rent Battleship Potemkin on Amazon here.
Down Periscope (Amazon Rental)
An oft-ridiculed naval officer (Kelsey Grammer) does not exactly get what he has always wanted when he is assigned to commandeer an eccentric, bumbling crew on a rusty, diesel-powered submarine.
Why Greyhound Fans Will Like It: Other than it being the story of a first-time Navy captain who overcomes doubt of his authority, Down Periscope is really nothing like Greyhound, but I figure that, after the tumultuous binge the aforementioned films could prove to be, this comedic gem from 1996 would serve as a fun little palette cleanser.
Rent Down Periscope on Amazon here.
What do you think? Does Greyhound live up to any of these films, or do you think none of them live up to Greyhound? Let us know in the comments and be sure to check back for additional information and updates on Tom Hanks' naval epic, as well as even more recommendations for what you can rent or stream, here on CinemaBlend.
Your Daily Blend of Entertainment News
Jason has been writing since he was able to pick up a washable marker, with which he wrote his debut illustrated children's story, later transitioning to a short-lived comic book series and (very) amateur filmmaking before finally settling on pursuing a career in writing about movies in lieu of making them. Look for his name in just about any article related to Batman.