What To Watch On Streaming If You Like Charlize Theron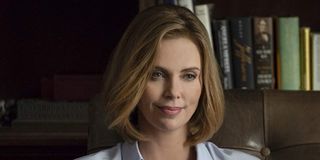 CinemaBlend participates in affiliate programs with various companies. We may earn a commission when you click on or make purchases via links.
If you were to choose a selection of actors whom you would feel comfortable entrusting your life with, it is hard to imagine Charlize Theron not showing up on that list. From her death-defying race across the desert in Mad Max: Fury Road, death-defying stunts around Berlin in Atomic Blonde, her complete immunity from death in The Old Guard, among other exciting films, she is an undeniable badass.
However, the South African-born, Academy Award-winning actress and producer has not always been a reigning action movie queen, having first gotten noticed for films of a much subtler tone by comparison. In fact, amid her globetrotting adventures, she still finds time to squeeze a smaller, arthouse indie or even a super-raunchy romantic comedy into her schedule, proving her to be one of the most versatile talents working in Hollywood today. I would not be surprised if her portrayal of news anchor Megyn Kelly in Bombshell would have been just as convincingly uncanny without the transformative, Oscar-winning makeup process.
Speaking of Bombshell, that modern historical drama is actually not available stream on any major platform at the moment. However, several other films starring Charlize Theron (pronounced "shar-leeze thare-in," by the way) are. The following are 13 of the Oscar winner's best movies and where you can find them.
That Thing You Do! (1996)
A struggling Philadelphia rock band get a taste for the trials and tribulations of fame, under the guidance of their experienced manager (Tom Hanks), after their first recorded single reaches the top of the charts in the mid-1960s.
Why It's A Good Option for Charlize Theron Fans: If you ever needed another reason to admire Tom Hanks, you can thank him for introducing the world to Charlize Theron with his under appreciated directorial debut, That Thing You Do!, in which the then 21-year-old actress plays the overbearing Tina, who is dating drummer Guy Patterson (Tom Everett Scott) at the time his band The Wonders, formerly The One-ders, hit it big with the titular track.
Stream That Thing You Do! on HBO Max here.
The Devil's Advocate (1997)
A young, highly successful Florida attorney (Keanu Reeves) is hired into a powerful New York City law firm under the mentorship of its owner (Al Pacino), who begins to show disturbing signs that he is not all who he claims to be.
Why It's A Good Option for Charlize Theron Fans: In The Devil's Advocate, her first movie with Keanu Reeves, Charlize Theron is stunning as Mary, the wife of Reeves' hotshot lawyer Kevin Lomax, who becomes increasingly upset by how his new job has began to take up all his attention and starts to make her life a living hell... literally.
Stream The Devil's Advocate on Netflix here.
Mighty Joe Young (1998)
A zoologist (Bill Paxton) convinces a woman who has lived in the jungle most of her life (Charlize Theron) to bring a 15' gorilla she calls "Joe" to a California sanctuary, only to learn sinister motives behind the transfer.
Why It's A Good Option for Charlize Theron Fans: Charlize Theron channels her support for animal rights into this performance from Disney's Oscar-nominated remake of the 1949 adventure Mighty Joe Young, which, essentially takes the plot of King Kong, but gives the female lead a pre-existing relationship with the homesick, giant primate.
Stream Mighty Joe Young on Disney+ here.
The Legend Of Bagger Vance (2000)
In the Depression-era South, a war veteran and former golfing pro (Matt Damon) receives unexpected help in taking back control of his game, and his life, with the help of a mysterious caddy (Will Smith).
Why It's A Good Option for Charlize Theron Fans: The golf match that leads the title character of The Legend of Bagger Vance to enter the picture is set up by Charlize Theron's character Adele Invergordon, who also once had a relationship with Matt Damon's self-destructive character in this heartwarming story of redemption from director Robert Redford.
Stream The Legend of Bagger Vance on Showtime here.
Monster (2003)
Based on the true story, Aileen Wuornos (Charlize Theron) finds romance with a young woman (Christina Ricci) while working as a prostitute whose clients usually tend to become her victims in 1990s Daytona Beach.
Why It's A Good Option for Charlize Theron Fans: A harrowing biographical drama from writer and director Patty Jenkins, Monster sees an unrecognizable Charlize Theron as the notorious serial killer in the performance that earned her an Academy Award for Best Actress.
Stream Monster on Tubi here or on IMDbTV here.
Aeon Flux (2005)
A highly-skilled, leather-clad assassin (Charlize Theron) discovers some earth-shattering secrets about her utopian society, inhabited by the last of humanity four centuries after a deadly virus, in the 25th century.
Why It's A Good Option for Charlize Theron Fans: Director Karyn Kusama's live-action update of the sci-fi, animated MTV series Aeon Flux is an otherwise guilty pleasure with striking visuals and an equally striking performance by Charlize Theron, headlining an action film for the first time in the title role.
Stream Aeon Flux on Amazon Prime here.
Battle In Seattle (2008)
A promise of peace is broken as tensions rise between the World Trade Organization and those picketing its meeting in Seattle, resulting in innocent people getting caught in a violent collision between the police and the protestors.
Why It's A Good Option for Charlize Theron Fans: As part of a star-studded ensemble, Charlize Theron plays the pregnant wife of a riot cop (Woody Harrelson) tasked with preventing tragedy in Battle In Seattle, a historical drama released 12 years ago that depicts a real incident from 21 years ago, but feels like it could have happened yesterday.
Stream Battle In Seattle on Amazon Prime here or on Tubi here.
Hancock (2008)
An alcoholic, belligerent bum with superhuman abilities (Will Smith) receives the chance to become a more ideal superhero when he rescues a PR executive (Jason Bateman) who, in return, helps him clean up his image.
Why It's A Good Option for Charlize Theron Fans: The wife of Bateman's character, played by Charlize Theron, has a serious issue with her husband's interest in helping title character of Hancock for reasons that eventually come to light, and amusingly so, in this blockbuster that puts a unique spin on the comic book hero persona.
Stream Hancock on Netflix here.
Young Adult (2011)
The recently divorced author of an unsuccessful young adult novel series (Charlize Theron) returns to her hometown in hopes to steal back her ex-boyfriend (Patrick Wilson), who just had a child with his wife (Elizabeth Reaser).
Why It's A Good Option for Charlize Theron Fans: Charlize Theron received a Golden Globe nod for her performance as the cynical, childish protagonist of Young Adult, a dramedy from director Jason Reitman and writer Diablo Cody, the creative duo behind 2007's Juno.
Stream Young Adult on Amazon Prime here.
Gringo (2018)
A pharmaceutical rep (David Oyelowo) finds himself at the discouraging mercy of his bosses (Charlize Theron, Joel Edgerton), whom he discovers have been selling their revolutionary marijuana pill to the Mexican cartel that has taken him hostage.
Why It's A Good Option for Charlize Theron Fans: As her Golden Globe nomination for the previously mentioned Young Adult has proven, Charlize Theron is just as good at dark comedy as she is at breakneck action, and Gringo, an Amazon original directed by star Joel Edgerton's brother Nash, is a thrilling mix of both.
Stream Gringo on Amazon Prime here.
Tully (2018)
A housewife (Charlize Theron) feeling the pressures of motherhood at an all-time high receives help from a new nanny (Mackenzie Davis) who becomes an unexpected force in her life.
Why It's A Good Option for Charlize Theron Fans: Charlize Theron gained 50 pounds and received yet another Golden Globe nod for Tully, her second collaboration with Jason Reitman and Diablo Cody, which reveals the dark side of parenting through very unconventional circumstances.
Stream Tully on Peacock here.
Long Shot (2019)
A rebellious investigative journalist (Seth Rogen) has a chance reunion with his childhood crush (Charlize Theron) as she is making a bid for presidency, at which point their relationship begins to take an unforeseen turn when she hires him as his speechwriter.
Why It's A Good Option for Charlize Theron Fans: By now, Charlize Theron's comedic talent should be undeniably clear and, despite a title like like Long Shot, she and comic genius Seth Rogen (yes, I mean that), have surprisingly great chemistry in this sweet romantic comedy that takes a shot at the political climate in an unusually fun and meaningful way.
Stream Long Shot on HBO Max here.
The Old Guard (2020)
Soon after recruiting a new member, a crew of mercenaries discover their gifts of eternal life have been exposed, forcing them on the run from an organization that wants to profit from their immortality.
Why It's A Good Option for Charlize Theron Fans: As I said before, Charlize Theron is, just about, this generation's queen of action movies and The Old Guard, a Netflix original based on a graphic novel, is an exhilarating thrill ride that cements that claim.
Stream The Old Guard on Netflix here.
Be sure to check back for additional information and updates on Charlize Theron, as well as even more recommendations for what movies and TV shows you can stream now, here on CinemaBlend.
Your Daily Blend of Entertainment News
Jason has been writing since he was able to pick up a washable marker, with which he wrote his debut illustrated children's story, later transitioning to a short-lived comic book series and (very) amateur filmmaking before finally settling on pursuing a career in writing about movies in lieu of making them. Look for his name in just about any article related to Batman.