What To Watch On Netflix If You Like The Kissing Booth Movies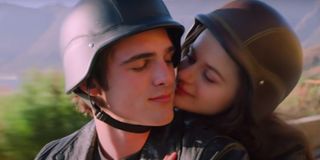 The Kissing Booth is Netflix's hit teen rom-com movie series. It's about Elle (Joey King), a girl who falls for her best friend's older brother Noah (Jacob Elordi). The first one of these Netflix movies found Elle trying to balance this developing romance between Noah and her, and not ruining or changing things with her best friend Lee (Joel Courtney). In July 2020, your favorite The Kissing Booth characters returned for a second installment in The Kissing Booth 2.
The Kissing Booth 2 tested whether Elle and Noah could survive distance, and it showed the seniors making big college decisions. If you're a fan of The Kissing Booth movies, then you have already seen both films, and now you need something new to give you a little summer romance. Luckily Netflix is full of romantic movies and teen shows to keep you busy until the next Kissing Booth film arrives.
To All The Boys I've Loved Before Series (2018, 2020)
In To All the Boys I've Loved Before, Lara Jean Covey (Lana Condor) finds herself getting a lot of attention first from a series of guys she once loved and wrote letters to, and then from the whole school when she fakes a relationship with Mr. Popular Peter Kavinsky (Noah Centineo). Like all good fictional teen romances, Lara Jean and Peter find their happy ending...until the second movie. Lara finds herself torn between Peter and another boy that she once loved, John Ambrose McClaren (Jordan Fisher).
Why It's A Good Option For The Kissing Booth Fans: To All the Boys I've Loved Before and The Kissing Booth films have very similar themes, love triangles, and are trilogy movies, but they're not just copies of one another. They're similar enough where they could exist in the same YA universe, but they have enough differences to allow viewers to enjoy some light teen romance without feeling like they've seen this story 6,000 times.
Stream it on Netflix here: 1, 2.
Alexa & Katie (2018-2020)
Alexa & Katie is Netflix's family comedy about Alexa (Paris Berelc) and her best friend Katie (Isabel May). Alexa is in remission after undergoing treatment for cancer. Alexa & Katie isn't as depressing as it sounds, especially because it's a comedy, and the series' main focus is on the girls dealing with typical high school drama, like boys, ambitions, school, and family. Alexa & Katie ran for three seasons.
Why It's a Good Option for The Kissing Booth Fans: Both Alexa and Katie have love interests throughout the course of the show, but that aspect is very minor compared to the show's main message about family and friendship. Katie and Alexa's friendship is what makes the show endearing and interesting. The main conflict of The Kissing Booth's first film, and the overall conflict, is Elle being torn between her best friend and boyfriend. In many ways, Alexa & Katie and The Kissing Booth movies are about the importance of friendship, and growing together and apart.
Stream it on Netflix here.
A Walk To Remember (2002)
Landon Carter (Shane West) and Jamie Sullivan (Mandy Moore) are two teens who seem like complete opposites. However, over the course of A Walk to Remember, they begin to understand each other and fall in love. They also discover the power that brings.
Why It's A Good Option For The Kissing Booth Fans: A Walk to Remember and The Kissing Booth kind of deal with two characters who don't expect to fall in love, falling in love. Both movies give you all those warm nostalgic memories of first love. A Walk to Remember has a more bittersweet tone to it, but both overall are just wholesome movies about finding love and the obstacles you face to be together.
Stream it on Netflix here.
Never Have I Ever (2020-)
Mindy Kaling created Never Have I Ever, a series starring Maitreyi Ramakrishnan as Devi, a 15-year old girl determined to make this year her best year ever. It's about Devi's series of adventures and misadventures.
Why It's a Good Option For The Kissing Booth Fans: If you really enjoyed The Kissing Booth 2's love triangle, then you'll go crazy for Never Have I Ever's triangle. This series gave me a rare love triangle where I like one romance slightly better than the other, but I would be fine with whomever she picks. Besides romance drama, The Kissing Booth 2 and Never Have I Ever both deal with the growing pains of maturing and having to make major life decisions.
Stream it on Netflix here.
Dumplin (2018)
Dumplin stars Danielle Macdonald and Jennifer Aniston, and also features music by Dolly Parton. The film follows Willowdean (Danielle Macdonald ) as she enters a beauty pageant run by her mother Rosie (Jennifer Aniston).
Why It's a Good Option For Kissing Booth Fans: If you thought Noah was swoon-worthy, wait until you meet Bo (Luke Benward). Besides both heroines finding love, Dumplin and The Kissing Booth also both deal with the leads discovering themselves and not letting others dictate how they live their lives. The endearing nature of Willowdean and Elle is what helps make both movies successful.
Stream it on Netflix here.
What A Girl Wants (2003)
Amanda Bynes, Colin Firth, Kelly Preston, and Oliver James star in What a Girl Wants. The film revolves around Daphne (Amanda Bynes) discovering that her father is someone of nobility in England. She decides to travel there to meet him. Henry (Colin Firth) had no idea that he had a daughter. It's a clash of cultures as Daphne must learn to fit in with British high society.
Why It's A Good Option For The Kissing Booth Fans: What A Girl Wants is a fun adventure movie about being true to oneself and identity. The Kissing Booth 2 is more about Elle deciding who she is and what she wants, which falls in line with the overall story of What A Girl Wants. Both films are also just fun teen comedies, and What A Girl Wants may appeal to The Kissing Booth fans who want to watch a teen comedy of the early 2000s.
Stream it on Netflix here.
Sierra Burgess Is A Loser (2018)
This modern Cyrano de Bergerac story has Sierra (Shannon Purser) asking the popular girl Veronica (Kristine Froseth) to pretend to be her, so she can win the popular boy from another school, played by Noah Centineo.
Why It's A Good Option For The Kissing Booth Fans: Sierra Burgess Is A Loser at its core is a story about friendship. Through all the pretending and mistaken identity, Sierra and Veronica become great friends, and they learn what being good friends really means. The Kissing Booth's main conflict usually revolves around Elle and Lee's friendship. It's important to them, so they're willing to make some sacrifices to keep it strong. Both films highlight the importance of friendship and, wrong or right, what people are willing to sacrifice to keep it.
Stream it on Netflix here.
The Half Of It (2020)
The Half of It is a romantic drama about Ellie (Leah Lewis) who helps a popular jock Paul (Daniel Diemer) win the girl of his dreams, Aster (Alexxis Lemire). The bigger issue at hand is that Ellie is also in love with Aster.
Why It's A Good Option For The Kissing Booth Fans: The Half Of It is as much about teen romance as it is about true friendship. Paul and Ellie's friendship story is just as strong as the Aster and Ellie romance one. The two movies also share in their exploration of coming to terms with teen girls growing up and what that means for accepting and embracing their sexuality.
Stream it on Netflix here.
Naomi And Ely's No Kiss List (2015)
Victoria Justice and Pierson Fode starred in Naomi and Ely's No Kiss List, a film about best friends Naomi and Ely who have a list of men that are off-limits. The two are opposites in their exploration of their sexual identity. Naomi (Victoria Justice) is heterosexual, a virgin, and currently in a relationship, while Ely (Pierson Fode) is gay, promiscuous, and single.
Why It's a Good Option For Kissing Booth Fans: In an alternative universe, Ely and Naomi are Lee and Elle.The Kissing Booth and Naomi and Ely's No Kiss List are about that delicate balance between keeping your friends in your life, and growing up and finding love. You need both but sometimes it is hard to keep both without neglecting one.
Stream it on Netflix here.
After (2019)
After is a romantic drama starring Josephine Langford and Hero Fiennes Tiffin. Tess (Josephine Langford) and Hardin (Hero Fiennes-Tiffin) meet in college and then have a whirlwind, complicated romance.
Why It's a Good Option For Kissing Booth Fans: After is a lot more dark and moody than The Kissing Booth, but the films have similar origin stories. After and The Kissing Booth started off on fanfiction forums. After and its upcoming sequel After We Collided was based on Harry Styles' fanfiction. The Kissing Booth was an original story first published in serial form on Wattpad. If you want a more dramatic version of The Kissing Booth, then After hits similar notes.
Stream it on Netflix here.
There will be more kissing and booths when The Kissing Booth returns for a third movie in 2021.
Your Daily Blend of Entertainment News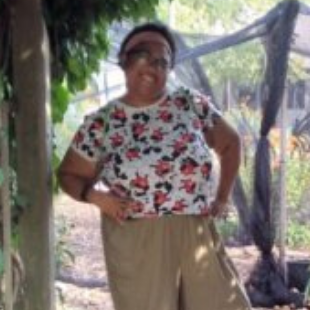 Spent most of my life in various parts of Illinois, including attending college in Evanston. I have been a life long lover of pop culture, especially television, turned that passion into writing about all things entertainment related. When I'm not writing about pop culture, I can be found channeling Gordon Ramsay by kicking people out the kitchen.