Every James Wan Movie Including Aquaman, Ranked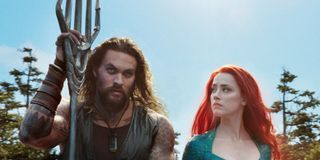 What did we ever do to be lucky enough to have James Wan in our lives? The Australian director exploded on the scene with the original Saw and has pretty much been this generation's Wes Craven when it comes to bringing thrilling, original horror movies to the big screen. But James Wan movies can really be anything, as he's also dipped his toe into long-running franchises, as well as a big-budget superhero movie. What can't the man do?
I don't know, but of his nine major movies, a majority of them are horror flicks, so that really seems to be his strong suit and passion. And with his next movie, Malignant, which was supposed to come out this month --but you know, Covid-19-- being yet another horror movie, it looks like the director of the billion dollar grossing, Aquaman, still has his heart in the blight place. (What do you want? I'm a Dad. I like puns!). So, what are his very best movies? You're about to find out.
9. Death Sentence (2007)
Starring Kevin Bacon, this vigilante film definitely shows strong hints of Wan's horror side since it's super violent, but that doesn't mean it's as good as his horror films. It's about a man named Nick Hume (Kevin Bacon) who witnesses an assault on his son (with a machete!). But when the court system doesn't punish the man who harmed Nick's son, this sends Nick on a quest for revenge to take the law into his own hands. But Nick gets himself in way over his head with his vigilantism, and the rest of his family is at risk.
Death Sentence definitely has its moments, but it gets kind of ridiculous in the lengths Kevin Bacon's character goes to. It's really bloody, and that's fine with me, but I've seen much better revenge films in my day, and it's kind of lacking Wan's charm as a director. An okay film, sure, but just okay.
8. Dead Silence (2007)
Are you scared of dolls? No? Then you will get utterly nothing out of Dead Silence, which is a kind of limpid movie in the killer doll sub-genre. The story concerns an old legend about a ventriloquist named Mary Shaw (played by Judith Anna Roberts) who met a fatal end and then came back as a doll that wants tongues. So you better not scream!
Honestly, the only reason I'm putting Dead Silence over Death Sentence, which came out the same year, is because it's not often that you see killer ventriloquist dummies in the killer doll sub-genre. I didn't get any frights out of this movie, but I appreciate that James Wan showed restraint when he could have pushed the violence much further and made it even more ridiculous, so that's appreciated.
7. Insidious: Chapter 2 (2013)
Going much further into the astral projection angle than its predecessor (much to its detriment, in my opinion), Insidious: Chapter 2 again concerns Patrick Wilson, Rose Byrne, and Ty Simpkins as the Lambert family, as they learn even more about the backstory of the various ghosts (this time, we get one called "The Bride in Black", which is kind of creepy) that continue to haunt them.
I know Insidious: Chapter 2 has its fans, but I just find it to be a much lesser movie that the original. This is not to discredit Wan, who still had enough tense scares to make it a worthwhile sequel. But when the original movie is so good, then the sequel has to be either better or at least somewhat on par. Unfortunately, it's neither. But A-plus for effort.
6. Aquaman (2018)
There are some people who have called Aquaman, Black Panther underwater, and they're not entirely off. Both Atlantis and Wakanda share the same sense of overall wonder with their hidden worlds. But I actually think the world of Atlantis is a lot more vibrant than Wakanda, if not exactly as interesting. Starring Jason Momoa, Willem Dafoe, Amber Heard, and Wan's MVP, Patrick Wilson, Aquaman is about the title character trying to stop a war between the seven underwater kingdoms and the people on land. It's a fun movie, and one that even beat Batman vs. Superman at the box office!
Who would have thought that Aquaman of all characters would be the D.C. character to bring in the most bucks? James Wan took a silly premise and made it into an underwater, sci-fi adventure with an octopus that plays the drums and an underwater world like no other. The film is silly and enjoyable enough, and a far cry from the dour Zack Snyder movies in the DCEU. And if they had started with this playful tone, then maybe the DCEU might even be in a better place right now. Just saying.
5. The Conjuring 2 (2016)
Another sequel, The Conjuring 2 fares better than Insidious: Chapter 2 for a number of reasons. 1) It really just sticks to the same, successful formula that the first movie did, but in a new location (North London this time). 2) being rated R, James Wan, who is great with atmospheric horror, manages to still not go overboard, but also still push the R-rating far enough to be both suspenseful and scary. And three, I just think we don't get enough period piece horror, and this is one of the better ones.
We again follow the Warrens (played by Patrick Wilson and Vera Farmiga) on another case. This installment dials up the creepiness, but it's lacking the freshness of the original, which is why it's at this place on the list.
4. Furious 7 (2015)
The highest grossing film in the franchise, Fast and Furious 7 is James Wan's other billion dollar picture. Starring pretty much everybody (and Paul Walker's last Fast and Furious movie), Furious 7 ramps up the action and strips away even more of the racing that made the franchise what it is today. This one features Deckard Shaw (Jason Statham), out for revenge against the Toretto family. It's a flashy, bombastic movie, and one of the very best in the series.
After the rather humdrum fourth Fast & Furious movie, Five and Six upped the ante, and Furious 7 shot it right into the stratosphere. There are a lot of moving pieces in Furious 7, but Wan handles all of them well and this movie fits right into the series as if Wan had always been there. More action movies, please.
3. The Conjuring (2013)
Despite being older than The Conjuring 2, the first movie just feels fresher and darker than the sequel. This is the first time we're introduced to Ed and Lorraine Warren, and they already look tired from all the people calling them in to investigate every little bump in the night. But when they finally come upon a family at a farmhouse that's really being terrorized by spirits, they have a real case on their hands. The Conjuring is definitely one of the scariest movies of the past 20 years, no question.
I don't know what it is about James Wan, but he really knows how to take his time and build suspense with a scene. There will be long stretches of almost utter silence, and then something terrifying will happen, but it won't feel cheap. The first Conjuring is just loaded with these moments, making it one of his most memorable movies to date. I'll never hear two claps the same way ever again.
2. Saw (2004)
In the film that would go on to spawn one of modern horror's premier franchises, James Wan's first major film, Saw, is pretty much as bare bones as it gets. Starring Cary Elwes, Tobin Bell, and Danny Glover, Saw, is about two people (three people?) trapped in a room who are taunted and told by a serial killer that they will need to dismember themselves if they want to escape. Horror and paranoia ensues.
Saw blew everybody away when it first came out and helped spawn the whole "torture porn" genre. But the first film is incredibly subdued and tense compared to what would come later in the franchise. But that subdued approach is what makes the first one so memorable, and it works in its favor. Looking forward to the next time that it's time to play a game.
1. Insidious (2010)
Insidious is James Wan's scariest film, bar none. The story of a family trying to rescue their child from the astral plane (though, it's called the Further in this series), Insidious is a PG-13 movie that seriously never lets up. Honestly, it is the perfect horror film, and the fact that there are so many sequels is a little disheartening, since it kind of demystifies everything that made the original so good.
It's the old mixed with the modern though that makes the tone of this film so creepy. As mentioned before, James Wan is an expert at perfect pacing, and he has the ability to get underneath your skin before you even realize what he's doing. And Insidious is his best effort in that regard, because by the time the really scary stuff starts happening, you're already much more spooked than you even realized. And that's why it's so effective and James Wan's best film to date.
James Wan is still one of the 2000s most interesting and terrifying directors. Whether he's making popcorn flicks or movies to make you hide underneath your covers, it's hard to find a more fascinating director than James Wan.
This poll is no longer available.
Rich is a Jersey boy, through and through. He graduated from Rutgers University (Go, R.U.!), and thinks the Garden State is the best state in the country. That said, he'll take Chicago Deep Dish pizza over a New York slice any day of the week. Don't hate. When he's not watching his two kids, he's usually working on a novel, watching vintage movies, or reading some obscure book.
Your Daily Blend of Entertainment News
Thank you for signing up to CinemaBlend. You will receive a verification email shortly.
There was a problem. Please refresh the page and try again.