Could Twilight Be Recut For Midnight Sun To Make a Movie From Edward Cullen's Perspective?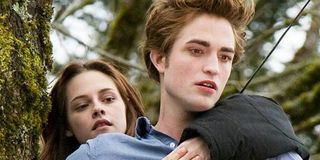 It's kind of hard to imagine the Twilight franchise without the stars that helped propel it to global fame. Robert Pattinson and Kristen Stewart are Edward Cullen and Bella Swan to millions of fans around the world, and picturing anyone else in those roles is difficult. That may present a problem for the makers of Midnight Sun. However, a director has some thoughts about whether or not the original films could be recut to make some movie magic happen.
Catherine Hardwicke directed the first film in the five-part Twilight franchise. After it hit theaters in 2008 and became a worldwide sensation, the movie's stars became household names. It's been a while since the film series came to an end, but Twilight has been making headlines again ahead of the release of Stephenie Meyer's fifth book in the series, Midnight Sun. It's basically Twilight Redux -- a retelling of the events of the first book from the vampire Edward Cullen's perspective.
A sixth film based on the new book has already been greenlit, but some fans are scratching their heads trying to figure out how that will work. One idea that's been floated would be to re-edit the original Twilight footage to make it seem as though Edward is the protagonist. For her part, Catherine Hardwicke told Entertainment Tonight that she could definitely see the value in viewing the story from a different perspective:
The question, really, is whether fans would be up for something like that. Also, whether there's even enough Cullen-centric footage from the Twilight shoot for it to work. (The answer is probably no, but anything is possible.)
Of course, if they don't take this approach, it means we're likely looking at a new era for Twilight -- one that will introduce us to a new version of Edward and Bella. Catherine Hardwicke pointed out that both Robert Pattinson and Kristen Stewart are pretty busy these days. Plus, there's the fact that both actors have made it pretty clear they're ready to move on from the franchise.
Though Robert Pattinson has defended Twilight in some respects, recently stating it's "weirder" than it gets credit for, his irritation with the whole franchise is, to say the least, storied. So even if he wasn't busy donning a batsuit right now, it seems unlikely he'd be willing to give the role of Edward another go.
In a way, that might be liberating for whoever takes the helm for the Midnight Sun movie. It's a bit of a clean slate -- a way to revive the franchise with a new perspective. So while we might miss seeing Robert Pattinson sparkling in the sunlight, the possibilities for a new era of Edward Cullen are endless.
Would you want to see a recut version of Twilight? Or are you excited to see an entirely new version in Midnight Sun? Let us know in the comments!
Your Daily Blend of Entertainment News
Thank you for signing up to CinemaBlend. You will receive a verification email shortly.
There was a problem. Please refresh the page and try again.