Doctor Doom Wields The Infinity Gauntlet In Awesome Art From Marvel Studios Designer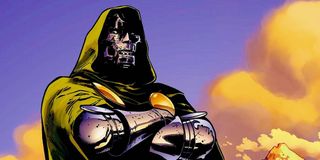 Thanks to Disney's acquisition of 20th Century Fox, the Fantastic Four can now join the Marvel Cinematic Universe someday. Whenever that day comes, you can bet that the team's arch-nemesis, Doctor Doom, won't be far behind. Alas, one powerful weapon that the MCU's Doom won't be able to use for his nefarious scenes is the Infinity Gauntlet, as that glove and the accompanying Infinity Stones have been taken off the board.
Still, it's fun to think of 'what if' scenarios, something that Marvel Comics has been doing for decades. So in this instance, what if Doctor Doom wielded the Infinity Gauntlet? Marvel Studios' Charlie Wen has shared his take on that scenario with the following artwork he posted to his Instagram page:
With his artistic MCU credits stretching from Thor to Ant-Man, Charlie Wen knows his way around the Marvel mythology, making him a good person to envision what Doctor Doom wearing the Infinity Gauntlet would look like. Wen opted to keep Doom's traditional look rather than filter the character through an MCU-like prism, but the end result still looks pretty cool, with Doom chilling on his throne and fiddling with the Time Stone while the other Stones rest on his other, Gauntleted-hand.
Of course, looking cool is one thing. Would Doctor Doom actually be able to wield the Infinity Gauntlet in the MCU? There have been a few instances in the comics where Doom has channeled that power, although those stories were not set within the main Marvel Comics continuity. Besides, just because something happens in the comics doesn't mean it would necessarily happen the same way in the MCU, as that reality is operating on its own set of rules.
Given that Tony Stark died using the Infinity Gauntlet to wipe out Thanos and his forces in Avengers: Endgame, I suspect that Victor von Doom, who, like Tony, is incredibly intelligent, but doesn't have any superpowers, wouldn't survive either. That being said, if Doom was able to plan ahead, it's possible he could invent a machine that allows his body to endure the energy of the Infinity Stones. Still, if Thanos and Hulk weren't able to walk away from using that power unscathed, it's hard to imagine Doom would either.
In any case, the chances of seeing Doctor Doom wielding the Infinity Gauntlet in the MCU are slim to none. The original Infinity Stones were destroyed by Thanos at the beginning of Avengers: Endgame, and the ones taken during the Time Heist were returned to their proper time periods by Steve Rogers at the end of the movie. For now anyway, these sources of immense power are gone for good.
Going back to Doctor Doom, while he's previously been depicted on the big screen by Julian McMahon and Toby Kebbell, given how those Fantastic Four movies were met with mixed-to-negative critical reception, there's definitely room for the MCU to put its own, more faithful stamp on the character. Whether that's through a Fantastic Four reboot or elsewhere within the franchise, we'll have to wait and see, but it's doubtful Marvel Studios will let this villain just collect dust on the proverbial shelf.
Rest assured, whenever Marvel Studios announces any specific Fantastic Four or Doctor Doom-related introduction details, we here at CinemaBlend will let you know. For now, find out what the MCU has coming up on the theatrical side of things with our handy guide.
Your Daily Blend of Entertainment News
Connoisseur of Marvel, DC, Star Wars, John Wick, MonsterVerse and Doctor Who lore. He's aware he looks like Harry Potter and Clark Kent.
Your Daily Blend of Entertainment News
Thank you for signing up to CinemaBlend. You will receive a verification email shortly.
There was a problem. Please refresh the page and try again.