What To Watch On Streaming If You Like Harrison Ford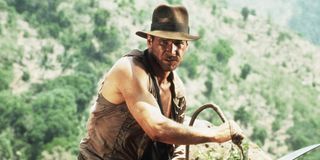 CinemaBlend participates in affiliate programs with various companies. We may earn a commission when you click on or make purchases via links.
Every generation has had its seminal action hero, from Arnold Schwarzenegger and Sylvester Stallone wrestling over the crown throughout the 1980s, Bruce Willis beating out both in the late '80s and throughout the following decade, and Charlize Theron revolutionizing the genre most recently. However, out of all of those stars, Harrison Ford is the one whom you, your parents, their parents and even the ones you are destined to parent (if not already) can almost certainly all agree on as a personal favorite.
Born on July 13, 1942, the Chicago, Illinois, native was working as a carpenter when he fell in love with acting, which began to bloom into a career in the late 1960s. When it really began to take off was when he played a smug outlaw spaceship pilot for George Lucas, and then got bigger when he re-teamed with Lucas, and director Steven Spielberg, as a bold archeologist seeking the Ark of the Covenant before the Nazis could find it.
Of course, while Han Solo and Indiana Jones may be the first characters we picture when we think of Harrison Ford, there are plenty more projects worth mentioning from his current total of 81 acting credits. We shall cover a good chunk of the enduring celebrity's greatest hits with the following 12 examples from his resume that you can stream now, starting with one of Ford's more "patriotic" roles, so to speak.
Air Force One (Netflix)
After his family and the other passengers of his personal jet are taken hostage by hijackers from Communist Russia (led by the always chameleonic Gray Oldman), the President of the United States, who's also a veteran of the Vietnam War, turns out to be the only hope for stopping them.
Why It's A Good Option for Harrison Ford Fans: Director Wolfgang Peterson's Academy Award-nominated action flick Air Force Once is arguably the best plane hijacking thriller to come out in 1997, particularly for a gruffer-than-ever Harrison Ford starring as one Commander in Chief who refuses to negotiate with terrorists.
Stream Air Force One on Netflix here.
Force 10 From Navarone (Amazon Prime)
An American military captain (Robert Shaw) and a British corporal he fought alongside once before (Edward Fox) join a diverse unit of combat strategists who are planning to destroy a bridge that is said to prevent an enemy victor during World War II.
Why It's A Good Option for Harrison Ford Fans: If it had been set during a later time in America's history of combat, this sequel to The Guns of Navarone coming 17 years later feels like it could have been a prequel to our previous entry from how Harrison Ford plays Col. Barnsby, an American leading the titular unit of Force 10 from Navarone, like someone you might trust with defending your country.
Stream Force 10 from Navarone on Amazone Prime here.
Blade Runner (HBO Max)
In a future in which artificial, yet convincingly human-like "Replicants" have been made illegal on Earth, a Los Angeles cop who specializes in "retiring" these organisms is tasked with identifying four rogues seeking to live past their programmed expiration dates.
Why It's A Good Option for Harrison Ford Fans: Harrison Ford used to argue with Ridley Scott, director of this highly influential dystopian noir inspired by a novel from Phillip K. Dick, over whether or not his character, Rick Deckard, was a Replicant, which would be to answer if you watch the theatrical version of Blade Runner, but The Final Cut incited the infamous debate which its stunning 2017 sequel respectfully leaves open.
Stream Blade Runner on HBO Max here (opens in new tab).
The Fugitive (HBO Max)
A doctor wrongfully accused of murdering his wife must search for the one-armed man who is actually responsible, all while struggling to outrun a seasoned U.S. Marshal obsessively out to catch him.
Why It's A Good Option for Harrison Ford Fans: Outside of Harrison Ford's own heart-pounding race to clear his name and avenge his spouse's devastating death as Richard Kimble, what really makes 1993's The Fugitive one of the all-time finest cinematic adaptations of an acclaimed TV series is the sizzling cat and mouse game between him and Tommy Lee Jones' Samuel Gerard, the dazzling supporting role for which Jones won an Academy Award and earned his own spinoff movie in 1998 with U.S. Marshals.
Stream The Fugitive on HBO Max here (opens in new tab).
Witness (Showtime)
After an eight-year-old Amish boy (Lukas Haas) becomes the sole witness of a brutal train station murder, a Philadelphia detective (Harrison Ford) investigating the crime poses as a member of the child's village in order to ensure that both of them are safe until the trial goes forth.
Why It's A Good Option for Harrison Ford Fans: This may be hard to believe, but Harrison Ford has actually received just one Academy Award nomination, and his performance as John Book, the undercover hero of director Peter Weir's taut, romantic 1985 thriller Witness, is the role that earned him the nod.
Stream Witness on Showtime here (opens in new tab).
Patriot Games (Amazon Prime, IMDb TV, Tubi)
Jack Ryan takes himself out of retirement after he, his wife and his child become the target of IRA terrorists after the former CIA analyst foils an assassination attempt at Buckingham Palace while on an English holiday.
Why It's A Good Option for Harrison Ford Fans: From acclaimed director Phillip Noyce, Patriot Games was the first film starring Harrison Ford as author Tom Clancy's famous CIA operative, whom the actor would reprise for the 1994 adaptation of Clear and Present Danger, arguably securing him as the archetypal (and most kick-ass) face of the espionage hero in cinema.
Stream Patriot Games on Amazon Prime here, on IMDb here, or on Tubi here.
What Lies Beneath (Showtime)
A university research scientist (Harrison Ford) and his retired cellist wife (Michelle Pfieffer) find their marriage at odds when she begins to suspect that their lakeside home is plagued by a vengeful spirit.
Why It's A Good Option for Harrison Ford Fans: Hopefully you have never seen any of the promotional material for What Lies Beneath, as even the poster is far too telling of twists in store. I will tell you to be prepared to see Harrison Ford play, somewhat, "against type" in this Hitchcockian thriller from director Robert Zemeckis.
Stream What Lies Beneath on Showtime here (opens in new tab).
Six Days, Seven Nights (HBO Max)
A New York magazine editor (Anne Heche) and the curmudgeonly pilot (Harrison Ford) she enlists to transport her to a nearby island to cover a story must overcome their mutual dislike of each other when their plane crashes on a different, deserted island.
Why It's A Good Option for Harrison Ford Fans: Speaking of playing against type, while Harrison Ford does play hero in this 1998 international survivalist thriller, the situations that he and Anne Heche encounter in Six Days, Seven Nights have a bit of a rom-com feeling to them, which is to be expected with Ghostbusters director Ivan Reitman at the helm.
Stream Six Days, Seven Nights on HBO Max here (opens in new tab).
Morning Glory (Amazon Prime, Hulu)
Hired to revive a struggling morning news program, a workaholic TV producer (Rachel McAdams) ends up making the task more challenging after the grouchy, old school anchorman she recruits (Harrison Ford) bickers with his co-host (Diane Keaton).
Why It's A Good Option for Harrison Ford Fans: Speaking of romantic comedies, the delightfully funny workplace satire Morning Glory is yet another entry to that genre starring Harrison Ford, but much less against type, and is also the second time the actor worked with the film's producer, J.J. Abrams.
Stream Morning Glory on Amazon Prime here or on Hulu here (opens in new tab).
Regarding Henry (HBO Max)
A workaholic lawyer and emotionally distant family man receives the chance to start from scratch after a convenience store stick-up causes him to suffer amnesia.
Why It's A Good Option for Harrison Ford Fans: Speaking of J.J. Abrams, the future super-producer wrote the screenplay for Regarding Henry, an emotional, yet light redemption drama from director Mike Nichols and starring Harrison Ford in the title role, marking his first official collaboration with the man who would one day get him to return to a galaxy far, far away.
Stream Regarding Henry on HBO Max here (opens in new tab).
All Of His Star Wars Movies (Disney+)
Harrison Ford became a household name in 1977 after playing Han Solo, the outlaw pilot of the Millennium Falcon turned Resistance leader, in the original Star Wars, reprising the role four more times, most recently in his uncredited Force ghost(?) cameo in 2019's Star Wars: The Rise of Skywalker.
Why It's A Good Option for Harrison Ford Fans: While Mark Hamill's Luke Skywalker was the true hero of the George Lucas' Original Trilogy, most Star Wars fans would be quick to admit that the character they most aspired to be was Han Solo, which may not have been the case if not for the undeniable swagger Harrison Ford brought to the role.
Stream the Star Wars saga on Disney+ here (opens in new tab).
The Indiana Jones Series (Netflix)
Per Steven Spielberg's suggestion, George Lucas re-teamed with Harrison Ford in 1981 to play the lead of Raiders of the Lost Ark, a breathlessly thrilling tribute to 1930s action serials, sparking a franchise that came to be named after the character, with a fifth installment currently in the works.
Why It's A Good Option for Harrison Ford Fans: While most other Harrison Ford fanboys wanted to be Han Solo, I always wanted to be Indiana Jones, the brazen, fedora-clad fortune hunter tough enough to take on Nazis, mystical cults and UFO-obsessed KGB agents, earning the unofficial title of cinema's quintessential adventure hero.
Stream the Indiana Jones Series on Netflix here (opens in new tab).
What do you think? Have we compiled the ultimate Harrison Ford movie binge, or do our choices fail to match up to the actor's true brilliance? Well, how about instead of telling us the odds, just leave a comment with a favorite of yours that we may have missed, and be sure to check back for additional information and updates on the movie star and occasional pilot, as well as even more recommendations of what you can stream starring your favorite celebrities, here on CinemaBlend.
Jason has been writing since he was able to pick up a washable marker, with which he wrote his debut illustrated children's story, later transitioning to a short-lived comic book series and (very) amateur filmmaking before finally settling on pursuing a career in writing about movies in lieu of making them. Look for his name in just about any article related to Batman.
Your Daily Blend of Entertainment News
Thank you for signing up to CinemaBlend. You will receive a verification email shortly.
There was a problem. Please refresh the page and try again.