What To Watch On Streaming If You Like Christian Bale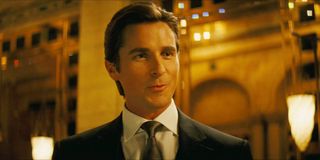 It might sound hard to believe, but Christian Bale as been popping up in movie after movie for more than 30 years now. Long before he was known as Batman, Patrick Bateman, or even "Laurie" in the 1994 adaptation of Little Women, the British actor was already an established figure in show business. And with several decades and dozens of acting credits to his name, there are plenty of movies featuring the acting and even musical and dance talents of the Academy Award-winning actor. Best of all, many of his best movies can be watched on services like Netflix, Hulu, and even Peacock.
But with so many streaming platforms and even more Christian Bale's movies to stream on many of them, figuring out what to watch and where to watch it is no easy task. Luckily, I've put together this list of some of Bale's best performances including his biggest movies and even some that might have been forgotten over time. Let's take a look at just a few of the streaming options for fans of Christian Bale.
Newsies (Disney+)
A group of New York City newsboys rise up and become heroes when a corrupt and greedy newspaper tycoon (Robert Duvall) threatens their livelihood. The fight soon escalates into the streets with plenty of singing and dancing.
Why It's A Good Option For Christian Bale Fans: Those who are more familiar with Christian Bale's more action-oriented roles that would come in the following years will surely get a kick out of seeing the young actor's portrayal of another hero, homeless newsboy Jack "Cowboy" Kelly as becomes the inspiration for the scores of disenfranchised youth who got on strike to prove a point to Joseph Pulitzer.
Stream it on Disney+ here (opens in new tab).
American Psycho (Peacock)
On the outside, Patrick Bateman (Christian Bale) looks like nothing more than just another yuppie working on Wall Street in the 1980s, but there's something more sinister than meets the eye. As he becomes more unhinged, Bateman's lust for drugs, sex, and vicious murder only becomes more deranged.
Why It's A Good Option For Christian Bale Fans: For a lot of people out there, American Psycho was when they started to see Christian Bale as more than just another pretty face in Hollywood. Through flashes of brilliance like the one seen in the iconic "Huey Lewis and the News" murder scene and the string of violent crimes committed during American Psycho's ending, this is really Bale's coming out party and would only lead to bigger and better things in the years to come. Plus, Patrick Bateman's meticulous morning routine and obsession with business cards still stand out 20 years later.
Stream it on Peacock here (opens in new tab).
The Machinist (Amazon)
Trevor Reznik (Christian Bale) suffers from a severe case of insomnia that causes extreme weight loss and an assortment of other physical and mental disorders which ultimately leads to a severe accident at the factory in which he works as a machinist. As his condition worsens, Reznik begins to lose touch with reality and descends into madness.
Why It's A Good Option For Christian Bale Fans: Released less than 18 months before Christian Bale would reinvent himself as one of the biggest stars in Hollywood, The Machinist showcased just how far the dedicated actor would push himself to get the most of out of a performance. Putting himself through hell to achieve the desired effect of his depiction of a mentally unwell man, Bale proved that he would do just about anything and everything for the sake of art. Fans of Bale's later work with American Hustle and Vice will appreciate the actor's work on the other side of the weight spectrum.
Stream it on Amazon here (opens in new tab).
Batman Begins (HBO Max)
Bruce Wayne (Christian Bale) transforms himself from billionaire heir to Wayne Industries to caped crusader of the Gotham City in Christopher Nolan's Batman Begins. Wayne's story takes him from the Far East where he joins the ranks of the League of Shadows before coming home to start a new life as the Dark Knight.
Why It's A Good Option For Christian Bale Fans: When the tragic day comes when Christian Bale's name is displayed during the "In Memoriam" section at the Academy Awards, a large section of that will be dedicated to his three appearances as Bruce Wayne / Batman in Christopher Nolan's Dark Knight trilogy. This movie really put Bale's career into overdrive and opened the doors for some pretty major action movies in the years to come. It showed that not only can he carry a movie on his back, he can carry an entire franchise. And while his Batman voice gets a lot of flack, Bale made it his own.
Stream it on HBO Max here (opens in new tab).
The Dark Knight (HBO Max)
Bruce Wayne (Christian Bale) continues his fight as Batman as the Gotham Knight protects his city from a new threat, the anarchistic Joker (Heath Ledger) who is hellbent on pushing society to the brink for his personal enjoyment. The fight to save Gotham is much different this time and Bruce Wayne must consider all options to stop the Crown Prince of Crime.
Why It's A Good Option For Christian Bale Fans: The Dark Knight is arguably one of the best superhero movies in the history of the genre and that's thanks in part to Christian Bale's performance as the caped crusader as he takes on Joker and Two Face in a Gotham City ready to implode upon itself. Pulling double duty as the masked vigilante at night and philanthropic billionaire during the day begins to take a tole on Wayne here and you can see it in the pained expressions and mindset of Bale throughout the performance.
Stream it on HBO Max here (opens in new tab).
3:10 To Yuma (Hulu)
When the outlaw Ben Wade (Russell Crowe) is captured in 19th Century Arizona, ranch owner Dan Evans (Christian Bale) volunteers to safely deliver him to the proper authorities. The plan goes south when Wade's men catch on to the plan and make a daring attempt to rescue their captured leader.
Why It's A Good Option For Christian Bale Fans: For most of 3:10 To Yuma, Christian Bale plays the opposite role he had been playing up to this point in his career in 2007, meaning that he isn't the daring badass audiences were used to seeing at that point. Torn, conflicted, and ashamed of his checkered past, Bale's performance of Dan Evans is really something you have to wait until the end of the movie to really appreciate. But it's definitely worth the wait for this daring and explosive conclusion.
Stream it on Hulu here (opens in new tab).
The Fighter (HBO Max)
Underdog boxer Micky Ward (Mark Wahlberg) tries to reach the top of his weight class and keep his drug addict brother Dicky (Christian Bale) out of trouble at the same time in David O. Russell's 2010 The Fighter. Based on the true story of the Ward brothers as they make one final shot at glory, this hard-hitting and emotional thrill ride has it all.
Why It's A Good Option For Christian Bale Fans: Just like he did with The Machinist six years earlier, Christian Bale put his body and mind through hell to cut weight (and some teeth) to pull off the distinct look of the real-life boxer-turned-addict Dicky Ward. Bale's hard work and dedication paid off here as the performance earned him an Oscar for Best Supporting Actor, and he more than deserves it for this electric and captivating performance.
Stream it on HBO Max here (opens in new tab).
Hostiles (Netflix)
Set in 1892, Hostiles centers around Army Captain Joseph Blocker (Christian Bale) after he agrees to escort a dying war chief from New Mexico to Montana, but encounters more than his fair share of adventure and adversity along the way.
Why It's A Good Option For Christian Bale Fans: Fans of the more rugged appearance of an older Christian Bale will really enjoy his take on the conflicted Army captain in this 2017 western. It doesn't get as much love as some of Bale's other performances, but the actor is more than dedicated to the character in this bleak and violent period thriller.
Stream it on Netflix here (opens in new tab).
Vice (Hulu)
Told over the course of several decades, Adam McKay's 2018 Vice explores the rise to power of the former Vice President of the United States Dick Cheney. The movie jumps back and forth through time to showcase different milestones in the public figure's professional career and hopes to explain how he became the way he is.
Why It's A Good Option For Christian Bale Fans: If you didn't know any better you wouldn't recognize Christian Bale under all the weight he gained leading up to his portrayal of Dick Cheney, but that's him. Besides the weight and signature look of one of the controversial public figures in the past half century, Bale also captured Cheney's vicious nature and mentality throughout this new take on the biopic.
Stream it on Hulu here (opens in new tab).
Ford V Ferrari (HBO Max)
James Mangold's 2019 American racing epic tells the story of the partnership formed between Carroll Shelby (Matt Damon) and Ken Miles (Christian Bale) as they attempted to dethrone Ferrari with the famed Shelby Cobra for the Ford Motor Company at the 1966 24 Hours of Le Mans endurance race.
Why It's A Good Option For Christian Bale Fans: There are times in an actor's career where you stop seeing the performer and only see the person they are portraying. This is the case for Christian Bale in his portrayal of Ken Miles in Ford v Ferrari. You simply believe that you are watching the late British driver siting in the iconic Cobra and not an actor on a set and that is a testament to the passion of Bale throughout the performance.
Stream it on HBO Max here (opens in new tab).
Those are just 10 of the great Christian Bale performances you can stream right now. If you think there is something I should have included make sure to sound off in the comments below because I am always looking for more movies showcasing the talents of one of the greatest actors of our generation.