Spider-Man 3 Fan Art Brings Charlie Cox's Daredevil Back To The MCU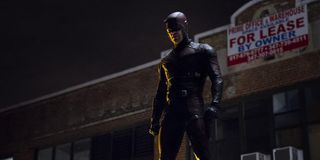 With Tom Holland's Spider-Man 3 set to release in a little over a year from now, there's been plenty of fan speculation and rumors about the Marvel characters that might make an appearance. One character Marvel fans would love to see show up is Charlie Cox's Daredevil from the titular Netflix show. Now, one fan has shared some fan art, bringing him back to the MCU. Check it out:
I have to admit it would be an awesome crossover event, pairing Tom Holland's Spider-Man with Charlie Cox's Daredevil. It's no secret that Spider-Man and Daredevil have built a great repertoire teaming up together in the comics. So seeing this take place on the silver screen would be a dream come true for many.
Better yet, since Netflix canceled Daredevil and Spider-Man 3 is in pre-production, it seems like this would be a great window of opportunity to introduce Daredevil into the MCU. For one, at the end of Spider-Man: Far From Home, Peter Parker has his identity revealed by J. Jonah Jameson, which could put him into legal trouble. Who better to help than Hell's Kitchen's own Matt Murdock? On top of that, the introduction of Daredevil could lead to Spider-Man facing off against a shared enemy—Kingpin. The possibilities are endless here and could potentially branch off into some really cool storylines. But there might be some red tape.
In the past, there have been fan rumors hinting at the possibility that Daredevil is being prepped to make an appearance in Spider-Man 3. However, when put under pressure, they weren't confirmed. Charlie Cox himself even addressed the rumors back in April, saying he hasn't heard anything, and if they're true, they don't involve him. Which is a pretty big bummer for Marvel fans and the Netflix subscribers who are invested in Charlie Cox's Daredevil.
Not tapping Charlie Cox to continue playing Daredevil is tricky. Netflix's Daredevil was one of their top trending shows when it was canceled and each season generally received favorable reviews. On top of that, Charlie Cox's performance as the titular character was dead on and could easily transition and fit within the MCU version of Spider-Man.
That said, even if Charlie Cox doesn't appear in Spider-Man 3, that doesn't mean he can't show up in the MCU in some form in the future. After all, Disney+ might be able to foreseeably continue his show for a fourth season, similar to the other Marvel TV shows currently in development. They could also give him a cameo in another Marvel film. Of course, it's a complicated legal situation between two different streaming entities.
Overall, I think teaming Spider-Man and Daredevil together in a movie could be a slam dunk, bringing two beloved Marvel characters together, and possibly charting a new cinematic course for the webhead. But, what do you think? Should Charlie Cox's Daredevil make an appearance in Spider-Man 3?
This poll is no longer available.
Your Daily Blend of Entertainment News
Your Daily Blend of Entertainment News
Thank you for signing up to CinemaBlend. You will receive a verification email shortly.
There was a problem. Please refresh the page and try again.