Wait, Did Tenet Footage Already Get Leaked Online?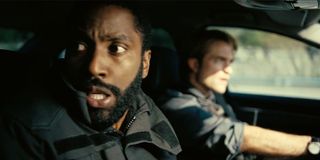 Christopher Nolan's Tenet has had a long road to the box office, to say the least but, after numerous delays, the blockbuster is now primed to make its theatrical debut. However, the staggered release date could lead to one potential issue for Warner Bros. – piracy. But has footage for the film already found its way online?
Tenet will start releasing in internationally on August 26, while other countries (including the US), won't be able to see the film until September 3. And Japan won't receive the movie until the week after that. This release method, paired with the growing demand for the flick, could ultimately lead some to pirate it. Luckily, Warner Bros. is taking steps to curve the practice, and it looks the studio has already had to put these measures to use.
According to TorrentFreak, Warner Bros. has recently had to send out a number of takedown notices asking for exclusive footage that's appeared online to be removed. The studio has even had to reach out to Google multiple times to ask that exclusive footage be removed from Google Drive, which has allowed it to be shared by privately and publicly. The files containing the footage have since been removed by Google for violating terms of use.
Now, you may still be wondering where this leaked Tenet footage originated. Well, the clip in question came from a prologue that was screened during the recent Inception re-release. TorrentFreak says that fans quickly posted the copies online, but Warner Bros. took swift action in taking them down.
Despite these early leaks, it should be said that Warner Bros. has yet to experience a leak of the full film. And as of right now, none of the footage that's briefly surfaced so far has been high-quality.
Piracy has always been an issue that's plagued both the film and television issues, especially when it comes to high-profile projects. Many people likely remember the situation Game of Thrones dealt with during its run. Nevertheless, it's good to see Warner Bros. is being proactive in keeping the finished film from reaching the web.
Tenet's plot has been kept a closely guarded secret up to this point, which is typical of any Christopher Nolan film. All we know is that the film will see John David Washington play an operative set on preventing World War III, time inversion also factoring into the story in a significant way.
As the release date gets closer, it's a safe bet that Warner Bros. will only increase its efforts to prevent Tent from being leaked. It can truly be said that Christopher Nolan makes films that are meant to be experienced on the big screen, and one can only hope that the studio is able to preserve that.
Covering superheroes, sci-fi, comedy, and almost anything else in film and TV. I eat more pizza than the Teenage Mutant Ninja Turtles.
Your Daily Blend of Entertainment News
Thank you for signing up to CinemaBlend. You will receive a verification email shortly.
There was a problem. Please refresh the page and try again.