The Rock Shares A Lovely Tribute On One-Year Anniversary Of Marriage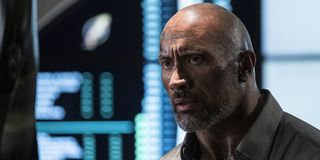 Dwayne "The Rock" Johnson has long been a busy actor, but that doesn't mean he's put love on hold for his career. Last year, he married then-girlfriend Lauren Hashian and now has put out a lovely tribute on their one-year marriage anniversary. Let's see what The Rock is cooking now.
Dwayne Johnson married Lauren Hashian on August 18, 2019. So to celebrate the one-year anniversary, he took to social media to write a long tribute to his wife as well as sharing a touching video, recapping their wedding. Check it out (and maybe bring some tissues just in case):
In the post, Dwayne Johnson recalled how during their wedding, Lauren Hashian wrote and sang an original song titled "Step Into A Love Like This," which is the song that also plays over the video. He expressed how lucky and grateful he is to have an amazing woman by his side. Though they only recently married, Dwayne Johnson and Lauren Hashian have been together for over a decade. He stated a few years back that he was going to marry her earlier but they got pregnant with their second child and decided to put it on hold until the timing was right.
While Dwayne Johnson has long been one of Hollywood's highest-paid actors, he decided to not have a big, public wedding celebration, but kept it fairly quiet. Instead, they had a secret wedding out in Hawaii. Despite being discreet, he made sure to take the time to post a beautiful photo to Instagram of him and his wife on their wedding day with the words "We do."
Part of Dwayne Johnson's success as an actor is his avid social media use, finding ways to connect with his fans. Known for playing tough-as-nails action heroes in movies like The Fast of the Furious, he tends to show his softer side on social media, sharing various aspects of his personal life like when he tried to convince his youngest daughter that he plays Maui in Moana.
He's also been upfront about some of the struggles he and his wife have had during their first year of marriage through quarantine and offered relationship and marriage advice on how not to destroy your marriage while in isolation. Notably, he suggested working at getting better at communication and also taking time to have alone time.
When he's not getting married or taking to social media to post something, Dwayne Johnson is always hard at work on acting in several projects. The actor/producer got a ton of new movies lined up in the next few years, including Disney's Jungle Cruise, Netflix's Red Notice, and DC's Black Adam, and that's just the tip of the iceberg. For more movie news, be sure to stay tuned to CinemaBlend.
Your Daily Blend of Entertainment News
Your Daily Blend of Entertainment News
Thank you for signing up to CinemaBlend. You will receive a verification email shortly.
There was a problem. Please refresh the page and try again.