New Dune Photo Features Another Look At Zendaya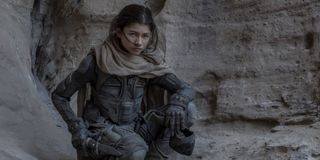 Slowly but surely, we're inching our way closer to the premiere of Denis Villeneuve's Dune, and it still feels like it can't come soon enough. But with each passing day, we're getting new sneak peeks. And recently we got a new, closer look at Zendaya's mysterious character.
The Dune cast list features an all-star group of actors with Timothee Chalamet, Oscar Isaac, Josh Brolin, Jason Momoa, Rebecca Ferguson, and, of course, Zendaya. Zendaya will be playing Chani, a Fremen and love interest to Paul Atreides. Recently, Empire shared on social media a new photo. Take a look:
This is pretty cool. It's exciting to see these characters in a real desert, wearing their Stillsuits. Dune fans might also notice Zendaya's eyes have a touch of blue. This is from the Fremen's diet rich in the spice Melange and is also called "blue-in-blue" or "the eyes of Ibad."
Zendaya's character, Chani who was originally played by Sean Young in David Lynch's Dune, plays a significant role in the first novel as a powerful warrior and Paul Atreides Freman's wife. She's also pretty important in the plots of subsequent novels, like Dune Messiah. And fans are eager to see what the Euphoria actress will bring to the role.
However, how much Zendaya is actually in the first part of Denis Villeneuve's Dune is uncertain. Zendaya herself stated in an interview that she "wasn't in it very much." So, it's hard to say what that really means. Perhaps she's not in the first part but plays larger role in the second part? That seems more likely. In any case if the Dune films prove popular and they stick to the source materials, it's possible Zendaya could continue on playing Chani.
To a degree, it seems difficult to believe Dune won't be a huge blockbuster when it releases later this year. It has a fantastic director, an impressive cast, and a rich science fiction story and fanbase, similar to The Lord of the Rings. So if all goes well, Zendaya should have a firm footing in the franchise.
Zendaya has appeared in a few big movies of late like Spider-Man: Far From Home, and she's quickly proving to be an up-and-coming actress with some serious acting chops. Her appearance in Dune could be a nice next step in her budding career. She also recently got an Emmy nomination for her role in HBO's Euphoria.
While these Dune photos are helping tide fans over for now, many are very eager to see a trailer, considering the movie is only months away. Turns out, a trailer is on the way, and some have already seen it during screenings of Tenet.
Dune is expected to land in theaters on December 18th, 2020. For more movie news, be sure to stay tuned to Cinema Blend.
Your Daily Blend of Entertainment News
Thank you for signing up to CinemaBlend. You will receive a verification email shortly.
There was a problem. Please refresh the page and try again.