After New Mutants, 5 Marvel Stories That Need The Horror Movie Treatment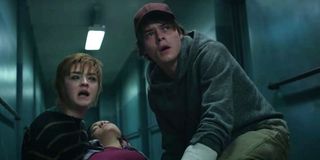 (Image credit: (20th Century Studios))
Josh Boone's The New Mutants finally hit theaters over the weekend. Yes, really! But sadly, the end of the Fox's X-Men era was not worth the wait for many fans, especially after years of behind-the-scenes drama and multiple release date delays, some of which revolved around Disney's acquisition of Fox. The New Mutants may have turned out to be a bummer for Marvel as a whole, but that doesn't mean it didn't have a compelling concept to begin with. The movie was the studio's first attempt at bringing a horror-centric comic book storyline to the big screen.
The New Mutants didn't exactly commit to its title as the "first Marvel horror movie" even with the awesome Demon Bear Saga adaptation right there. Nevertheless, it had me thinking: Marvel should still continue to tap into some of the comic books more spooky storylines in the future. The superhero genre has already found success with playing with a number of genres in recent years, and the thirst for more horror stories is at an all-time high. The MCU already might be going there with Doctor Strange in the Multiverse of Madness. Here are five Marvel stories that the studio should consider next for the horror treatment:
Moon Knight In Werewolf By Night
Last summer, it was announced Moon Knight is coming to Disney+ for his own television show, which is great news for fans of the character. Theoretically, Marc Spector could be the center of an awesome horror movie (or television arc, I'll take it) for Marvel thanks to the character's roots in the universe. The once-heavyweight boxer-turned-Marine and then CIA operative becomes the avatar for an ancient Egyptian moon god's vigilante after nearing death. Spector deals with multiple identity disorder with different motives that he is constantly juggling with.
Moon Knight's first appearance in 1975 occurred amidst Marvel Comics introducing a slew of horror characters into its issues. He was introduced in an issue of Werewolf By Night, where he's hired as a mercenary by an ambiguous committee to track Jack Russell by the moonlight. Werewolf By Night is just a jumping off point for Moon Knight, and the character's combination with the psychological and supernatural makes him a great Marvel hero for horror.
Nightcrawler: The Devil Inside
If Marvel wants to try its hand at adapting another specific X-Men character for its next horror movie, a good pick would be the blue teleporting mutant, Kurt Wagner/Nightcrawler. The popular comic book character has not had the best luck with being on the big screen, mainly because he was reduced to short cameos. The most exciting way to adapt Nightcrawler could be through an adaptation of 2004's 12-issue run (opens in new tab), which embraced Kurt's demonic origins.
This version of Nightcrawler has the mutant often coming into contact with the supernatural, as he investigates a mysterious power that has been mutilating children. He comes across demons in hospitals and ghosts on subways as the underworld crosses path with his own world. It would be a great way to highlight the mutant and bring in the genre in a fresh way.
Immortal Hulk
Following Avengers: Endgame, fans of Mark Ruffalo's Hulk have been hoping the Green Goliath will get to continue his role in the universe. Yet the character has not been specifically cast in any upcoming Marvel movie or television show – though Disney+'s She-Hulk might be an option. One unique way Marvel could continue Hulk is through an ongoing horror comic series that started in 2018 called Immortal Hulk.
This storyline occurs when Bruce Banner and Hulk have undergone so many deaths that the persona known as Devil Hulk becomes the dominant one guiding the body of Hulk. It's the most powerful version of Hulk, who is immune to dismemberment or any type of injury. The comics involve the horror subgenre of "body horror," as Hulk's conflicting personas continue to haunt Bruce at intensifying levels.
Blade And The Curse Of The Mutants
Soon enough, vampires are also coming to Marvel in a couple ways. On Sony's side, the Morbius movie starring Jared Leto is set for 2021, and it's been announced Mahershala Ali will play Blade in an upcoming reboot to follow Wesley Snipes' version. Concerning Blade, there's a lot of awesome opportunities for Marvel to dive into more horror-centered narrative, but the first one that comes to mind is the Curse of the Mutants storyline (opens in new tab).
In this run involving Blade, famous X-Men characters become victims due to being transformed into vampires at the hand of the son of Dracula, Xarus, who Blade previously defeated. The X-Men left enlist vampire-hunter Blade to help them vanquish his bloody plan on the streets of San Francisco. It's an awesome crossover event that could give way to the MCU's plan to revitalize the mutants into its lineup. I'm not sure if Disney is technically allowed to involve Dracula into its movies, considering Universal is launching its own Dracula movie, but even so – take notes, Marvel!
Marvel Zombies
The last one here is Marvel Zombies, an actual comic book run that the comic book publisher had going on between 2005 and 2006. In the series set in an alternate universe, the superhero population we know and love have been infected with a deadly virus that turns our faves into, yes, zombies. Who doesn't want to see Earth's Mightiest Heroes use their incredible powers as zombie versions of themselves? It would be awesome and super fun.
DC is currently planning to cash in on its multiverse with some of its upcoming releases, and Marvel is gearing up to explore the multiverse as well for Doctor Strange 2. Marvel Zombies might not be the first best idea for a full-fledged MCU team-up movie, but it would be interesting to see it adapted in some form someday.
It's tough to say whether Marvel would be game to adapt these horror-centric storylines, especially since Disney is at the helm here. But Marvel continues to be a vast place that pulls from a number of genres, and it'd be great to see a real go at the more terrifying elements of the comics. What do you think? Would you like to see these on the big screen? Which one? Do you have a personal favorite? Vote in the poll below and check out what's coming next for the MCU here.
This poll is no longer available.
YA genre tribute. Horror May Queen. Word webslinger. All her writing should be read in Sarah Connor's Terminator 2 voice over.
Your Daily Blend of Entertainment News
Thank you for signing up to CinemaBlend. You will receive a verification email shortly.
There was a problem. Please refresh the page and try again.