What's Going On With The Princess Diaries 3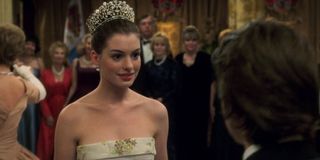 It has been nearly 20 years since Anne Hathaway broke out onto the scene with her performance as Mia Thermoplis in Garry Marshall's 2001 cinderella story The Princess Diaries, and over 15 years since the Academy Award winner returned to Genovia in 2004's The Princess Diaries 2: Royal Engagement. But after all the years, countless roles, and a number of awards, the world is still waiting on Queen Mia to return to the Disney franchise. So, what's going on with The Princess Diaries 3?
Well, officially, there hasn't been much to go off of these past few years, but there while Disney nor the producers of the franchise have said anything, several of the stars from the first two films have spoken up time and time again voicing their desire to return to the world of The Princess Diaries for at least one more go around before everything is said and done. With that in mind, let's take a look at what has been going on with the project.
Garry Marshall Was Working On Something Before His Death In 2016
The world was shocked and saddened by the death of legendary film and television director Garry Marshall at the age of 81 in July 2016, but the news stung The Princess Diaries fans a little harder as the filmmaker was supposedly working on something tied to the franchise just a few months before his death. During an April 2016 conversation on Larry King Now, the man responsible for bringing classic shows like Happy Days and Laverne & Shirley to the small screen and films like Pretty Woman, Beaches, and Runaway Bride opened up about whatever he was working on regarding the story of Queen Mia:
Unfortunately, we won't get to see whatever Garry Marshall had planned to do with a third Princess Diaries movie, but it is nice to know that Julie Andrews and Anne Hathaway have continued to push forward with the project, even after the death of one of the main contributors to the first two entries.
Anne Hathaway Said There Was A Script And An Urge To Move Forward In 2019
Several years after Garry Marshall's passing, Anne Hathaway was a guest on Watch What Happens Live with Andy Cohen in January 2019 when a caller asked if there had been any progress with The Princess Diaries 3, and to the shock of everyone, Queen Mia herself gave perhaps the biggest update in ages:
While Anne Hathaway didn't provide a lot of concrete information about the long-rumored sequel to The Princess Diaries 2: Royal Engagement, her candidness did show that one, she is still tied to the project, and two, she still holds a special place for a franchise that served as a springboard into stardom.
Julie Andrews Said It Would Be Lovely To Get Together For A Third Movie In 2020
Anne Hathaway isn't the only member of the Princess Diaries cast to show an interest in continuing with the series as Queen Clarisse Renaldi herself, Julie Andrews, told The Talk in April 2020 that it would be lovely to go back to Genovia at least one more time, stating:
And while Julie Andrews makes it sound like the odds might be stacked against the cast in getting something going for The Princess Diaries 3, but we all can hope, right? Right? But this all does lead you to wonder about the script that Anne Hathaway spoke about a year earlier and if that is still around if her onscreen grandma is saying that they were waiting on one more than a year later.
Heather Matarazzo Said There's A Desire To Get This Done In A 2020 Interview
Heather Matarazzo, who played Mia's best friend Lilly Moscovitz in both Princess Diaries movies, was even getting in on the fun about a third entry when she appeared on The Morning Show in July 2020. During the interview with the Australian morning news program, Moscovitz explained that everyone wants to see The Princess Diaries 3, hopefully, sooner rather than later, stating:
The actress, who achieved acclaim at a young age in the 1995 dark comedy Welcome to the Dollhouse stressed that while she was excited to see something happen, COVID-19 has forced a lot of studios to put plans on hold this year.
Even Mandy Moore And Chris Pine Sound Down To Return
In addition to launching the career of Anne Hathaway, The Princess Diaries and its 2004 sequel The Princess Diaries 2: Royal Engagement helped propel the careers of Mandy Moore and Chris Pine, respectively. In recent years while the two actors have gone on to find a great deal of success in their careers, Moore and Pine both have gone on the record stating that they would like to return to the franchise if there was a third installment.
It has been years since his portrayal of Nicholas Deveraux in The Princess Diaries 2, but Chris Pine was still fielding questions regarding a possible third movie when promoting The Finest Hours in 2016. During a Q&A session with EW, Pine was asked if he prayed there would be a third movie, and he responded in the best possible fashion:
Mandy Moore, on the other hand, made it seem like she thought it would be better for her character, Lana Thomas, to return for a small cameo during a 2017 conversation with Elle:
Maybe we could get more than a cameo out of Mandy Moore, who has proven time and time again that she can hold her own in front of the camera, especially on This Is Us. Fingers crossed, I suppose.
What about you? Would you be excited to see The Princess Diaries 3? Let us know in the comments below.
Philip grew up in Louisiana (not New Orleans) before moving to St. Louis after graduating from Louisiana State University-Shreveport. When he's not writing about movies or television, Philip can be found being chased by his three kids, telling his dogs to stop yelling at the mailman, or yelling about professional wrestling to his wife. If the stars properly align, he will talk about For Love Of The Game being the best baseball movie of all time.
Your Daily Blend of Entertainment News
Thank you for signing up to CinemaBlend. You will receive a verification email shortly.
There was a problem. Please refresh the page and try again.