Zac Efron Has A New Girlfriend Named Vanessa And People Are Flipping Out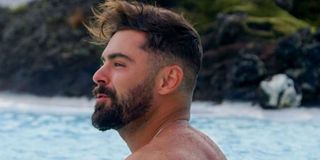 Zac Efron has been making a lot of changes in his life lately. Sources indicate he's looking around for a long-term property in Byron Bay, Australia and even newer reports have indicated he has a new romantic interest in Vanessa Valladares. Of course, the fact that Efron may be dating another Vanessa who even looks a little bit like his ex certainly has sparked comments on the Internet. Some people are seeing the headlines, in fact, and quickly flipping out.
Basically, a lot of headlines running around the Internet have been tricking some casual scrollers online who see the words "Zac Efron" and "Vanessa" in the same sentence and immediately jump to conclusions. In fact, however, Zac Efron is dating the 25-year-old Vanessa Valladares and not reuniting with his former High School Musical flame Vanessa Hudgens after all these years.
I'm sure it doesn't help matters that Valladares has a bit of the same look as Zac Efron's former co-star and flame, either.
The former High School Musical stars have not gotten back together after like a decades-long hiatus. And yet. People could not wrap their heads around the idea that Zac Efron is with a new Vanessa and not the more famous Vanessa, causing brief excitement and then devastation from various people on Twitter.
Some fans just feel a little sorry for Vanessa Hudgens in this situation, given she's trending on Twitter for basically no fault of her own. (Though to that, I would counter that there are worse things to be trending for.)
Some people saw the news, realized Vanessa Valladares is obviously a different person than Vanessa Hudgens and yet simply decided Efron's newest partner is a blip. In their minds reality is fleeting and High School Musical is forever.
Back in 2005, Zac Efron was at the height of his High School Musical popularity. He was also dating his co-star in the franchise, Vanessa Hudgens, and the two were a Hollywood it couple for a while, splitting after three years together. Efron went on to publicly date Sami Miró and notably went to rehab, then switched up gears in his acting career to do Netflix's Down To Earth With Zac Efron. As part of that, he traveled the world and now in 2020, a year where a lot of people are on the move, he's settling down in Australia, presumably with Vanessa Valladares, who is alleged to have basically moved in with the actor, according to People. They also recently went on a ski trip with one another as Efron seemingly settles down in the AU.
Vanessa Valladares posts fairly often on Instagram, though she hasn't shared content with Zac Efron yet. We'll be sure to let you know if they make things Instagram official. Meanwhile, the rest of us just need to practice not inserting "Hudgens" into sentences when we really mean Valladares. It's a tough life we live.
Amazing Race & Top Chef superfan with a pinch of Disney fairy dust thrown in. Theme park junkie. If you've created a rom-com I've probably watched it.
Your Daily Blend of Entertainment News
Thank you for signing up to CinemaBlend. You will receive a verification email shortly.
There was a problem. Please refresh the page and try again.