Crazy Rich Asians: 9 Fascinating Behind-The-Scenes Facts About The Movie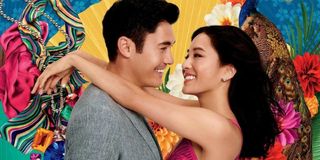 By now, you probably know that Crazy Rich Asians made a whole lot of money. Warner Bros.' acclaimed romantic comedy, based on the novel of the same name by Kevin Kwan, provided great cinematic representation for its primarily Asian cast and it provided director Jon M. Chu with his biggest critical success to date.
At a time when romantic comedies are quickly and hastily being thrown onto streaming services in lieu of any theatrical release, Crazy Rich Asians' success was a major achievement, and the same should hopefully be the case for its upcoming sequels. For audience members who loved the movie and wanted to know more about the making of this box office smash, there are quite a few fun and interesting behind-the-scenes facts worth knowing about this studio comedy. With that noted, let's take this chance to look at the filmmaking process behind Crazy Rich Asians.
Henry Golding Cut His Own Honeymoon Short For His Crazy Rich Asians Audition
Call it either fitting or ironic, but when it came to Henry Golding's audition for Crazy Rich Asians, the novice actor needed to cut his own honeymoon short in order to make it to his audition. Yes, even though Golding was previously only a television personality prior to his starring role in this major film, he was sought after by the filmmakers and brought in to audition for the role. While he was initially hesitant to make such a big splash with his acting debut, he evidently warmed up to the idea, as he put his own love life celebrations on hold in order to make it in time for this audition. Clearly, it played out well as he got the part. Can you imagine how incredibly awkward it would've been if he didn't get it, though?
Author Kevin Kwan Makes A Really Quick Cameo
Movie lovers are probably used to filmmaker cameos. Filmmakers like Alfred Hitchcock and Quentin Tarantino have provided film lovers with knowing smiles whenever they walk into their own movies, providing a fun little easter egg for anyone who might be clued in. But what about author cameos? While they're not as common, they're sometimes found, as was the case with Crazy Rich Asians.
Author Kevin Kwan, who wrote the source material for this hit movie, can briefly be seen in one early scene, during the flurry of texts exchanged near the start of the movie. If you know who he is and what he looks like, this appearance is a fun little surprise — if you catch it, of course. But this brief-but-amusing appearance does make for a loving nod to the man who wrote this book and provided the groundwork.
The Movie Underperformed At The Chinese Box Office
While Crazy Rich Asians certainly became a big critical and box office success over here in the United States, the same couldn't be said for the film's Chinese premiere. In fact, the movie was an outright box office flop. When the movie debuted in China, it only opened in eighth place with $1.2 million. When it was clearly not doing well, theater owners were starting to pull it prematurely, which certainly didn't help its financial showing, and audiences weren't coming out to see it. This whimper of a box office comes after the movie needed to fight to have it play in China in the first place after the film didn't fully meet China's strict content regulations. Nevertheless, while Warner Bros. was likely underwhelmed by the movie's poor numbers in China, it was still a record-breaking smash here in the United States.
Michelle Yeoh Was Initially Unhappy With The Screenplay
What's written on the page doesn't always match what's presented on the screen. Many book lovers have learned this lesson over the years. When an author writes a book, it's typically a one-person job (minus editors, publishers, and whatnot). When everyone gets together to make a movie, it's more of a collaborative process. Sure enough, not everything in Kevin Kwan's novel ultimately made it to the film, and not everything written in its screenplay adaptation made it either. There are many reasons why that might be the case, but one of them comes down to Michelle Yeoh. As the actress noted, she was initially unhappy with Crazy Rich Asians' screenplay because her character was written as very "nasty, mean," and "not nice at all." She believes there was more love motivating her character's decisions than the screenplay suggested. So, changes were made.
The Filmmakers Were Pressured To Change The Title
Crazy Rich Asians is an eye-catching title. It's bold and provocative. There's a good chance that it helped the novel find notice and achieve success over the past few years. But when it came time to make the movie adaptation, there were reportedly some folks who pressured director Jon M. Chu to change the title, according to the filmmaker. While it's unclear what they wanted the reworked title to be, it's clear that someone involved in the making of this film wasn't entirely happy to see that title on marquees across the country. Nevertheless, Chu was a fan and stuck with it. In his words, the title creates "conversation, which I think is good." If you have people talking about your movie, there's a greater chance that word spreads and more people will know about it, helping the film find an audience.
Netflix Was Originally Very Interested In Making Crazy Rich Asians (And They Offered A Lot Of Money)
Crazy Rich Asians is the first major Hollywood studio movie with a majority cast of Asian descent in a modern setting to be released since 1993's The Joy Luck Club. That's an exceptional feat, one that makes its success all-the-more rewarding. Its triumphant theatrical rollout made it an event in a packed summer movie season, and it became one of the biggest rom-coms in recent years. It's an astounding success story in an era where so many romantic comedies go straight to Netflix. Apparently, however, the streaming studio was very interested in the project, and they were willing to pay a substantial amount to make it happen under their banner. While they were offering appropriately large sums of cash for the rights, director Jon M. Chu wanted his movie to play in theaters.
Michelle Yeoh Brought Some Of Her Own Jewelry Into The Movie
If you found yourself admiring some of the fine jewelry seen and worn throughout Crazy Rich Asians, then you have very similar taste to Michelle Yeoh. The actress lent out some of her own jewelry for the movie, as it was reported, as she has been collecting fine jewelry for many years now. One of the most prominent pieces of jewelry seen in the movie that was actually owned by Yeoh was none other than her character's engagement ring. This is even despite director Jon M. Chu's desire to use another ring for this prop. The ring that Chu wanted to use was modeled after the engagement ring John F. Kennedy gave to Jackie. Even though Chu was eager to use that ring, Yeoh insisted on her own. She also wore this ring during promotional rounds for the film.
Awkwafina Said She Wanted To Steal Her Wig (To Throw It Out The Window)
It's not an uncommon practice for actors to steal stuff from sets. When you're given a bunch of cool props/assorted items to work with, it's easy to feel some sense of ownership over them over the course of filming. You might also want a cool keepsake to remember your time on set, especially if it's a movie you loved making. When it came to Awkwafina, she shared her amusing desire to take wig she wore in Crazy Rich Asians. But it wasn't because she loved it. Rather, she wanted to take it just so she could throw it out the window. She wanted to get rid of it on her own, but from what she told Access, it sounds like it apparently didn't work out that way. Alas, while most actors try stealing props they love, Awkwafina wanted one she hated.
The Young's Estate Was 'Filled With Monkey Feces' Before The Production Designer Took Over
A production designer's work can often be underappreciated. People sometimes take the sets for granted — no matter how lavish they might be — and they especially take for granted how much work they have to do to make sure they look as presentable as possible for the final film. Certainly, it sounds like Crazy Rich Asians' production designer Nelson Coates had his work cut out for him when it came to the shooting location for the Young's estate. When the team visited the 19th-century house, they discovered that it was literally "filled with monkey feces." Nobody had been in the house for ages, it turns out, and the local animal wildlife had opted to use the place as their very, very, very expensive bathroom. Sure enough, the team had to do some extra duty work.
Did you love Crazy Rich Asians? Are you looking forward to the sequels? Let us know in the comment section below!
Your Daily Blend of Entertainment News
Will is an entertainment writer based in Pittsburgh, PA. His writing can also be found in The Playlist, Cut Print Film, We Got This Covered, The Young Folks, Slate and other outlets. He also co-hosts the weekly film/TV podcast Cinemaholics with Jon Negroni and he likes to think he's a professional Garfield enthusiast.