Birds Of Prey: 9 Cool Behind-The-Scenes Facts About The Harley Quinn Movie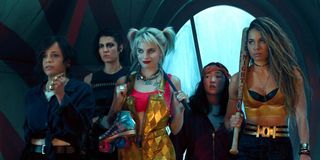 Earlier this year, DC finally gave Harley Quinn her own movie (sorta) with Birds of Prey (And The Fantabulous Emancipation of One Harley Quinn). The Margot Robbie-vehicle was a splashy success for critics and audiences, though it didn't necessarily take the box office by storm (but it's not a flop). But it undoubtedly found an audience, providing a fun, rambunctiously energetic addition to the ever-growing comic book genre. And it sounds like it was an entertaining shoot to boot. Here's what you should know about the making of this DC blockbuster.
Harley Quinn's Transformation Took Two-And-A-Half Hours A Day
As you can imagine, Margot Robbie's transition into Harley Quinn doesn't happen instantaneously. It takes a team of talented make-up artists to bring the character to life from the page-to-the-screen, and the process takes up a decent bit of time. As Robbie detailed to BBC Radio 1, Birds of Prey's make-up process took about two-and-a-half hours, which Robbie called "quite a feat" considering that it involved full body paint, fake tattoos, the wig, the fake, plus continuity-based blood and bruises — depending on the scene.
While nearly three hours is a long time, it was reportedly condensed from the nearly six-or-seven-hour process from Suicide Squad's Oscar-winning make-up team. Hopefully, this long make-up process took even less time when Robbie reprised her role in James Gunn's forthcoming The Suicide Squad, which started production shortly thereafter.
John Wick's Chad Stahelski Helped Direct A Few Pivotal Action Sequences
As an up-and-coming filmmaker, director Cathy Yan got the opportunity of a lifetime when she signed on to direct Birds of Prey. But with only one other feature film on her resume, the Chinese family dramedy Dead Pigs (which is still awaiting its U.S. release), Yan came onto the project as a novice action director. While she did a commendable job with the project, Yan also had assistance from someone with plenty of action experience: Chad Stahelski, the stuntman-turned-director behind the John Wick trilogy.
Stahelski was on-hand to assist with the film's biggest action sequences. He helped Yan realize her vision, providing some poppy, fast-flying action scenes that were smooth, striking, and pack a big punch. Here's how Yan described Stahelski's involvement, and how he added to Yan's vision of being both "practical" and "heightened."
Harley Quinn's Pet Hyena Was A Mix Of CG And A Large Dog, Though The Filmmakers Considered Using A Real Hyena
As you can imagine, having a wild animal on your set isn't the safest or easiest thing in the world. Sure, there were be professional handlers on-hand to keep the animal in line (hopefully), but it doesn't necessarily produce a stress-free day at work. So, the filmmakers behind Birds of Prey decided not to have a live hyena on set, as it'd prove to be hectic, time-consuming, and expensive. But instead of making the hyena an entirely CG creation, the filmmakers split the difference.
Specifically, director Cathy Yan and her team decided to cast a very big dog for these scenes, which was then retooled to look like a hyena through to the magic of CG. This decision is an admirable one. It helps Margot Robbie establish authentic chemistry with an actual living, breathing animal while not dealing with all the hassles that arrive from putting an actual living animal in the action, as she detailed in the special features for Birds of Prey's digital release. This is how Robbie explained the decision-making process when it came to Harley's pet hyena:
*Harley Quinn's Breakfast Sandwiches Were Made With Duck Eggs *
One of the most unexpectedly delightful subplots in Birds of Prey revolves around Harley Quinn's lustful desire for the perfect breakfast sandwich. The camera isn't afraid to make this greasy, cheesy, desirable meal item look downright sexy in its on-screen presentation to match the wondrous eyes of our unreliable narrator. It became a pivotal plot throughout the course of this comic book spin-off, but there was a big problem.
As it turns out, Margot Robbie is allergic to chicken eggs. Specifically, the protein found in chicken egg whites, which gives the A-list actress migraines. When a key part of your major blockbuster deals with your character eating egg sandwiches, this is certainly a tricky problem, but they were able to resort to duck eggs instead. Here's what Robbie told Fandango:
Director Cathy Yan Fought To Keep One Very Uncomfortable Scene In The Movie
While Birds of Prey often favors a gleefully anarchic vibe throughout, matching the peppy personality of our unreliable narrator, there is one moment near the midpoint that notably takes a much darker, more disturbing tone than the rest of the splashy, bright-colored blockbuster. While seething in his nightclub, Roman Sionis/Black Mask (Ewan McGregor) is deeply annoyed by a patron cackling at another table. Assuming the laughter is directed at him, Roman publicly humiliates her by making her strip down to her underwear and dance, unless she wants to be killed on the spot.
It's a startlingly dark moment, and it gave the executives over at Warner Bros. pause. The scene was deemed "risky," though Cathy Yan insisted that it stay in the movie, as it was pivotal for McGregor's character. Here's what Yan said:
Margot Robbie's Ice Skating Training For I, Tonya Paved The Way For Harley Quinn's Roller Skating Scenes
In addition to garnering a great deal of praise and an Oscar nomination to boot, Margot Robbie's title performance as Tonya Harding in I, Tonya gave the high-profile actress a lot of time to learn how to figure skate, which unexpectedly came in handy as Robbie and her fellow producers were putting this spin-off movie together. As Cathy Yan noted in our interview, Robbie took to roller skating easily since she already had a lot of figure skating experience. Thus, Robbie's roller skating skills proved to be plentiful, allowing the climactic battle where Robbie skates around beating up bad guys left-and-right come a little bit easier. Here's hoping Robbie uses the skills she learned making Birds of Prey to good use in other high-profile productions.
There Was Another Musical Number, But It Got Cut
There's no denying that Birds of Prey is an extravagant movie. With a budget that reportedly verges on triple digits, Harley Quinn's standalone(ish) movie allowed the filmmakers to explore the bombastic mind of its erratic main character. Birds of Prey indulges in bright colors, splashy visuals, high-energy action sequences, and bountiful uses of confetti. There's also a lavish musical number sequence that's shown — if somewhat briefly — during a standout scene. As it turns out, this musical moment wasn't supposed to be a singular sensation.
According to Margot Robbie in an interview with MTV, there was at least one other musical number planned, and the one shown was ultimately meant to be even more lavish than what we saw in the final product. Alas, due to time constraints (and possibly even budget constraints), we only got to see "tiny little snippets" of one musical number, even though Robbie, Ewan McGregor, and Chris Messina went ahead and took dance lessons and learned the choreography. Alas, not even Harley Quinn can fit everything into one movie.
Cathy Yan Ultimately Didn't Need To Fight Too Hard For Birds of Prey's R-Rating
Although they're becoming more commonplace in today's film market, R-rated comic book adaptations are still relatively novel — or, at least, they're noteworthy enough to garner extra attention. While Suicide Squad was trimmed down to a PG-13 rating, much to some graphic novel aficionados' dismay, Birds of Prey relished in its R-rated antics.
Given Harley Quinn's introductory PG-13 rating, you might think Warner Bros. would be hard-pressed to keep this movie under the same PG-13 restrictions, but Cathy Yan claims there was less pushback from the studio than some people would think. Apparently, WB was willing to let Yan make the Harley Quinn movie she wanted to make — with limited reservations regarding coarse language, over-the-top violence, and explicit sexuality. Here's what Yan said about Birds of Prey's R-rating:
Jurnee Smollett Took Home Harley Quinn's Baseball Bat
There are several examples of movie stars taking various items from set home once filming wraps. It's a nice little keepsake, a way to remember the fun times you shared on set. When it comes to Birds of Prey, there were several costumes and props that make for great souvenirs. Jurnee Smollet found one, in particular, that was an excellent score: Harley Quinn's goodnight bat. In an MTV interview, Smollet suggests there are at least a few (Black Canary uses the bat during the climactic finale), so she snuck out with at least one of these accessories (as well as some jewelry too). It'll serve as a fond reminder of the great memories experienced on this set. Though, now that the secret's out, Smollet worries someone will come "knocking on [her] door."
In addition to all these fun facts, it's also worth noting that Ewan McGregor improvised a lot of his lines, screenwriter Christina Hodson added the film's gleefully lengthy, potentially now axed subtitle as a goof, not thinking it'd actually be used, and the cast unwinded by drinking in Rosie Perez's trailer. Do you know any additional fun facts about the making of DC's Birds of Prey? Please let us know in the comments!
Your Daily Blend of Entertainment News
Will is an entertainment writer based in Pittsburgh, PA. His writing can also be found in The Playlist, Cut Print Film, We Got This Covered, The Young Folks, Slate and other outlets. He also co-hosts the weekly film/TV podcast Cinemaholics with Jon Negroni and he likes to think he's a professional Garfield enthusiast.
Your Daily Blend of Entertainment News
Thank you for signing up to CinemaBlend. You will receive a verification email shortly.
There was a problem. Please refresh the page and try again.