Zendaya And John David Washington's Quarantine Movie Is Heading To Streaming For A Big Price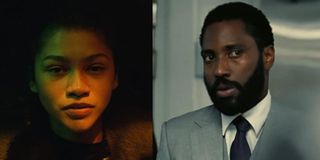 After the announcement back in July that Zendaya and John David Washington made a secret quarantine movie titled Malcolm & Marie, questions were raised about how it was made, what the story was about and whether or not it will hit theaters. Well, now we know the answer to that last question: Malcolm & Marie is diving into streaming, and it was bought for a big price.
While things have been fairly tight-lipped about Malcolm & Marie, it's been recently announced that Netflix has bought the worldwide rights to the film for $30 million, according to EW. In other words, Netflix fans will have yet another hot title to anticipate down the road.
Malcolm & Marie was written and directed by Euphoria creator Sam Levinson, teaming him back up with Zendaya and many of the same crew. Per Netflix, the movie is a "witty, lush, romantic drama" about a filmmaker (John David Washington) and his girlfriend (Zendaya) coming home after a big night celebrating his new movie that's expected to be a big success. However, their night takes a turn when their relationship is tested as cracks appear.
The story behind Malcolm & Marie is fascinating. After the second season of Euphoria was shut down due to current events, Zendaya asked Sam Levinson if he could write a movie during quarantine. He wrote one in six days and they started filming from June 17 to July 2.
Reportedly, to ensure the production was safe, doctors and lawyers were involved to make sure everyone followed safety protocols. The cast and crew all wore masks, were social distanced (with the exception of on-camera work) and housed in separate rooms with their own HVAC units.
Back in early July, Zendaya herself took to social media to announce the project. She even showed one of the romantic photos taken during production. Take a look:
Of course, while we now know where Malcolm & Marie will land and have been given a short synopsis of the story, there are several other questions we haven't had answered yet. For instance, it's unknown if the photo Zendaya shared means the movie will be in black-and-white or color. Also, while we know it will hit Netflix, we haven't been given an exact date for when the movie will drop.
Either way, since John David Washington and Zendaya are some of the hottest actors working in Hollywood right now, this movie is quite a catch for Netflix. Whenever it inevitably releases, I'd wager there's a good chance it could be a big success on Netflix's Top Ten charts. Stay tuned to CinemaBlend for the latest updates on this story as it develops, and more news concerning movies headed to streaming.
Your Daily Blend of Entertainment News
Thank you for signing up to CinemaBlend. You will receive a verification email shortly.
There was a problem. Please refresh the page and try again.