Christopher Nolan Totally Teased John David Washington On The Set Of Tenet And Pringles Are Involved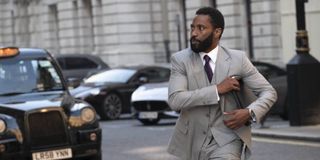 Whenever Christopher Nolan steps into the spotlight to talk about his latest film, Tenet, he typically comes across as poised, thoughtful and intelligent. But that doesn't mean he doesn't have a sense of humor. Recently, we got a little sneak peek of this side of him when he totally teased John David Washington on the set of Tenet about delicious Pringles snacks.
Throughout Tenet, John David Washington had to go on a strict diet to fit into his nicely tailored suits. But, in a moment of weakness, he saw rare Pringles and decided to hoard them. And, well, as Washington mentioned during his recent appearance on CinemaBlend's ReelBlend podcast, he got caught red-handed by Christopher Nolan. Here's what he said about it:
Who can blame John David Washington for wanting to snag some Pringles while he was on the job? I doubt many of us would have the strength to resist that. Still, it sounds like Christopher Nolan, likewise, couldn't help himself and had to give his lead actor a hard time about it.
Of course, the visceral, action-packed and super serious tone of Tenet is pretty far removed from including any silly humor, much less humor about Pringles. Imagine how different of a movie Tenet would be if John David Washington's character was munching on Pringles half the time.
But hey, John David Washington shouldn't feel too bad about craving snacks during his film diet, as he's not alone. For example, Kumail Nanjiani had to go on a strict diet for Eternals and had some trouble wit it, resulting in him turning to sad snacks to curb the appetite.
It's fairly common for lead actors to go on strict diets, which only increases the chances they'll have serious cravings. These kinds of tough diets likely go double for action and adventure films, where actors are expected to be cut and ripped for their roles. But while most diets require the actors to lose weight, on rare occasions the actor might have to actually gain weight to nab a role.
At the end of the day, the real question is: if you reversed the flow of a Pringle going into your mouth, doesn't that mean you never ate it? Think on that for a while. For more movie news, stay tuned to CinemaBlend.
Your Daily Blend of Entertainment News
Thank you for signing up to CinemaBlend. You will receive a verification email shortly.
There was a problem. Please refresh the page and try again.