Now, Keanu Reeves' Toy Story 4 Character Is The Subject Of A Disney Lawsuit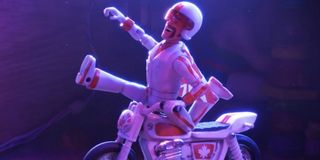 Disney calls him Duke Caboom, but if you were to ask K&K Promotions, that company would call Keanu Reeves' already-iconic Toy Story 4 character an Evel Knievel ripoff. The company argues there's some evidence that Duke Caboom at least shares similarities with Evel Knievel and some of the Knievel products (read: toys) that were around decades ago. Now K&K Productions is suing Disney and Pixar based on those qualifications.
News broke this week that K&K Productions is suing the major movie brands along with some of the subsidiaries that were involved in the making of Toy Story 4. The company owns the rights to Evel Knievel's "likeness" as well as any branding related around the late stunt performer, who died back in 2007. The lawsuit reportedly argues that the latest Toy Story sequel directly rips off the famously brash stunt performer.
K&K is suing after it says Disney and Pixar did not ask for permission to use Evel Knievel's likeness. This includes using Duke Caboom in Toy Story 4 itself (and any more possible upcoming or related movies or TV specials within the franchise). In addition, toys sold in promotion for the 2019 movie are also mentioned in the lawsuit.
TMZ obtained the filing and also specifically brought up a popular Evel Knievel toy from decades ago that propelled a motorcycle version of Evel Knievel forward. Disney sold a similar product in partnership with LEGO, but featuring Duke Caboom, last year. The Toy Story franchise has traditionally used a mix of real toy brands as well as ones created for the franchise to populate its world.
The company traditionally gets permission to use characters like Barbie and Ken, Mr. Potato head or Slinky, etc. When they can't gain permission – for example G.I. Joe said no to licensing rights – the franchise will sometimes invent characters with similarities to popular types or genres of toys but that aren't the same thing. Combat Carl, for example, hasn't been specifically tied to G.I. Joe but has some similarities to that type of toy. Duke Caboom has some similarities to Knievel's toys, but Duke Caboom's characterization is more unfamiliar, as he's Canadian, emotionally stunted, and scared of the stuntwork he was created to perform.
The company is also alleging that Disney & Pixar even told those related to the production not to mention Evel Knievel in relation to Duke Caboom, which would put an additional wrinkle into this lawsuit if it can be proved. Whether or not the suit will lead to a payoff will have to wait for an end result.
This isn't the first time Disney and Pixar have dealt with a lawsuit based on similarities to a product that already existed. Pixar's more recent movie Onward featured a lively van with a unicorn painted on the side that Barley referred to as GWNIVER. The van was similar to one a California artist had painted and that the Pixar team had rented before the movie came out. But copyright law is complicated and Techdirt has an interesting article about why these types of lawsuits don't always pan out.
K&K productions will need to prove that Disney and Pixar were infringing on an actual person and product rather than ideas or expression. Disney has not commented on the ongoing lawsuit, but the company deals with lawsuits on the regular and we'll let you know when this one reaches an endpoint. On the bright side, you can always still catch Keanu Reeves and Duke Caboom in action with Toy Story 4 on Disney+.
Your Daily Blend of Entertainment News
Reality TV fan with a pinch of Disney fairy dust thrown in. Theme park junkie. If you've created a rom-com I've probably watched it.