Why No Time To Die Might Want To Stick To Its November Release Date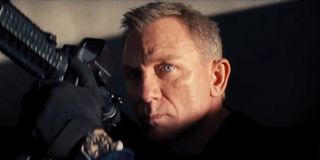 The theatrical outlook for the rest of 2020 carries with it a specific degree of uncertainty thanks to the currently tepid market for films. This has resulted in studios pushing films yet again into even later debuts. But one film that seems to be standing firm on its plans to debut in its currently-held November release date is James Bond's 25th adventure, No Time To Die.
Doubling down on its window of distribution for this fall, it feels like the movie is going to stay on target for its currently-scheduled debut. Strangely enough, this feels like it could be the best idea for the already delayed action adventure, and for several key reasons.
The International Market Is Larger For The Bond Franchise
The James Bond series is an international affair, as Ian Fleming's super spy has always been a theatrical event in every corner of the world. But even with massively satisfying performances for Skyfall and Spectre on the domestic stage, the international market has always been more of a big deal with the Bond series. As the United States is still moving forward at its own pace with reopening theaters, other countries are still able to partake in big tentpoles like No Time To Die. It may not be as large of a debut as MGM and Universal were hoping for in the initial release plans, but there's a silver lining to that particular concern.
Universal Could Get The Film Onto Domestic VOD Around Christmas
Here's some inside baseball that could prove to be a crucial point to keeping No Time To Die on the theatrical track for November. While legacy studio MGM and distributor United Artists are the folks making and releasing the film in the domestic market, Universal Studios is releasing the picture into theaters in all international markets. On top of that particular responsibility, Universal is handling the home video release of No Time To Die worldwide, which ties in beautifully with the studio's recent deal with AMC Theatres. With only 17 days of theatrical release making up the theatrical obligation in their agreement, all that needs to happen is for No Time To Die to debut on time, and fans could see the film debut in their homes by Christmas. Cue the massive PVOD rentals for fans to get their fix of Daniel Craig action.
Any Further Delays For No Time To Die Could Prove Costly To The Studios
Perhaps the most interesting rumor surrounding No Time To Die's theatrical release plans is one that's recently surfaced in one of the usual places for Bond gossip. With The Daily Mail's Baz Bamigboye supposedly being told that if the next 007 installment was to be moved to next year, it'd be a costly setback for the studios and the film market on the whole, you can see where the urgency lies in keeping things on their preset track. With hybrid PVOD releases in a very experimental phase that sees studios like Universal looking to hedge their bets, it's also really important to make sure that something as big as No Time To Die makes it worth the while for theaters to keep their doors open. Anticipation is still high for the movie, but another delay could begin to wear away at the wave of attention No Time To Die is currently riding.
No Time To Die Has A Massive Lack Of Competition In November
As previously stated, a massive push of delays has recently rocked the movie business. With Wonder Woman 1984 and Black Widow both vacating their October and November release dates, respectively, the biggest sources of competition for No Time To Die have made way for James Bond and company to take the field with little to no competition. With limited competition coming out of releases like Disney/Pixar's Soul and even Universal's The Croods: A New Age being put into theaters a mere five days after No Time To Die premieres, there's a chance that 007 could be a blockbuster with the legs needed to carry the fall film season on its back. Also, thanks to such fortunes, Daniel Craig could still become the king of Thanksgiving in such unprecedented times.
If A New James Bond Is Cast, They'll Need To Wait Until After No Time To Die To Be Announced
Everyone seems to think they have the line on the next James Bond, particularly with Tom Hardy's candidacy sparking a huge wave of wagers with professional bookmakers. Rumors stating that his casting was on the books for a reveal earlier this summer, per the original timetable for No Time To Die's release, make this speculation a little easier to believe, though not a sure thing. Without any official announcements or confirmation from EON Productions bigwigs Barbara Broccoli and Michael G. Wilson, anybody who thinks they know who the next 007 is will have to wait to collect on that particular bet.
Conventional wisdom would dictate that until No Time To Die is released into the world, and the entire phase of promotions and press tours surrounding the film have been completed, the next Bond wouldn't be revealed to the world while attention is turned towards Daniel Craig's swan song in the franchise. Perhaps the most important, and most telltale, sign as to why No Time To Die is going to release in November is the fact that the 007 franchise needs to move forward. The end of the Craig era needs a fitting and fantastic close, with whomever is in line for the role next getting their own moment in the sun.
Timing is key when releasing a film like No Time To Die, whether it's in the middle of a pandemic or a typical theatrical release window. With the unique challenges and exciting opportunities to keep the brand in peak performance under unprecedented circumstances, keeping this release on track for the currently planned windows of November 12 in the U.K. and November 20 in the U.S. seems like the best course of action for this long-awaited blockbuster. If you want to keep up with everything 007 related, you're going to want to keep it here, folks. As always, James Bond will return to CinemaBlend, and who knows what the next developments will bring when he does!
CinemaBlend's James Bond (expert). Also versed in Large Scale Aggressors, time travel, and Guillermo del Toro. He fights for The User.
Your Daily Blend of Entertainment News
Thank you for signing up to CinemaBlend. You will receive a verification email shortly.
There was a problem. Please refresh the page and try again.