5 Aladdin Characters That Should Get A Disney+ Spinoff Before Prince Anders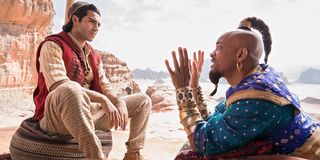 (Image credit: (Disney))
CinemaBlend participates in affiliate programs with various companies. We may earn a commission when you click on or make purchases via links.
The beauty of Disney+ is how it expands the imaginative worlds fans fell in love with on the big screen. The new streaming platform has explored Star Wars outside of the Skywalker Saga with The Mandalorian and will center on fan-favorite MCU characters with the upcoming releases of The Falcon and Winter Soldier and Wandavision. The service also has an Aladdin spinoff in the works following the $1 billion success of the Will Smith-led live-action musical.
In December it was announced that Disney+ was developing a movie starring Aladdin's Prince Anders. Who, you say? Anders is the supporting character played by Billy Magnussen who visits Agrabah to court Princess Jasmine. He was featured in one of the film's funny moments, but it's a peculiar choice for the studio to pursue for its first Aladdin spinoff.
The character is one of the few new additions to the live-action Aladdin that was not present in the original animated film, he is not a resident of Agrabah and he's the only white character in a movie defined by celebrating Arabic and Indian culture in a lot of ways. (Not to mention the news came a couple days after Aladdin's Mena Massoud opened up about having trouble finding more work in Hollywood). Since a spinoff for Prince Anders does not make sense, here's a handful of Aladdin spinoffs that do:
Genie In The Bottle
Ten thousand years will give you such a crick in the neck! Ever wonder what the Genie of the Lamp did with his time before Aladdin came along and rubbed his lamp? I propose a comedy from Disney+ that would explore the lonely world of Genie while he's locked up in his lamp prison. Genie is a funny and entertaining character that is flying off the walls when Aladdin meets him. So it's got to be entertaining to watch him go stir crazy in the confines of his own lamp. He must entertain himself somehow?
How much did he practice the whole "Friend Like Me" sequence – it did seem rehearsed. And what about Genie's life before the lamp. Anyone else ever wondered how he got himself locked there and what his other masters were like? And what about that one time when he tried to bring someone back from the dead and it "wasn't a pretty picture." Just, more Genie please!
Abu & Carpet
One of the joy's of Disney's Aladdin is the adorable dynamic found between Abu the Monkey and the magic carpet found in the Cave of Wonders. They have this cute sibling dynamic that would be adorable for a Disney+ television show. After the events of Aladdin, he and Jasmine will be getting used to married life and Genie will be enjoying his taste of freedom. So where does that leave Abu and Magic Carpet? Together, I'd think. I imagine Aladdin brushing off Abu as he seeks to spend more quality time with Jasmine and Abu getting in a fit about it and running away. And since Magic Carpet has the kind of loyalty of a puppy, he would follow him on his escapades as Abu actively fights against it.
The pair could get themselves into lots of trouble as Abu falls back into his hobby of stealing and Magic Carpet tries to bail him out. Since Magic Carpet is a mode of transport, the pair could travel across the globe together and learn about new places in the world during this ancient time. They could even run into other Disney characters if the time periods match up. I could also see Abu deviously using Carpet for some kind of heist situation. This show could easily work too because there are not any high-profile actors voicing them that need to become available… they don't talk!
The Cave of Wonders
One aspect of Aladdin I was always curious to learn more about as a kid was the Cave of Wonders. In both the movies, we only spend a few minutes there but there has to be a ton of incredible treasures and stories between its walls. How often does it have visitors and why are they there? How did its treasures become available there? The setting in Aladdin is a great setup to teach a young audience about the downfalls of greed and materialism.
There has to be a few stragglers like Magic Carpet who take up residence in the Cave of Wonders. This Disney+ spinoff about this place could center on a group of prisoners who have become part of its collection whether that be magical inanimate objects, thieves or other prized possessions.
Jafar
Another backstory from Aladdin I'd rather see than Prince Anders is one that explores Jafar's life. Now what's interesting about this character is there's an interesting past and future to tell about him. After the events of Aladdin, he's stuck in a bottle like Genie was with Iago, which is already hilarious. Before the events of Aladdin, he's a sneaky vizier who has been brainwashing the sultan and looking for magic that would allow for him to become more powerful.
How a Disney+ series or movie about Jafar goes depends a lot on what the studio's plans are for Aladdin 2, which is officially in the works as of February. At this point we do not know much about Disney's plans for the sequel, other than one of its producers calling it "fresh and new." There's a possibility that it may draw from the animated Aladdin sequel, which had Jafar return in Genie form. A Disney+ spinoff could either set this up or provide more backstory not found in Aladdin 2 if this is the case.
Arabian Nights
Aladdin is one of many stories in the Middle Eastern folklore One Thousand and One Nights (also known as Arabian Nights). The story itself revolves around King Shahryar, who vows to marry and then kill a new wife every night after his first love has an affair. That is until he marries Scheherazade, a storyteller who becomes the first to escape death by telling him a story each night and leaving things on a cliffhanger for him to wonder about.
It's an interesting premise that could be adapted by Disney+ as a way to tell multiple stories within the world established in Aladdin, but featuring new characters aside from the live-action movie, but perhaps still within the city of Agrabah. The original framing device of One Thousand and One Nights could even work for the television format to get audiences to return for weekly episodes as well, but there's a ton of ways it could be told.
What do you think? Which Disney+ spinoff would you like to see the streaming service produce? Sound off in the comments, vote in the poll below and sign up for a free trial with Disney+ here.
This poll is no longer available.
Your Daily Blend of Entertainment News
YA genre tribute. Horror May Queen. Word webslinger. All her writing should be read in Sarah Connor's Terminator 2 voice over.
Your Daily Blend of Entertainment News
Thank you for signing up to CinemaBlend. You will receive a verification email shortly.
There was a problem. Please refresh the page and try again.