Kevin Hart Reveals One Advantage To Remaking Planes, Trains And Automobiles With Will Smith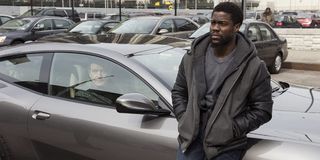 Kevin Hart and Will Smith haven't been in a movie together yet. Which, when you think about it, is kind of insane. The two stars have the same comedic energy but with different personalities and movie backgrounds. Kevin Hart recently spoke about why now is the time for them to team up and the advantage they have when remaking Planes, Trains, and Automobiles.
You don't need to get your eyes checked, Kevin Hart is remaking the John Hughes classic Planes, Trains, and Automobiles starring John Candy and Steve Martin. That alone is quite a task. But Kevin Hart seems up to the challenge and, according to ET, he thinks his chemistry with Will Smith will be the secret sauce for the movie:
It's easy to see the magic here. While both actors have comedy backgrounds, Will Smith has a notable drama and action-adventure history. Will Smith also has a proven range and could play a variety of different characters against Kevin Hart's talkative and silly mainstay. So it's a match made in movie heaven.
While details are slim, we do know that the script will be written by Brooklyn Nine-Nine writer Ayesha Carr and the film will be produced by Will Smith's Westbrook Studios and Kevin Hart's Hartbeat Productions. Story details are also non-existent at this point. So it's hard to say if they'll stick close to the original movie or divert into their own territory. Whatever route they take, just for comedy sake, they'll want to use the classic odd couple and straight man versus funny man formula that made the original so good.
Kevin Hart, for his part, has the funny man role down pat. He's played a ton of those roles in the past. From Central Intelligence to Jumanji: Welcome to the Jungle, he excels at riffing with a character that has a serious demeanor. Will Smith could be a great lead, playing the serious, slightly irritable, family man trying to get home.
The original Planes, Trains, and Automobiles is, of course, a comedy classic. Written and directed by John Hughes in the '80s, it follows Steve Martin's main character Neal Page as he desperately is trying to get home for Thanksgiving, but keeps getting delayed due to transportation issues. He ends up having to travel with Del Griffith, played by the always hilarious John Candy, a lovable oaf that makes things harder for Neal.
The beauty of the original was John Hughes deft hand at silly comedy while injecting humanity and a touching moral lesson. Hopefully, Kevin Hart and Will Smith will take a few notes from John Hughes playbook and include them in their retelling.
Your Daily Blend of Entertainment News