How To Watch Cats On Streaming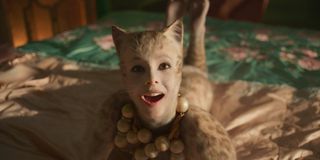 It seems like only yesterday everyone was going on and on about the ridiculousness of Tom Hooper's 2019 adaptation of Cats. And while some of us got in on the fun with detailed discussions, watch parties, and those reactions all over social media, there are some who obviously missed out on the spectacle. And even though Cats is not streaming on Netflix, there are still plenty of options to choose from, including one particular platform with Cats streaming for those who don't want to commit to purchasing one of the most talked-about movies in recent memory.
Where Is Cats Streaming?
So, if Cats is not on Netflix, then where can we watch it? Well, anyone with an HBO Max account (or just the regular HBO streaming service for those with a Roku or Amazon Fire Stick) can stream the latest adaptation of Andrew Lloyd Webber's broadway sensation right now by simply searching for it on the new streaming platform or you can watch Cats by clicking here (opens in new tab) if you're so inclined.
Before you know it, you'll be singing along with James Corden, Jennifer Hudson, Judi Dench, Idris Elba, Taylor Swift, and the rest of those crazy cats that show up in the live-action/CGI mashup.
Where Can You Watch Cats Streaming If You Don't Have HBO Max?
So, you don't have an HBO Max account (or friends with someone lets you use their login) but still want to watch Cats? Well, if you want to fork over some cash then I have some good news for you. If you want to go the purchasing route, then you can buy Cats here (opens in new tab), through Amazon. The platform has both high-definition and standard-definition versions of the musical available, but services like Vudu, Redbox On Demand, YouTube, and countless others also have Cats available for purchase if you avoid Amazon.
Oddly enough, there aren't any rental options for Cats at this time, so either commit to the full-price purchase or sign up for HBO Max if you want to join in on all the fun.
Ok, You've Seen Cats And We Get It, You Have Thoughts
Speaking of fun… Around the time of the release of Cats everyone and their mother, us included, got a lot of enjoyment out of this truly bizarre cinematic experience. If you've already seen the movie and want to see how your thoughts compared to ours, then we have you more than covered with everything from those infamous buttholes to the new version sent out to cinemas weeks into the film's theatrical run, we have it all, including why you should actually watch Cats despite it not being pleasing in any definition of the word. And who knows, maybe, just maybe, it might become your favorite movie ever.
All joking aside, there are plenty of ways to watch Cats right now, even if it's to try and find the forgotten buttholes or other things left behind during the making of the movie.
Your Daily Blend of Entertainment News
Philip grew up in Louisiana (not New Orleans) before moving to St. Louis after graduating from Louisiana State University-Shreveport. When he's not writing about movies or television, Philip can be found being chased by his three kids, telling his dogs to stop yelling at the mailman, or yelling about professional wrestling to his wife. If the stars properly align, he will talk about For Love Of The Game being the best baseball movie of all time.
Your Daily Blend of Entertainment News
Thank you for signing up to CinemaBlend. You will receive a verification email shortly.
There was a problem. Please refresh the page and try again.