The Butthole Cut And 9 Behind-The-Scenes Facts You Might Not Know About Cats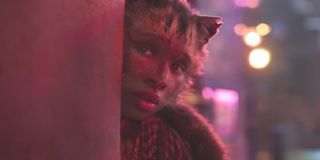 At this point, there are more articles talking about Tom Hooper's 2019 musical Cats than tickets sold during the movie's disastrous box-office run. From the time the first trailer dropped months ahead of the film's release, the internet was quick to jump on awkward cat-people that looked like something buried underneath the uncanny valley, the awful CGI that was clearly rushed, and just the shear ridiculousness of this big-budget bomb in the making.
But it seems like a good Rotten Tomatoes score or box office success weren't the only things Hooper and the film's producers were worried about when they released this circus of a musical. In fact, despite the Razzie award-winning film performing poorly at the global box office, people are still talking about the movie months after it left theaters, mostly because of the craziness behind the scenes and possibility of "Butthole Cut."
Here are 10 insane behind-the-scenes facts, including the "Butthole Cut", that you might not know about Cats.
There Is Apparently A Version Of The Musical Called The Butthole Cut
Just when the fervor surrounding Cats was beginning to subside, word broke that there's reportedly a "Butthole" cut out there. When writer Ben Mekler sent out a tweet in March 2020 saying he was in a desperate need for a tell-all book about Cats, he had no idea what he was about to discover.
Shortly after throwing the idea out into the universe, one of Mekler's followers revealed that a friend of a friend, who was a visual effects producer, claimed that they had to digitally remove 400 buttholes that had been added just months earlier. There has been no confirmation to this claim, but please, please, please be true. If one thing could bring joy to our current state of affairs, it would have to be a version of Cats that is even wonkier than the one barely anyone saw in theaters.
There Is Also A Reported Peeing Scene That Almost Made The Final Cut
You know what's crazier than the possibility of there being a Butthole Cut of Cats? The reported existence of a graphic peeing scene might do the trick. Remember the tweet from Ben Mekler that I mentioned just earlier? Well, that Twitter chain got a little crazier days after his original post when someone made a burner account to share this tidbit of information:
The Film's Production Was Rushed, So Some Glaring Mistakes Were Left In The Original Cut
It should come as a surprise to absolutely no one that Tom Hooper and the rest of the crew behind Cats rushed to meet the film's December 20, 2019 release date, so rushed, in fact, that there were some pretty glaring mistakes left for audiences to find in theaters around the world. One of the most notable mistakes was the inclusion of Judi Dench's human hand, wedding ring and all. That wouldn't be bad if Dench was playing a human, but no, she's playing Old Deuteronomy, a cat, or at least something resembling a cat.
Just look at this tweet from Jenelle Riley and see if anything looks off to you:
An Updated Version Of The Film Was Sent To Theaters Days After Its Initial Release
Usually, fans of certain film franchises are forced to wait for a film's home-release before they get to see extended versions or a director's cut, but "fans" of Cats only had to wait a few days before a new and improved version hit theaters.
According to a report from The Hollywood Reporter, Universal Studios notified theaters they would be receiving an updated version of the musical with "some improved visual effects" just two days after it opened to a mediocre response at the box office. This was an unprecedented move, but there's nothing normal about Cats. Not in the slightest.
The Cast Went To "Cat School" To Prepare For The Movie
After watching Cats, or at least the trailers, you probably spent way too much time trying to figure out how the cast - who look more like something from a David Cronenberg movie than cats - pulled off acting like a bunch of walking, talking, singing, and swinging felines. Easy… they went to cat school.
According to Rolling Stone, every actor in the movie was required to undergo cat school where they learned everything from the anatomy of cats to movement training. Each class was led by a movement director and a sphinx cat (no hair makes it easier to see the movements) who helped the actors get in the mindset of a cat before shooting got underway.
Taylor Swift's Beautiful Ghosts Started With One Specific Line
One of the few aspects of Cats that everyone can agree on (or at least non-ironically) is that, "Beautiful Ghosts," the new original song by Taylor Swift and Andrew Lloyd Weber is an absolute killer track (it was nominated for a Golden Globe in 2020). What you may not know about the song, however, is that Swift already had the lyrics, or at least one specific line, before she even heard Weber perform the unfinished music.
Swift shared the thought process behind Victoria's (Francesca Hayward) hauntingly beautiful solo in an interview with Variety:
Swift would go on to perform radio version of "Beautiful Ghosts."
Producer Steven Spielberg Was Originally Set To Make An Animated Version Decades Ago
Steven Spielberg, whose production company Amblin would produce the 2019 Cats, was previously attached to make an adaptation of Andrew Lloyd Weber's musical, only instead of live-action, the acclaimed director's version would have been animated. According to Gizmodo, Amblimation, as it was called, had been working on a lot of the pre-production work before the studio shut its doors in 1997, ending the project in the process.
For those who don't remember, Amblimation produced such films as An American Tail: Fievel Goes West, We're Back! A Dinosaur's Story, and Balto, so it's a safe to assume that the animation would have had a lot of personality and style.
Speaking Of Spielberg, He Reportedly Didn't Even See The Final Cut Prior To Its Release
As I mentioned earlier, there was a race to get Cats ready for release (or at least as close as possible) before sending the Tom Hooper-directed musical to theaters in December 2019. With all of the visual effects mishaps left in the theatrical cut, it's easy to see that Hooper and crew cut a few corners in order to hit a deadline. But to see how much the final days of the post-production were rushed, just to the Deadline report that Steven Spielberg (remember, his production company was helping runn things) didn't even get a chance to see the movie before it was released. Whether this was intentional or just a sacrifice that had to be made remains to be seen.
Rebel Wilson And James Corden Found A Comfortable Spot In One Of The Production's Longest Shoots
Say what you will about Cats, but it has one of the most impressive casts in recent memory. With everyone from Judi Dench to Idris Elba lending their talents to the musical, there were bound to be a few massive scenes. Rebel Wilson and James Corden, who happened to featured in the background of one of those scenes tried to make the most of the situation.
During an appearance on The Late Late Show With James Corden, Wilson reminisced with her co-star about the time the two made found the most comfortable way to sit in the background during a two-day shoot:
Covered in padding and leaning up against a wall, Wilson and Corden sat down for the length of the multi-day shoot.
This Is The Second Film In Which Judi Dench Has Played A Character Traditionally Portrayed By A Man
Up until Tom Hooper's version of Cats, the role of Old Deuteronomy, the elderly and wise cat, has long been portrayed by male actors. In a casting decision that goes against typical casting for the role, Hooper cast Judi Dench to play the beloved role this time around.
This isn't the first time that Dench has taken over a role that has traditionally gone to male actors. Ahead of the release of the 1995 James Bond film Goldeneye, Dench was hired to portray M, the head of MI6 and 007's superior officer. Prior to Dench taking over the iconic spy role, M had been portrayed by Bernard Lee (1962-1979) and Robert Brown (1983-1989). Dench would hold the role until 2012, when Ralph Fiennes took over as the spy chief at the end of Skyfall.
Well, those are just 10 of the crazy behind-the-scenes facts that will surely make your next Cats watching experience just as memorable as your first, second, or third. Let me know if there is anything I missed and I'll make sure to do my best Tom Hooper and send out an update.
Your Daily Blend of Entertainment News
Philip grew up in Louisiana (not New Orleans) before moving to St. Louis after graduating from Louisiana State University-Shreveport. When he's not writing about movies or television, Philip can be found being chased by his three kids, telling his dogs to stop yelling at the mailman, or yelling about professional wrestling to his wife. If the stars properly align, he will talk about For Love Of The Game being the best baseball movie of all time.
Your Daily Blend of Entertainment News
Thank you for signing up to CinemaBlend. You will receive a verification email shortly.
There was a problem. Please refresh the page and try again.