Kristen Bell Gives Update After Husband Dax Shepard's Relapse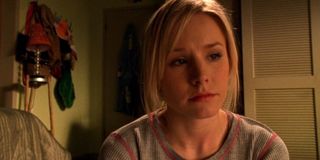 Kristen Bell and Dax Shepard have been a nerdy, adorable Hollywood couple for years now. They're also not totally private with their life; the two have been fairly honest and open about it with the public. One thing Dax Shepard has struggled with is an addiction to alcohol and drugs, so Kristen Bell recently gave an update on his relapse.
Known for the TV show Punk'd, and movies Hit & Run and CHiPs (two movies that also co-starred Kristen Bell), Dax Shepard has been battling addiction for a long time, and had been doing well in the fight, having been sober for 16 years. However, while appearing on Ellen, his wife Kristen Bell addressed how he's doing after relapsing. Here's what she had to say:
That's good news. It sounds like Dax Shepard has taken a strong, healthy way to approach the problem by being open with Kristen Bell about it and needing to create a different plan of attack.
Kristen Bell, for her part, also seems to be taking a level-headed approach to the issue, knowing that everyone has stuff they have to take care of themselves. She said later:
Along with a new plan, Dax Shepard and Kristen Bell will be going back to therapy. Kirsten Bell also said she "would continue to stand by him because he's very, very worth it."
Though they have shown a deep commitment to their relationship over the years, doing sometimes almost anything for each other, earlier this year Kristen Bell and Dax Shepard admitted that being cooped up together during the global pandemic has been hard. They've apparently been "at each other's throats" cause they found each other revolting.
Dax Shepard isn't Kristen Bell's only family member to hit headlines over a controversy. Back in September, she caught her daughters, Delta and Lincoln, drinking non-alcoholic beer while on a Zoom class. But that also didn't seem to throw off the actress, saying she still believes she's a good parent.
Kristen Bell and Dax Shepard got married back in 2013. They had long refused to marry until the gay community shared the same rights. When the Defense of Marriage Act was struck down, they ran to the courthouse to get a marriage license.
Despite highs and lows, it looks like Kristen Bell and Dax Shepard's family bond remains stronger than ever. For more movie news, be sure to stay tuned to CinemaBlend.
Your Daily Blend of Entertainment News