The Adorably Nerdy Thing Kristen Bell And Dax Shepard Did After The Golden Globes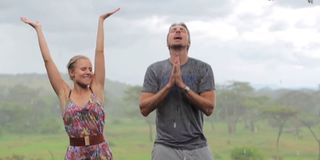 While most of the other stars at the Golden Globes spent their Sunday nights out celebrating the big night, Kristen Bell and Dax Shepard had much different plans. In lieu of a star-studded after party, the down-to-earth couple went home and played Settlers of Catan with each other instead. Because why go out and party when you can conquer a fictional island? Check out Kristen Bell and Dax Shepard laying out their nerdy post-Globes plans for yourself below.
The celebrity couple revealed their post-Golden Globes plan during a red carpet interview before the show, in which they said they had a strict eight o'clock start time planned for their game night after the awards ceremony. Dax Shepard told the reporters that they would be in their pajamas and knee-deep in a game of Settlers of Catan shortly after the Golden Globes ended, and Kristen Bell added that if any of their fellow attendees knew what was up, they'd be planning their Catan strategies for a post-show game night as well.
Although that game night plan might sound as playful and fun as the couple themselves, Kristen Bell went on to say that even she and Dax Shepard aren't immune to the ugly toll that a heated game of Settlers of Catan can take on a relationship.
And Kristen Bell and Dax Shepard weren't just joking around --- the couple posted a picture of their Settlers of Catan game on Instagram right after the Golden Globes wrapped up. Though they said they were going to play the game in their onesie pajamas, the couple actually decided to keep their glammed-up awards show attire on to play one of the classiest looking games of Catan ever. Check out the #relationshipgoals photo below.
Normally if you heard about a married couple that's been together for almost ten years passing up a huge, celebrity-filled party to go home and play a nerdy board game, you might think that they were lame. But Kristen Bell and Dax Shepard know that the real party is wherever they are together, and on Sunday night that place just happened to be the fictional land of Catan.
Your Daily Blend of Entertainment News
Your Daily Blend of Entertainment News
Thank you for signing up to CinemaBlend. You will receive a verification email shortly.
There was a problem. Please refresh the page and try again.