Dick Johnson Is Dead: 6 Heartwarming And Heartbreaking Moments In The Netflix Documentary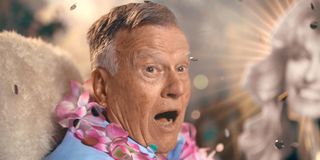 Whenever you hear of a documentary about someone dealing with dementia, more times than not, you know how it's going to play out. The filmmaker will chart their loved one's path into senility and all the heartbreak that comes with it. And while that's mostly the case for Kirsten Johnson's new Netflix documentary, Dick Johnson is Dead, which explores her father's battle with memory loss, there's so much more there.
Make no mistake about it, Dick Johnson is Dead will absolutely break your heart into a million little pieces, but after each scene showing an emotional breakdown or whenever the documentary's subject forgets something, it is followed by a heartwarming, hilarious, and sometimes otherworldly scene that fills your heart and mind with joy and wonder. Through short vignettes about her father's slipping mental capacity, dramatized and over-the-top death scenes filmed with stuntmen, and some of the craziest dance numbers you'll see in a documentary about dementia, it's really something to behold. Here are just a few of those moments.
Dick Johnson Playing With His Grandchildren On The Beach
Early on in Dick Johnson is Dead, Dick moves in with his daughter, Kirsten (the documentary's director), and her two young children at their New York apartment after retiring from his psychiatry practice in Seattle. And although some tough moments follow, there is one scene in particular that adds a lot of heart to the film. When the Johnsons take a trip to the beach, Dick lies down acting like he's asleep so that his grandson and granddaughter can bury him in the sand. When he acts like he won't wake up, they get closer, and he finally jumps up like a zombie.
This is something my grandfather did with us (acting asleep but without the sand) and something my father-in-law does with my kids, and seeing Dick Johnson, despite the dementia and pain he is experiencing, lose himself in a fun game with his grandchildren added a nice sense of levity to a sometimes depressing exploration of mental illness.
Dick Johnson Realizing He Will No Longer Be Able To Drive
About 10 or so years ago, it looked like my grandfather was in the early stages of Alzheimer's. All the signs were there — he was forgetting conversations after a few minutes, would get confused and walk out of his house in the middle of the night, and one Sunday went to the wrong house while driving home from church — and my family knew it was only a matter of time before things got worse. Fortunately for everyone, well, almost everyone, my grandfather didn't have Alzheimer's after all, and his lapses in memory were the result of stress brought on my late grandmother's illness and his mental capacity remarkably returned upon her death.
I couldn't stop thinking of my grandfather's battles with memory loss throughout Dick Johnson is Dead but one of the moments that hit the hardest was when Dick is forced to sell his car and told he can no longer drive. The look on his face as he tries to reason with his daughter (now his primary caretaker) is something I will never forget as it takes me back to the time my dad had to do the very same thing with his own father.
Kirsten Johnson Telling The Story About Her Father Taking Her To See Young Frankenstein
Throughout Dick Johnson is Dead, Kirsten Johnson tells stories from her life. These include everything from gripping stories about her mother's battle with Alzheimer's, being raised in a Seventh-day Adventist household and the strict way of life that came with the religion, as well as funny stories about her dad. One of those stories that really stuck with me was the one about Dick Johnson taking her to see Mel Brooks' Young Frankenstein in theaters, even though their faith looked down on somewhat vulgar comedies like the Frankenstein parody. Although she doesn't go into great detail about the experience (it's only mentioned for a brief moment), it highlights the joy that her father would seek in life, even if it weren't always acceptable.
Dick Johnson Becoming Confused On Halloween
One of the most heartbreaking sections of Dick Johnson is Dead takes place on Halloween night when Dick and Kirsten take her kids trick-or-treating around their New York City neighborhood. At one point, Dick gets tired and so Kirsten leaves him at a friend's house in front of the TV and comes back to get him later. Throughout this section, the documentary cuts to a dramatization of Dick sitting in an oddly lit and shaped living room while wearing the costume of a decapitated man. And although the set design work does a great job of illustrating the confusion of the moment, nothing compares to what comes next.
After Kirsten Johnson picks up her dad, they have a conversation in her van that feels like a mother talking to her son instead of a daughter talking to her father, and it's beyond heartbreaking. While talking to his daughter, Dick Johnson begins to say things like "I wouldn't know what I would have done" if Kirsten hadn't come back for him, and it seems like he just can't let it go.
Dick Johnson Going To California To See His College Crush
There is nothing quite like watching two senior citizens reunite after years apart, and that very thing happens about halfway through Dick Johnson is Dead following a rather downbeat doctor visit. With Kirsten Johnson, Dick goes to southern California to see Lolita Hirst, who is described on an on-screen graphic as his college crush. These two old friends cozy up next to one another on a couch, talk about life, their deceased spouses, and being okay with the prospect of death.
The scene is fairly short (no longer than a few minutes), but it remains one of the brightest of the bunch and reminds me of visiting my grandfather in his nursing home and seeing him interact with all of his friends in the dining room or in the linoleum-floored hallways. And despite Dick Johnson's deteriorating mental capacity, at this moment, he is his old self once again.
Dick Johnson Reacting To His Daughter Going Away On A Trip
And then there's the scene that takes place the night before Kirsten Johnson is set to go on a trip to Israel, leaving her father behind with a caretaker. At one point during their conversation, Dick tells his daughter that he is like a little brother who needs her to take care of him before breaking down in tears as they share a long embrace. It's a brief, yet powerful moment that shows how much their relationship has changed over the years and how Dick is now the one who needs to be taken care of instead of the other way around.
These are just a few of the heartwarming and heartbreaking moments from Dick Johnson is Dead (opens in new tab), and there are many, many more to take in when you watch the Netflix documentary for yourself. With fake funerals, dance numbers in heaven with a very handsome Jesus, and some of the most ridiculous death scenes you'll see in a documentary, this little gem is really something to take in.
Your Daily Blend of Entertainment News
Philip grew up in Louisiana (not New Orleans) before moving to St. Louis after graduating from Louisiana State University-Shreveport. When he's not writing about movies or television, Philip can be found being chased by his three kids, telling his dogs to stop yelling at the mailman, or yelling about professional wrestling to his wife. If the stars properly align, he will talk about For Love Of The Game being the best baseball movie of all time.
Your Daily Blend of Entertainment News
Thank you for signing up to CinemaBlend. You will receive a verification email shortly.
There was a problem. Please refresh the page and try again.