Stanley Tucci Explains Why It Was 'Nice' To Be Able To Reunite With Anne Hathaway For The Witches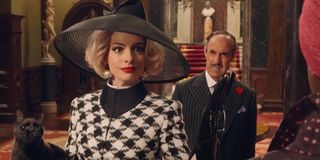 For movie stars, it's not often you get to reunite with former co-stars. Too often, you part ways and never end up crossing paths again. But according to Stanley Tucci, when you do reunite as he just did with Anne Hathaway in The Witches, it's always a nice experience.
Of course, Anne Hathaway and Stanley Tucci famously worked together on The Devil Wears Prada. It's been roughly fifteen years since then, with plenty going on in their lives in-between. The actor told EW that when they were going to make The Witches, Tucci felt relaxed that he'd be working with Hathaway again. Here's what he said:
Anne Hathaway seemed to share the sentiment and enjoyed working with Stanley Tucci again. Though she acknowledges so much has changed in their lives, she said Stanley Tucci still is the same wry, funny, and sweet person as he was on the set of The Devil Wears Prada. She said he was always getting her to laugh on that iconic movie, but she got him to giggle a bit on The Witches with her accent.
Fifteen years ago, Anne Hathaway and Stanley Tucci were in different stages of their careers. Anne Hathaway was just getting established in the industry while Stanley Tucci was an established actor. Now, with The Witches, Anne Hathaway's got multiple blockbuster roles and an Academy Award under her belt. But they still share some great chemistry.
The Witches, directed by Robert Zemeckis, is a remake of the 1990 Anjelica Houston-led movie and an adaptation of the Roald Dahl classic novel of the same name. As you can imagine, it has some difficult shoes to fill. According to some critics, it doesn't do much to improve the last movie. CinemaBlend's own Eric Eisenberg, in his review, said, however, that Anne Hathaway's performance steals the show.
For those who would like to see Anne Hathaway and Stanley Tucci team up again in The Devil Wears Prada 2, you may want to temper those hopes. Many of the actors, including Stanely Tucci, have said it isn't going to happen. So, at least for the time being, The Witches is likely going to be the closest thing you're going to get to these two coming back together again. Should the pair reunite again though, we here at CinemaBlend will let you know.
Your Daily Blend of Entertainment News
Thank you for signing up to CinemaBlend. You will receive a verification email shortly.
There was a problem. Please refresh the page and try again.