Upcoming Robert Downey Jr. Movies: What's Ahead For The Iron Man Star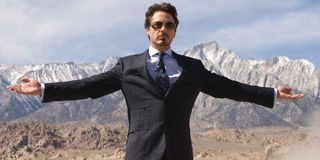 Robert Downey Jr.'s acting career can be split up into multiple phases. There's the up-and-coming superstar in the making of the 1980s, his fall from grace in the late 1990s, and his resurgence and years of unparalleled success after kickstarting the Marvel Cinematic Universe in 2008's Iron Man. But now that Tony Stark is gone (at least in the present) after sacrificing himself at the end of Avengers: Endgame, many of Downey's fans are wondering one thing: what's the next phase for the resilient and successful actor?
In the next year or so, Robert Downey Jr. will appear in multiple films that span various genres, and he will continue to be the star audiences have come to know and love throughout his career. With a return to the Sherlock Holmes franchise, a Jamie Foxx-directed comedy, and a possible appearance in a certain Marvel movie, the man who was Tony Stark has quite a bit going on. Add in a couple interesting projects that have been in the works for a number of years, and Downey's schedule looks even busier. Here's what lies ahead for the Iron Man star in the very near future.
Sherlock Holmes 3 - December 22, 2021
If you were to take the Marvel Cinematic Universe out of the equation, Robert Downey Jr.'s most successful franchise would have to be the two Sherlock Holmes films. Starting with 2009's Sherlock Holmes and then 2011's Sherlock Holmes: A Game of Shadows, Guy Ritchie's new take on the classic detective came at the right time in Downey's career. Both films proved to be smash hits at the box office, bringing in more than $1 billion combined. After what will be at least a 10-year gap by the time it is eventually released, Sherlock Holmes 3 will see Downey take on the role of the iconic English detective alongside Jude Law, who is returning as Holmes' longtime trusty companion Dr. John Watson. And while a lot about the upcoming threequel remains unknown, what we do know about the project sounds interesting to say the least.
The third Sherlock Holmes movie has been in various stages of pre-production for more than two years. During that time, Guy Ritchie has stepped away from directing with Rocketman's Dexter Fletcher taking over the project that will be based on a script by Chris Brancato, who's best known for creating the Netflix crime drama Narcos. Sherlock Holmes 3 has had its December 21, 2021 release date for most of the time the film has been in the early planning stages, but roadblocks caused by the lingering COVID-19 pandemic and its disastrous impact on the entertainment industry might force the movie to abandon that date, especially after Fletcher said the project is on the back-burner for now. We will have to wait and see what happens with this highly anticipated blockbuster.
All-Star Weekend - 2021
When he's not saving the universe as Iron Man or getting to the bottom of globetrotting mysteries as Sherlock Holmes, Robert Downey Jr. knows how to be one of the most exciting actors in various comedies in which he has been featured in over the years. And it looks like the star of comedies like Tropic Thunder will be bringing back the laughs in Jamie Foxx's cameo-filled basketball movie All-Star Weekend, which also happens to be the Academy Award-winner's directorial debut. The dramedy centers around two down-on-their-luck tow-truck drivers played by Foxx and Jermey Piven who win a trip to the NBA All-Star Game to see their heroes play, but find themselves in a life-or-death situation in the process. In addition to the two leads, All-Star Weekend also features appearances by Downey (in a wig and makeup), Benicio del Toro, Gerard Butler, and multiple others.
All-Star Weekend has been in the works since at least 2012 when Jamie Foxx and Ken Jeong (who also appears in the movie) agreed to appear in one movies written by one another. At that point in time, IndieWire reported that Kevin Hart was to appear in the role that eventually went to Jermey Piven instead. Production eventually started on All-Star Weekend back in 2016 and was initially supposed to be released on February 18, 2018, which happened to be the start of the 2018 NBA All-Star Weekend events, but was later pushed back to February 22, 2019. The movie obviously missed that release date as well and was believed to be released in late 2019 but it now looks like we won't get All-Star Weekend until some point in 2021.
Black Widow? - May 7, 2021
The upcoming Marvel movie Black Widow, which was supposed to kick off Phase Four of the Marvel Cinematic Universe in May 2020, will fill in the gaps between Captain America: Civil War and Avengers: Infinity War for Natasha Romanoff (Scarlett Johansson) as the lethal Avenger is forced do navigate the world alone while dealing with her past. With a cast that includes Florence Pugh as Yelena Belova, David Harbour as Alexi Shostakov, aka Red Guardian, and Rachel Weisz as Melia Vostokoff, to name a few, Black Widow looks to expand on how Natasha became Black Widow and how the Red Room and its leaders set the Avenger on her path. In addition to the central cast, Black Widow is supposed to feature major cameos, most notably, Robert Downey Jr. as Tony Stark, though there is now word that this may not be the case.
Audiences were originally supposed to be able to see what Florence Pugh has described as a "horrifying" story in Black Widow on May 1, 2020, but the COVID-19 pandemic forced Marvel and Disney to push back the release of the movie to November 6, 2020 in place of Eternals, but then the start of Phase Four was delayed again a few months before the updated release, and won't appear in theaters until May 7, 2021 at the earliest. Production began on Black Widow back in May 2019 and shooting wrapped that October when it was sill believed the movie would hit theaters in May 2020. At this point it appears the powers at be are just waiting until the time is right to share Black Widow's story with the world. We'll have to wait until May 2021 to see if Tony Stark is actually in this one, it seems.
John Brinkley Biopic - TBD
Over the years, some of the biggest podcasts have turned into television shows and movies, and if Robert Downey Jr. and Richard Linklater have their way, a 2017 episode of the Reply All podcast titled "Man of the People," will get the same treatment. Back in February 2017, Variety reported that the Avengers: Endgame star and director of films like Dazed and Confused, Boyhood, and A Scanner Darkly (which featured Downey in a pre-Iron Man performance) were teaming up to bring the story of Dr. John Brinkley to the silver screen.
For those not familiar with the episode, or the hard-to-believe story of the infamous doctor, John Brinkley was a charlatan in the early 20th Century who used a series of scams centered around fake medicine and the medium of radio to become one of the most notorious conmen of all time. The episode also focused on Dr. Morris Fishbein, who set out take down the fraud after the quack promoted the transplanting of goat testicles into humans to treat a number of ailments.
At the time of the film's announcement, it wasn't revealed if Robert Downey Jr. would play John Brinkley or the man who set out to stop him from taking advantage of more victims, but either role would be perfect for the Oscar-nominated actor to take on. The yet-to-be-titled John Brinkley biopic remains a mystery for more than just the nature of Robert Downey Jr.'s role as there haven't been any developments about the project since it was first announced nearly four years ago. And to make matters even more confusing, there is another John Brinkley adaptation in the work with Matt Damon attached to the lead role.
Pinocchio - TBD
Another long forgotten Robert Downey Jr. project that once looked very promising is the actor's adaptation of Pinocchio, which would see the Dolittle star take on the role of Geppetto as sets out to build a son to keep him company. The project was first announced years ago and bounced between directors with everyone from Paul Thomas Anderson to Ron Howard being attached at various points in pre-production.
There hasn't been much as far news goes for the Warner Bros. live-action adaptation of the classic tale, but there is another Disney production in the works. Deadline announced in January 2020 that Robert Zemeckis would direct and co-write the Disney production at some point in the near future. Where this leaves the Robert Downey Jr. version of Pinocchio remains to be seen, but there's plenty of room in Monstro's stomach for two wooden boys and an elderly toymaker.
As always, a lot can change with these Robert Downey Jr. movies in the weeks, months, and even years ahead, so make sure to check back for all the latest here at CinemaBlend.
Philip grew up in Louisiana (not New Orleans) before moving to St. Louis after graduating from Louisiana State University-Shreveport. When he's not writing about movies or television, Philip can be found being chased by his three kids, telling his dogs to stop yelling at the mailman, or yelling about professional wrestling to his wife. If the stars properly align, he will talk about For Love Of The Game being the best baseball movie of all time.
Your Daily Blend of Entertainment News
Thank you for signing up to CinemaBlend. You will receive a verification email shortly.
There was a problem. Please refresh the page and try again.