Robert Downey Jr.: 10 '80s And '90s Movies To Watch If You Like The Iron Man Star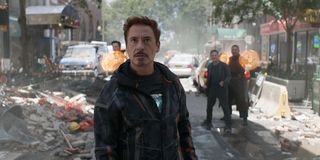 CinemaBlend participates in affiliate programs with various companies. We may earn a commission when you click on or make purchases via links.
Robert Downey Jr. is and forever will be one of the greatest stories in Hollywood, one that starts with a promising young actor, turns dark about the halfway point, and then ends with one of the best tales of redemption you'll ever see, and he's just getting started. Since his career resurgence in the mid-to-late 2000s, thanks in part to his performance as Tony Stark in 2008's Iron Man, you know, the one that started the whole Marvel Cinematic Universe, Downey has become one of the highest paid actors in show business and continues to turn out hit after hit at the box office.
And although Robert Downey Jr. will probably always be known as Iron Man, and for good reason, the early stages of the MCU star's career is truly something to behold. Over the course of the final two decades of the 20th Century, Downey showed up in everything from Brat Pack comedies to some of the most unsettling movies ever made, and then so much in between. So, as we look toward the Robert Downey Jr.'s future in a post-Avengers world, let's take a look back at some of his best movies from the 1980s and 1990s that stand out decades later.
Weird Science (1985)
If it weren't for Ian (Robert Downey Jr.) and Max (Robert Rusler), Gary Wallace (Anthony Michael Hall) and Wyatt Donnelly (Ilan Mitchell-Smith) would have never come up with the idea of creating Lisa (Kelly LeBrock) in the first place, so I guess we have the pair of high school bullies to thank for Weird Science. Well, those two and Chet Donnelly (Bill Paxton), the biggest jerk of them all. Throughout the John Hughes 1985 sci-fi comedy, Ian and Max constantly torment the nerdier Gary and Wyatt, at every turn.
And even though Ian is a class-a prick, you can't help but want to see more of him thanks to that effortless charm from Robert Downey Jr. that still makes him such a bankable star and likable person 35 years later. In case you forgot how great he is here, Weird Science is streaming on HBO Max (opens in new tab).
Back To School (1986)
The 1986 comedy Back To School is mostly remembered because of star Rodney Dangerfield getting into all sorts of shenanigans while going back to finish his college degree, but between all of those great Thornton Melon scenes, there are a few surprising moments involving Robert Downey Jr.'s Derek Lutz. Whether it's standing up to Chas Osborne (William Zabka) when the jock tries to cut in line while signing up for classes, or constantly goofing around with his best friend, Jason Melon (Keith Gordon), Downey has a command of the screen better than just about everyone else in the movie.
Another reason the movie should be remembered is the fact that Robert Downey Jr.'s performance was used as a reference during Tony Stark's MIT demonstration in Captain America: Civil War. Now you have more than enough reasons to checkout Back to School on Amazon.
The Pick-Up Artist (1987)
Tony Stark is a pretty cool name for a character, but it's hard to beat Jack Jericho, Robert Downey Jr.'s womanizer from the 1987 romantic comedy The Pick-Up Artist. When Randy Jensen (Molly Ringwald) and Jack have a fling, the tables are turned and the young pick-up artist becomes absolutely obsessed with the young woman that simply doesn't have enough time for him or his games. But when Jack proves to be useful in helping save her father, Randy has a change of heart and is willing to give this badboy a fair shake.
And while The Pick-Up Artist doesn't get talked about as much as other Brat Pack movies, it's definitely one you don't want to miss, especially if you love wise-ass Robert Downey Jr. See for yourself and stream it on Starz (opens in new tab).
Less Than Zero (1987)
Robert Downey Jr. was already an established young star by the time he was cast as Julian in the 1987 drama Less Than Zero, which was loosely based on the Bret Easton Ellis novel of the same name. Throughout the movie, Julian, a struggling drug addict and high school best friend of main character Clay Easton (Andrew McCarthy), tries his damnedest to kick his drug habit and attempt to save himself before it's too late. Unfortunately for broken early twenty-something, drug dealer Rip (James Spader) essentially owns Julian and forces him down a dark path.
Bret Easton Ellis' other adaptations, most notably American Psycho, typically get more love than Less Than Zero, but that shouldn't take away from Robert Downey Jr.'s painful performance of a struggling drug addict.
Chances Are (1989)
Two years after the release of Less Than Zero, Robert Downey Jr. took a step in a completely different direction in the 1989 fantasy romantic comedy Chances Are. The movie, which must be a favorite of my parents because they talk about it at length whenever it's mentioned, centers around Louie Jeffries (Christopher McDonald), a young district attorney who dies and is later reincarnated as Alex Finch (Robert Downey Jr.), his daughter's crush. As the story moves along, Alex begins to remember his old life and falls for his widowed wife, Connie (Cybill Shepherd).
It is great seeing Robert Downey Jr. essentially play two characters throughout the movie and despite not performing well at the box office, Chances Are remains a bright spot in the early days of Downey's career.
Chaplin (1992)
Surprisingly, Robert Downey Jr. only has two Oscar nominations to his name, the first being for his role as British comedian Charlie Chaplin in Richard Attenborough's 1992 biopic simply titled Chaplin. From the early days of the silent film star with his trademark mustache all the way to the final years of his life, Downey's portrayal is so touching and realized that it's easy to forget that we're not staring at the real Charlie Chaplin. The movie also features one of the best collection of actors, which should be more than enough reason to revisit the film, but at the end of it all, Downey steals every scene.
Hopefully one day Robert Downey Jr. gets a moment like Charlie Chaplin at the end of the biographical drama, and we get to see him trying to stop a roaring crowd in the middle of a standing ovation.
Short Cuts (1993)
No one would hold it against you if you forgot that Robert Downey Jr. was in Robert Altman's 1993 comedy Short Cuts, but that's not because he's terrible or anything like that. No, Downey is one of the best parts of the movie, it's just that there are 22 characters featured throughout several intertwined stories and just about all of them are brought to life by huge actors at the time. With everyone from Julianne Moore to Jack Lemmon appearing at one point or another, there's really a lot to take in here in a movie about death and cheating.
Robert Downey Jr. doesn't get too much time on screen here, but he makes the most of it whether he's in a jazz club talking about nonsense, making his wife look bloodied up for a photoshoot, or nearly dying in an earthquake.
Natural Born Killers (1994)
If we were going to rank Robert Downey Jr.'s characters based on sheer ridiculousness, Wayne Gale in Oliver Stone's 1994 acid trip murder marathon Natural Born Killers would be at the very top of that list. From the hair to the over-the-top Australian accent, to all those little mannerisms, Downey is in rare form as his character makes a documentary about the life and crimes of Mickey (Woody Harrelson) and Mallory Knox (Juliette Lewis). I mean, I could watch his prison interview with Mickey and the chaos that follows over and over again, mainly for Wayne Gale acting like a madman at the first sight of blood.
If you're up for it, go back and watch Natural Born Killers on Starz (opens in new tab), if only for Robert Downey Jr.'s insanity.
Only You (1994)
There was a time when Robert Downey Jr. appeared in his fair share of romantic comedies, but few compare the electric chemistry he has with Marisa Tomei in 1994's Only You. The movie centers around Tomei's character, Faith, who is convinced that her true love is a man named Damon Bradley. Upon flying to Italy, she thinks she meets a man, played by Downey, who at first claims to be none other than Damon Bradley, but turns out to be someone else entirely. Without giving away too many other details and ruining the emotional and romantic ending, there is a scene in which a flight is delayed for a classic Hollywood kiss.
And the next time you see Tony Stark and May Parker talking in Captain America: Civil War try not to think about this movie.
Two Girls And A Guy (1997)
It's never a good idea to date two women at the same time and Robert Downey Jr.'s Blake Allen finds this out the hard way in the clever 1997 romantic dramedy Two Girls and a Guy. When Carla (Heather Graham) and Lou (Natasha Gregson Wagner) discover that they are dating the same guy at the same time, they team up and confront Blake and demand answers for his actions and pretty much everything else going on in the world. Throw in some brutally honest scenes about the nature of relationships in 1990s as well as a subplot about a dying mother, and you have a recipe for a quintessential '90s movie.
There are so many more great Robert Downey Jr. Movies that have come since the end of the 20th Century, despite the hardships he faced during that time. With movies like Kiss Kiss Bang Bang, Zodiac, and Charlie Bartlett all coming to mind, there's a lot of other movies not tied to the Marvel Cinematic Universe that show what Robert Downey Jr. is capable of pulling off.
Philip grew up in Louisiana (not New Orleans) before moving to St. Louis after graduating from Louisiana State University-Shreveport. When he's not writing about movies or television, Philip can be found being chased by his three kids, telling his dogs to stop yelling at the mailman, or yelling about professional wrestling to his wife. If the stars properly align, he will talk about For Love Of The Game being the best baseball movie of all time.
Your Daily Blend of Entertainment News
Thank you for signing up to CinemaBlend. You will receive a verification email shortly.
There was a problem. Please refresh the page and try again.