How Clint Eastwood Was Almost Involved In The Actual Court Case Based On 15:17 Events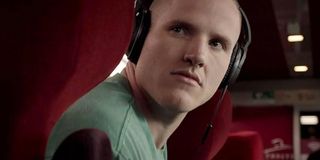 Clint Eastwood has been on a roll in recent years directing movies based on true events. This includes The 15:17 to Paris, which chronicled longtime friends Spencer Stone, Anthony Sadler and Alek Skarlatos foiling the Thalys train attack. Half a decade after that incident, and nearly three full years after the movie's release, the trial for the attacker, Ayoub el Khazzani, has begun in France, and it's just been ruled that Eastwood cannot testify in it.
As reported by Reuters, before the trial began, Ayoub el Khazzani's lawyer requested that the court call Clint Eastwood in as a witness because he could "shed some light" on the authenticity of some of The 15:17 to Paris' scenes. Khazzani reportedly told investigators that he had a change of heart at the last minute back in 2015 and decided not to carry out the attack. Only by that point, it was too late to avoid the confrontation with passengers.
Because the movie does not depict this change of heart, Ayoub el Khazzani's defense was worried that The 15:17 to Paris could end influencing people's view of the attack. As such, she wanted to bring in Clint Eastwood to explain what instructions he'd given to the actors when directing the movie.
The prosecutors opposed this request, saying that because Clint Eastwood didn't personally witness the 2015 attack, it didn't make sense to call him in, especially during a pandemic. The prosecution team even went as far as to accuse the defense of trying to "create a buzz." Ultimately the judge sided with the prosecutors, so Eastwood will not be flying to France to take part in the court case.
Instead, Spencer Stone, Anthony Sadler and Alek Skarlatos will testify in Ayoub el Khazzani's trial on Thursday and Friday. Stone, Sadler and Skarlatos were able to neutralize Khazzani aboard the train on August 21, 2015 before anyone was killed. Mark Mooligan, a French-American professor who was shot by Khazzani in the back on the fateful day, will also testify on Thursday. With the trial having only just begun, it's unclear how long it will take for the prosecution and defense teams to run through their arguments and witnesses.
Regarding The 15:17 to Paris, rather than go the traditional biopic route of bringing in professional actors to play the leads, Eastwood decided to have Spencer Stone, Anthony Sadler and Alek Skarlatos play themselves, as did Mark Mooligan. The cast also included actors like Judy Greer, Jenna Fischer, Tony Hale and Thomas Lennon. Dorothy Blyskal wrote the screenplay, which was based off the book The 15:17 to Paris: The True Story of a Terrorist, a Train, and Three American Heroes by Jeffrey E. Stern.
Arriving in theaters on February 9, 2018, The 15:17 to Paris was primarily met with negative critical reception. CinemaBlend's own Mike Reyes gave it just two out of five stars, and the movie ranks at 23% among professional critics on Rotten Tomatoes. Commercially, The 15:17 to Paris made a little over $57 million worldwide off a reported $30 million budget.
Clint Eastwood followed up The 15:17 to Paris with The Mule later in 2018, and Richard Jewell in 2019. The next movie on the filmmaker's docket is Cry Macho, which he'll both direct and star in. Keep checking back with CinemaBlend for more updates on Eastwood's career, and look through our 2021 release schedule to learn what movies are supposed to come out next year.
Connoisseur of Marvel, DC, Star Wars, John Wick, MonsterVerse and Doctor Who lore. He's aware he looks like Harry Potter and Clark Kent.
Your Daily Blend of Entertainment News
Thank you for signing up to CinemaBlend. You will receive a verification email shortly.
There was a problem. Please refresh the page and try again.