Cool Back To The Future Gift Ideas For The Time Travel Fan In Your Life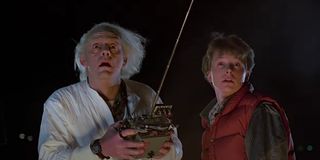 CinemaBlend participates in affiliate programs with various companies. We may earn a commission when you click on or make purchases via links.
Are you having trouble finding the perfect Back to the Future gifts for that that time travel fan in your life because you don't know how to build a flux capacitor or your local department store was sold out of orange vests and Calvin Klein underwear? Fear not, as we have put together a collection of gifts from the iconic 1985 science-fiction adventure that will please fans of all ages and budgets.
Buckle up, because where we're going, we don't need roads, but we do have a ton of gifts to unwrap.
This Funko Pop! Doc Brown With The Clocktower For The Home Office
There are a ton of Back to the Future Funko Pop! figures out there in the wild these days, but few compare to the sheer awesomeness of the one featuring not only Doc Brown but the clocktower atop the Department of Social Services building in the 1955 version Hill Valley that was front and center in the nail-biter of a climax in the 1985 classic. And with so many people working from home these days, all of our home offices could use a little flash, so why not pick up this figure for that time travel fan in your life or perhaps for yourself (don't worry, we won't tell).
This unique and beautifully crafted Funko Pop! version of Doc Brown and his plan to send Marty McFly back to the future is the perfect gift.
Buy it on Amazon here.
This Back To The Future Replica Prop Collection For Diehard Collectors
Getting ahold of the actual props from cultural touchstones like Back to the Future will either cost you a pretty penny or land you in jail depending on how you go about the process, but now you can buy a set of 12 replica props from Robert Zemeckis' quintessential '80s movie. Included in this set are Marty McFly's letters to Doc Brown, a copy of the "Save The Clock Tower" flyer seen in the movie, a drawing of the Flux Capacitor, ID's from some of the major characters, and much more. This would be great for anyone who not only loves the movie but also wants to know all the personal information on Biff's drivers license.
Buy it on Amazon here.
A Back To The Future Hill Valley Cookbook For The Kitchen
If you are looking for a book about Back to the Future that's more than just a collection of facts about the movie or essays on all the theories surrounding the events, then the Official Hill Valley Cookbook is perfect for the kitchen or just their bookshelf. The cookbook, which was released in October 2020, contains 65 recipes from the "past, present, and future" that either come from Back to the Future or are inspired by movie. One of the coolest things about the cookbooks is the way it is split into different eras from all three movies, including 1985, 1955, 2015, alternate 1985, and 1885. With mini pizzas from Back to the Future Part II's 2015, and a pie that looks like a Flux Capacitor placed on top a clock, there's plenty to try.
Buy it on Amazon here.
A Copy Of Grays Sports Almanac From Back To The Future Part II
There are sports almanacs and there is Grays Sports Almanac (1950 - 2000) from Back to the Future Part II. The book that was the source of a lot of trouble for Marty McFly, Doc Brown, and everyone else in the 1989 sequel can now be in your hands or at least someone needing a great gift this holiday season. This 155-page book is a word-for-word replica of the one featured in the movie and even came from one of the props used on set. With all of the stats from the world baseball, football, basketball, horse racing, ice hockey, and beyond sought after by Biff Tannen, this book has it all. This is a perfect find for someone obsessed with the Back to the Future franchise and movie props in general.
Buy it on Amazon here.
This Back To The Future Word Art Print Featuring Quotes From The Movie
One of the aspects of Back to the Future that has helped the movie (and its two sequels) withstand the test of time is the abundance of memorable quotes. With everything from "Great Scott!" to "Where we're going we don't need roads," and countless others, sometimes you just want to have them all in the one place at the same time. Well, with this beautiful Back to the Future word art print featuring quotes from the movie positioned in a way to form the famous DeLorean time machine gives you just that. This print is perfect for the wall in someone's office or entertainment room. Just know that it is unframed so you will have to purchase the framing and matting separately.
Buy it on Amazon here.
This Back To The Future Part II Replica Marty McFly Hat
Everything comes back into style at some point, so why not test out that theory and try on this extremely '80s replica Marty McFly hat from Back to the Future Part II. This one-size-fits-all cap is a pretty spot-on copy of the one worn by Marty McFly after he is transported to the 1989 movie's version of 2015. And even though we weren't wearing reflective and multi-colored headwear like this five years ago, that doesn't mean it's not a righteous cap. And whether it sits on the shelf of a Back to the Future fan's room, hangs on the wall, or sits atop their head while hoverboarding, this is the perfect hat.
Buy it on Amazon here.
A Copy Of The Biff To The Future Graphic Novel
Marty McFly and Doc Brown stop Biff Tannen's plan of remaining in power before too much damage is done in Back to the Future Part II, but the the comic book series Back to the Future: Biff to the Future, which was also written by Bob Gale, explores a world in which the rich and powerful Biff is still running the show and what society is like because of it. The series originally ran for six issues between January and July 2017 before being combined into a one-volume collection chronicling the rise of one of most detestable villains in '80 cinema. This sometimes dark, and oftentimes humorous alternate scenario answers the questions fans have been asking for more than 30 years now. And now it can be yours.
Buy it on Amazon here.
This Back To The Future LEGO DeLorean Play Set
Okay, this next Back to the Future gift is admittedly pretty pricey, but if you have a fan of the movie in your family who also loves building LEGO sets then this DeLorean Time Machine set is the way to go. Again, it's pricey, but this discontinued item comes with 401 pieces that help build a fairly large DeLorean and even Marty McFly and Doc Brown mini figs. The doors open and tires fold like in the movies, and it even includes Marty's iconic hoverboard from Back to the Future Part II, so there's plenty to enjoy here.
Buy it on Amazon here.
A Back To The Future Spacesuit Marty McFly Action Figure
There are a ton of great Back to the Future action figures out there these days, but few feature the level of artistic detail (and accessories) seen here with this Space Marty McFly action figure that pays tribute to one of the best scenes in the early goings of the 1985 blockbuster. Not only is Marty wearing a full "space suit" like he when first going back to 1955, this action figure also comes with two different heads to choose from. This figure is perfect for someone looking for some nice memorabilia to make the backdrop of their video meetings look far more interesting.
Buy it on Target here (opens in new tab).
This Back To The Future Original Soundtrack Gatefold Double LP
Back to the Future, without a doubt, features some of the best music from any movie from the '80s, which is saying a lot. But what else would you expect from the great Alan Silvestri? And while you could listen to the original soundtrack on your phone, computer, or anywhere else you enjoy digital music, there's no better way to enjoy it than this beautiful and eye-catching gatefold double LP released by Mondo. The records are pressed on white vinyl with blue splatter and the art is put together by Matt Taylor for a truly one of a kind package. And don't even get me started on the inside artwork. Anyone who knows anything about Mondo knows that these won't be around forever, so make sure to pick one up before it's too late.
Buy it on Mondo here.
Those are just some of the great gifts for Back to the Future fans out there. If you find something that really catches you eye, and it's not featured on this list, make sure to drop a link in the comments.
Philip grew up in Louisiana (not New Orleans) before moving to St. Louis after graduating from Louisiana State University-Shreveport. When he's not writing about movies or television, Philip can be found being chased by his three kids, telling his dogs to stop yelling at the mailman, or yelling about professional wrestling to his wife. If the stars properly align, he will talk about For Love Of The Game being the best baseball movie of all time.
Your Daily Blend of Entertainment News
Thank you for signing up to CinemaBlend. You will receive a verification email shortly.
There was a problem. Please refresh the page and try again.