All The MCU Movies And TV Shows Coming Out In 2021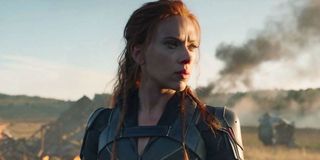 Following the explosive events of Avengers: Endgame and the epilogue that was Spider-Man: Far From Home last year, 2020 was supposed the year the Marvel Cinematic Universe launched its Phase 4 slate with both new movies and Disney+ shows. However, as a result of the COVID-19 pandemic, this was instead the first year since 2009 where we didn't get any new Marvel Studios content. Yes, we were treated to Agents of S.H.I.E.L.D.'s final season on ABC, but even ignoring that show's now-muddled continuity with the main MCU, it wasn't a Marvel Studios product, so it's not the same.
However, 2020's loss is now 2021's gain, as next year is now packed to the proverbial brim with both MCU movies and TV shows. Now keep in mind, there's always the chance some of these projects could be delayed further, as we're not out of the woods yet with this health crisis. But for now, there definitely won't be any shortage of MCU entertainment next year, so let's go over what's to come in order of release date, followed by the ones that don't have specific release dates yet.
WandaVision - Premiere Date: January 15, 2021
Initially The Falcon and The Winter Soldier was going to be the MCU's first Disney+ series out the gate, but as a result of production delays (more on that later), WandaVision jumped to the front of the line. Set after the events of Avengers: Endgame, WandaVision follows Wanda Maximoff and Vision living in the quiet town of Westview, but as their lives become filtered through passing decades and various sitcom tropes, they start to realize all is not as it seems.
This will mark Vision's first appearance following his death at the hands of Thanos in Avengers: Infinity War, and while it's generally assumed Scarlet Witch is responsible for this altered reality, there's still a deeper mystery that hasn't been revealed yet. WandaVision also sees the return of Kat Dennings' Darcy Lewis and Randall Park's Jimmy Woo, as well as Teyonah Parris debuting as an adult Monica Rambeau and Kathryn Hahn playing the enigmatic neighbor Agnes.
Black Widow - Release Date: May 7, 2021
WandaVision may technically be kicking off Phase 4, but Black Widow will still be the first movie out this particular gate. Because Avengers: Endgame saw Natasha Romanoff sacrificing her life so that her friend Clint Barton, a.k.a. Hawkeye, could obtain the Soul Stone, Black Widow will turn the clock back to between the events of Captain America: Civil War and Avengers Infinity War, and follow the the ex-S.H.I.E.L.D. agent on the run and forced to confront a dangerous conspiracy with ties to her past.
Natasha's journey will see her reuniting with Florence Pugh's Yelena Belova, Rachel Weisz's Melina Vostokoff (both of whom have also gone by Black Widow) and David Harbour's Alexei Shotakov, a.k.a. Red Guardian. She'll also have to battle the mysterious Taskmaster, the new head of the Red Room who's capable of perfectly mimicking an opponent's fighting style.
Shang-Chi And The Legend Of The Ten Rings - Release Date: July 9, 2021
Other than Iron Fist, Shang-Chi is arguably Marvel Comics' most famous martial artist, and now he's finally making his live-action debut in Shang-Chi and the Legend of the Ten Rings. While no specific plot details for this movie have been revealed yet, the story will involve Simu Liu's Shang-Chi clashing with Tony Leung's The Mandarin, the leader of the Ten Rings terrorist organization who was revealed to be a real person in the short film All Hail the King. Whether the Shang-Chi movie will address Ben Kingsley's Trevor Slattery being hired to pose as The Mandarin in Iron Man 3 is unclear. The second Phase 4 movie has also cast Awkwafina, Ronny Bhieng and Michelle Yeoh in undisclosed roles.
Eternals - Release Date: November 5, 2021
Like the Guardians of the Galaxy once were, The Eternals is a relatively obscure Marvel property, but that'll change once their movie comes out. The Eternals were created by the powerful Celestials and have lived on Earth for thousands of years, but following Avengers: Endgame, an unexpected tragedy forces these long-lived beings to come out of hiding and protect humanity from the nefarious Deviants. Eternals' ensemble cast includes Angelina Jolie as Theme, Richard Madden as Ikaris, Gemma Chan as Sersi, Kumail Nanjiani as Kingo, Brian Tyree Henry as Phastos, Lauren Ridloff as Makkari, Salma Hayek as Ajak, Lia McHugh as Sprite, Don Lee as Gilgamesh, Barry Keoghan as Druig and Kit Harington as Dane Whitman, better known to longtime Marvel readers as Black Knight.
Spider-Man 3 - Release Date: December 17, 2021
When we left off with Peter Parker at the end of Spider-Man: Far From Home, he'd been framed for the murder of Mysterio (assuming he's actually dead) and had his secret identity revealed to the public. Naturally the aftermath of all that will be explored in the yet-to-be-officially titled Spider-Man 3, but this movie looks to have even wilder things in store. Not only is Benedict Cumberbatch reprising Doctor Strange, but Jamie Foxx will be back as Electro, although it hasn't been clarified if this is the same Electro we met in The Amazing Spider-Man 2 or a new incarnation. Should it be the former, then evidently Spider-Man 3 will provide audiences with some multiversal shenanigans before Doctor Strange in the Multiverse of Madness rolls around in 2022.
The Falcon And The Winter Soldier - Premiere Date: TBD
The COVID-19 pandemic interfered with The Falcon and the Winter Soldier's production enough that its original August 2020 premiere was scrapped. Filming eventually finished in October 2020, so it's expected to be the second MCU series to drop on Disney+. Following up on Steve Rogers giving Sam Wilson, a.k.a. Falcon, the Captain America mantle, The Falcon and the Winter Soldier will involve Sam and Bucky Barnes, having to contend with the U.S. government appointing its own Captain America successor: Wyatt Russell's John Walker, better known in the comics as U.S. Agent. The series will also bring back familiar faces like Emily VanCamp's Sharon Carter, Daniel Brühl's Helmut Zemo and Georges St-Pierre's Batroc the Leaper.
Loki - Premiere Date: TBD
The original Loki's story ended when he was killed by Thanos at the beginning of Avengers: Infinity War, but Avengers: Endgame introduced an alternate timeline Loki who escaped custody after the events of The Avengers using the Tesseract. Loki will use the cube-encased Space Stone to travel through time and alter human history. Remember, this version of the Asgardian God of Mischief hasn't gone through the redemptive arc the original version did (although he will mature in his own way). While no other Marvel characters have been officially announced for Loki yet, some of the actors who will show up include Owen Wilson, Sophia Di Martino, Gugu Mbatha-Raw, Sasha Lane and Richard E. Grant.
Marvel's What If… ? - Premiere Date: TBD
So far, the movies and shows mentioned have all been live-action projects. Not so with Marvel's What If…?, as this is an animated show that, just like the original What If… ? comic book, explores what would happen if major Marvel events unfolded differently. Some of these scenarios will include Hayley Atwell being injected with the Super Soldier Serum instead of Steve Rogers, T'Challa becoming Star-Lord instead of Black Panther, and Loki being able to wield Thor's hammer. Many MCU actors vocally reprised their roles for What If… ?, including the late Chadwick Boseman. These scenarios will be narrated by Jeffrey Wright's Uatu the Watcher, who observes events across the multiverse and occasionally intervenes, despite the fact that The Watchers are supposed to be impartial observers.
Ms. Marvel - Premiere Date: TBD
Now we come to the first Marvel Disney+ series starring a character we haven't met before. Introduced to the comics in 2013, Kamala Khan is a teenager who was exposed to Terrigen Mist, the substance that awakens an Inhuman's inner special ability. Thanks to her Inhuman heritage, Kamala gained shapeshifting powers, and she joined the superhero business quickly afterwards as Ms. Marvel, the moniker formerly used by her idol, Carol Danvers (known nowadays as Captain Marvel). It's unclear if the MCU's Kamal, played by Iman Vellani, will also be an Inhuman or if she'll gain her powers some other way. Either way, this character has a bright future ahead of her, because like fellow newbies Moon Knight and She-Hulk, the plan is to have Ms. Marvel also appear in movies.
As mentioned earlier, these releases are subject to change, and in particular, don't be surprised if any or all of the projects slated for the latter half of 2021 are moved to 2022. For instance, Hawkeye was once slated for a 2021 release, but now it's looking we'll have to wait until 2022 to see Clint Barton training Kate Bishop to be the new archer hero. You can learn what else the MCU has in 2022 and beyond by browsing through our Marvel movies guide and Marvel Disney+ series guide.
Your Daily Blend of Entertainment News
Connoisseur of Marvel, DC, Star Wars, John Wick, MonsterVerse and Doctor Who lore. He's aware he looks like Harry Potter and Clark Kent.