Deadpool 3 Fan Poster Teases Wolverine's Arrival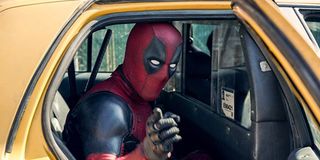 Since the first Deadpool, Ryan Reynolds has long teased his rivalry with Hugh Jackman's Wolverine. It's one of the best running jokes in the movies. Now with the latest news about Deadpool 3 picking new writers, a fan took the liberty to make a poster teasing Wolverine's fated arrival. Check it out below.
It's unclear what Deadpool 3 could be about or how it might fit within the larger MCU. One thing most fans want, though, is a head-to-head between the merc with a mouth and Logan. Whether or not that happens is up for speculation, but one fan took to social media recently to conceptualize what the Deadpool 3 poster might look like if Wolverine was involved. Take a look:
I could totally see this poster playing out in real life if it were to happen. It's just enough of a tease to get fans excited. It doesn't take much to realize that the background is Dopinder's taxi with bullet holes from Deadpool and claw marks from Wolverine's claws. The yellow also does a good job calling back to Wolverine's yellow costume.
While it would be amazing if Hugh Jackman returned to reprise his role as Wolverine for a Deadpool 3, it also feels slightly unlikely. After all, it's well known that the actor has retired the claws after playing the character for over 17 years. Plus, there's no telling what Disney is doing with Ryan Reynolds' franchise.
At the same time, Deadpool 3 feels like the only realistic and compelling way to bring Hugh Jackman out of retirement. Not only does Ryan Reynold's Deadpool goad him in both movies, but off the big green, the two actors love poking fun at each other in their faux-feud. He has every reason to take one more crack at Wolverine in Deadpool 3.
Of course, the state of Deadpool 3 for a time seemed to be in question due to the recent 20th Century Fox-Disney merger. It was unclear how that merger might affect its future. Late last year, though, Ryan Reynolds hinted at working on it with Marvel Studios and, this year, the writers reassured fans it would still have an R rating.
All of that was promising news, but with the most recent announcement that they've hired new writers from Bob's Burgers' Wendy Molyneux and Lizzie Molyneux-Loeglin, it looks like Deadpool 3 is making even stronger steps toward becoming a reality. Those writers will take over from Rhett Reese and Paul Wernick, who wrote the first two films alongside Ryan Reynolds.
There's no real indication at his point what direction these new writers will take things with Deadpool 3. We also aren't sure if it will remain a standalone film or if they'll find a way to fit it into the MCU. Whatever they decide, here's hoping they find a way to get Wolverine involved.
Your Daily Blend of Entertainment News