18 Great Movies To Stream On Peacock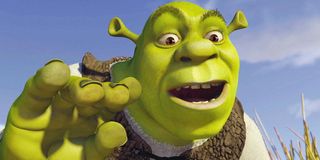 These days, streaming services are sprouting up like fruit flies, battling for our diverted attention by the minute, particularly as more content providers pop up everywhere. While it's easy to bemoan the idea of yet another streaming service, Peacock — an affiliate of NBC and, subsequently, NBCUniversal — does have a lot of good features in its arsenal, including some acclaimed and beloved films accessible primarily through its service. Best of all, though, many of these movies are currently available for free, allowing audiences to have prime access to a few great titles at just the click of a button, including The Matrix and Jurassic Park (to name just a couple). If you're looking to check out what Peacock has to offer, here are some titles for your viewing pleasure.
Do The Right Thing (1989)
Spike Lee's defining masterpiece is as important today as it was 30 years ago. If you haven't already, be sure to check it out. If you've seen it before, watch it again. It's a film that demands to be seen, and it certainly deserves your attention. It also stars Ruby Dee, John Turturro, Giancarlo Esposito, Ossie Davis, Danny Aiello, Bill Nunn, Rosie Perez, and Samuel L. Jackson.
Stream It On Peacock here.
Jurassic Park (1993)
Hold on to your butts. Steven Spielberg's masterful 1993 sci-fi megahit, Jurassic Park, based on the novel of the same name by Michael Crichton, is widely considered one of the greatest blockbusters of the '90s. And rightly so. With its well-crafted action sequences, its excellent (and still impressive) blend of practical and early CG special effects, and top-notch performances from its standout cast, including Sam Neill, Laura Dern, Jeff Goldblum, Richard Attenborough, Samuel L. Jackson, and Wayne Knight, this is one of the Spielberg's most well-known and most-watched movies for good reason. The only thing that makes it more impressive is knowing that it came out the same year Spielberg released Schindler's List, which is also now available on Peacock.
Stream It On Peacock here.
Reservoir Dogs (1992)
It was the one that started it all for writer/director Quentin Tarantino. The indie crime drama starring Harvey Keitel, Tim Roth, Steve Buscemi, Michael Madsen, and more became a film festival sensation, a cult favorite, and the launching pad for its infamous and influential filmmaker to become of our most well-known directors. From here, the notorious moviemaker would move on to do bigger and arguably even better works, including (but not limited to) Pulp Fiction, Inglorious Basterds, Kill Bill, The Hateful Eight, and, most recently, last year's Once Upon A Time ... In Hollywood.
Stream It On Peacock here.
Vertigo (1958)
Vertigo has been called not only Alfred Hitchcock's finest film but one of the best movies of all-time — if not the best. Whether or not you agree with that statement (I'm keener on the other Hitchcock movies listed in this article), you can and should check out the acclaimed film for yourself, starring James Stewart and Kim Novak, and see if it lives up to its hype — or, should we say, heights.
Stream It On Peacock here.
The Matrix Trilogy (1999-2003)
What is real? How do you define "real?" In today's ever-confusing timeline, nothing ever seems too certain. But one thing's for sure: if you love The Wachowskis' Matrix trilogy, or you haven't had a chance to see these movies yet, you can check them out on Peacock right now. They star Keanu "I know Kung fu" Reeves, Carrie-Anne Moss, Laurence Fishburne, and Hugo Weaving. Watch them all three movies before the fourth one arrives.
Stream The Matrix On Peacock here, The Matrix Reloaded here, and The Matrix Revolutions here.
The Bourne Trilogy (2002-2007)
Once a rising young talent with a bright future and an Oscar to his name, Matt Damon turned into a bonafide A-list superstar with the Bourne trilogy. Particularly with the sequels, The Bourne Supremacy and The Bourne Ultimatum, proving to be not only as good as the first film, The Bourne Identity, but arguably even better. I find it hard to rank them, but this trilogy is certainly among the best, most engaging movie trilogies of the '00s, resulting in an action franchise that brought shockwaves to cinemas and provided a rousing, thoughtful soundboard for its politically complicated times. The results are as thrilling as they're compelling, producing a smart, satisfying round of movies for audiences worldwide to enjoy. The less said about Jason Bourne, though, the better.
Stream The Bourne Identity On Peacock here, The Bourne Supremacy here, and The Bourne Ultimatum here.
Shrek (2001)
There aren't too many movies that have captured the cultural zeitgeist quite like Shrek. The unlikely hit from DreamWorks Animation is an irreverent blend of crude humor and romantic sweetness, capturing the unsophisticated charm of its green ogre protagonist while also parodying and adhering to the expectations of fairy tale lore. The result is an oddly lovely little family movie, filled with pop culture gags galore and a sweeping unconventional romance. Featuring the voice talents of Mike Myers, Eddie Murphy, Cameron Diaz, and John Lithgow, Shrek became a pop culture phenomenon for a reason. You can visit and revisit this tale with your family through Peacock.
Stream It On Peacock here (Available With Premium).
Children Of Men (2006)
Alfonso Cuaron is one of our most masterful filmmakers, helming such exceptional films as Y Tu Mama Tambien, Gravity, A Little Princess, Harry Potter and the Prisoner of Azkaban, and, most recently, Roma. One of his finest and most incredible cinematic accomplishments remains 2006's Children of Men, starring Clive Owen, Julianne Moore, Pam Ferris, Chiwetel Ejiofor, and Michael Caine. This dystopian sci-fi action-thriller is an extraordinary triumph, blending mature themes with accomplished filmmaking, producing one of the 2000s most spellbinding achievements.
Stream It On Peacock here (Available With Premium).
Forgetting Sarah Marshall (2008)
2008's delightfully crude rom-com Forgetting Sarah Marshall, starring and written by Jason Segel, combines producer Judd Apatow's signature mix of salty and sweet, packing several raunchy, hypersexed jokes with a fine balance of emotional sweetness to make a rewarding blend of heartfelt and hilarious for those viewers who like their romantic comedies a little blue — in more ways than one. It also stars Kristen Bell, Mila Kunis, Russell Brand, Paul Rudd, Bill Hader, and Jonah Hill.
Stream It On Peacock here (Available With Premium).
Phantom Thread (2017)
In what might very well be his final performance, by his own admission, at least, Daniel Day-Lewis reunited with There Will Be Blood writer/director Paul Thomas Anderson to tell another story of power, wealth, and ego interwoven with one's burning obsession with Phantom Thread, a notably more hopeful and unorthodoxly romantic period piece. Exploring a tortured artist's toxic, isolated craftsmanship and restrictions from the outside world isn't necessarily new or always fertile territory, but with humor, grace, and nuance, Anderson and Day-Lewis created a lavish, elegant tale told poignantly and with reflection, particularly from two high-profile and revered artists who are also known for their all-consuming compulsion and infatuation with their time-consuming work. The results are certainly enrapturing and intoxicating, with a lovely and subtle lead performance from Vicky Krieps really tying the whole ensemble together with an intricate, nicely-woven bow.
Stream It On Peacock here.
Psycho (1960)
In an astonishing career defined by many great hits and classic masterworks, Alfred Hitchcock's Psycho remains one of the revered filmmaker's most famous, influential, and arguably greatest movies. Certainly, it's among his most iconic and celebrated works, with goodness knows how many homages, references, and tributes made throughout pop culture and cinematic history — including Gus van Sant's (ill-received) shot-for-shot remake. In a career that's largely been filled with widely-hailed high marks, Psycho remains one of the famous filmmaker's most recognizable achievements.
Stream It On Peacock here.
Big Fan (2009)
Patton Oswalt is a standout stand-up, but he's also quite the dramatic actor. In 2009, the Ratatouille voice actor proved his chops in the underseen indie dramedy Big Fan, an intriguing, disturbing look at what happens when we must reckon with the darker humanity of our idols. If you haven't had a chance to see it yet, take the time to do so. I'm a big fan of this one. Hopefully, you will be too. It also stars Kevin Corrigan and Michael Rapaport.
Stream It On Peacock here.
Fear And Loathing In Las Vegas (1998)
Adapting Hunter S. Thompson's scribblings is no easy task, yet director Terry Gilliam made more than a valiant effort, bringing the memoir that was once considered unfilmable onto the silver screen in all its deprived glory. Featuring Johnny Depp in his first cinematic performance as the late drug-fueled writer, we get a vivid and properly existential deep dive into the unmistakeable mind of its central figure. It might not be the best or anywhere close to the most cohesive movie you'll ever find, but it's certainly true to the text. If you love Thompson's descents into the void, you'll love this, too.
Stream It On Peacock here.
Rear Window (1954)
As we are all trapped in our homes, looking for something to divert our attention in these perilous times, this is a pretty perfect opportunity to check out Alfred Hitchcock's classic thriller, Rear Window. Starring James Stewart and Grace Kelly, this is an immensely well-made, finely-ticking suspense-filled keeper of a movie, but if you're looking for the best time to watch this movie, there's no time like the present. What else are you gonna do now?
Stream It On Peacock here.
Shattered Glass (2003)
Particularly in a time where truth and fiction can often be conflated and terms like "post-truth" can be thrown around willingly, this would certainly be an intriguing time to watch Shattered Glass. If you don't want to get that sort of conversation, though, this movie is worth watching for anyone who thinks that Hayden Christensen can't act based solely on his unfortunately misguided performance in the Star Wars prequels. His performance here is uncomfortably, even eerily fascinating, and it gives audiences a glimpse into the full range of his overlooked and sometimes ignored talents.
Stream It On Peacock here.
Short Term 12 (2013)
Before she went on to star in Room, Captain Marvel, and Avengers: Endgame, Brie Larson frontlined the wonderful indie drama, Short Term 12. From writer/director Destin Daniel Cretton, who later made The Glass Castle and last year's Just Mercy (and is currently slated to helm Marvel's Shang-Chi and the Legend of the Ten Rings), this quietly affecting, emotionally searching character drama also features pre-fame performances from Rami Malek, Lakeith Stanfield, Stephanie Beatriz, and Booksmart's Kaitlyn Dever. If you haven't seen it, it's well worth seeing — especially if you love Larson's work to follow.
Stream It On Peacock here.
Bad Lieutenant: Port Of Call - New Orleans (2009)
There are quite a few Nicolas Cage titles available to stream on Peacock at the moment. If you're really looking to get your fix, though, Bad Lieutenant: Port of Call – New Orleans might be the ticket. It's a strange, well-made, constantly surprising odyssey into drug-addled depravity, featuring one of Cage's most wickedly inspired performances. Likewise, if you only happen to know writer/director Werner Herzog from his Mandolorian performance, you outta check out some titles off his filmography. For as wild and wacky as this movie becomes, it's still one of his most accessible narrative features.
Stream It On Peacock here.
American Pyscho (2000)
Based on the best-selling novel of the same name by Bret Easton Ellis, Mary Harron's American Pyscho is considered one of those rare adaptations that's even better than the source material. Featuring an incredible performance from Christian Bale (naturally), this sneering, darkly funny look at the dark underbelly of capitalism and greed launched the Oscar winner's A-list career and it remains one of his finest, most celebrated roles.
Stream It On Peacock here.
These are only a few of the movies currently available to stream on Peacock. Be sure to check out their catalog to see what other titles are on hand.
Will is an entertainment writer based in Pittsburgh, PA. His writing can also be found in The Playlist, Cut Print Film, We Got This Covered, The Young Folks, Slate and other outlets. He also co-hosts the weekly film/TV podcast Cinemaholics with Jon Negroni and he likes to think he's a professional Garfield enthusiast.
Your Daily Blend of Entertainment News
Thank you for signing up to CinemaBlend. You will receive a verification email shortly.
There was a problem. Please refresh the page and try again.