8 Popular Young Adult Book Series That Would Be Perfect For TV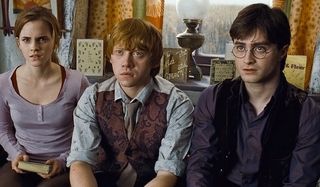 Some of the biggest hits on TV nowadays are adaptations of popular books, ranging from fantasy series like Game of Thrones to the complex mysteries of Sherlock. Netflix even recently released its own adaptation of the young adult series A Series of Unfortunate Events, but there are still plenty of book sagas out there that could be fantastic on the small screen, of course. So, in honor of the Lemony Snicket's new take on live-action, we've come up with eight young adult book series that would be perfect for TV.
Artemis Fowl, Eoin Colfer
The eight-book Artemis Fowl series follows teenage genius and criminal mastermind Artemis as he comes up with a plot to extort gold from a group of Fairy People. The antihero runs into all kinds of magical creatures in his schemes, and his stance on the Fairies shifts significantly as he grows up. The saga was a huge financial success, a hit with critics, and has attracted a ever-growing following of fans. Many attempts have been made over the past 15 years to launch an Artemis Fowl film franchise, but none have come to fruition just yet. The complex nature of the books could mean that they would be better suited for television than movies, and the eight-book total means that it could last quite a while without running out of source material.
Daughter Of Smoke And Bone, Laini Taylor
The Daughter of Smoke and Bone trilogy follows the teenage art student Karou, who had a decidedly unconventional upbringing thanks to the creatures known as chimaera that raised her. She becomes an instrumental part of the war between the chimaera and the seraphim. Karou has natural blue hair, walks around with three bullets in her stomach, and has a job gathering teeth for her adopted chimaera father; not your normal TV protagonist. The first book was a hit with critics, and the subsequent two worked to fill out quite the unique universe. The combination of fantasy, romance, and original mythology could enrich any TV lineup and hook viewers into the bizarre and brilliant life of Karou.
Animorphs, K.A. Applegate
Animorphs was one of the most popular young adult book series of the 1990s. The saga pitted a group of teenage kids against a race of parasitic aliens that was infiltrating the planet, and when a dying alien gave the kids the power to turn into animals to aid in their fight against the evil Yeerks, the Animorphs spent more than 50 books doing their best to protect their planet. The series got surprisingly dark over the years as more and more time was spent immersed in a secret war, and the heroes' battles to save humanity could be fantastically compelling on TV. Admittedly, Nickelodeon did produce an Animorphs show back in the late 90s, but given the least cringeworthy thing about that show was probably the opening credits, a second attempt at a TV project with modern effects could do justice to the franchise.
Finishing School, Gail Carriger
The Finishing School series is set in an alternate history of Great Britain in the Victorian era. The supernatural is a part of daily life in this version of the Victorian, and both vampires and werewolves are acknowledged parts of society. The books center on young Sophronia after she enrolls in Mademoiselle Geraldine's Finishing Academy for Young Ladies. She discovers that students at Mademoiselle Geraldine's learn more than just dancing and etiquette, and they are also studied in the arts of assassination and espionage. The four books of the series would be worth an adaptation even if only for the wardrobe and scenery, but the stories could be broken down nicely for a television format.
Pendragon, D.J. MacHale
Pendragon is a somewhat lesser-known book series that has nonetheless accumulated a loyal following. The series comprises ten books that chronicle the life of Bobby Pendragon as he travels through space and time to stop the destruction of locations throughout the universe. Bobby and his friends must fight a demon bent on exploiting a certain territory's population to change the course of history. Pendragon has not yet been produced for television or film, so a show could bring the stories of Bobby and his friends to an audience that doesn't have any set expectations for what an adaptation would look like. Besides, time travel shows are all the rage on TV nowadays, and the time could be right for a Pendragon program to hit the airwaves.
The Last Vampire, Christopher Pike
Some of the most popular genre TV shows over the past twenty years have featured vampires, and several have been based on books. An adaptation of the Last Vampire saga from Christopher Pike, which has run for nine books so far, could bring a brand new kind of vampire story to the small screen that follows the life of Alisa/Sita, a millennia-old vampire who is supposedly the last of her kind. It's a controversial series that challenges the tenets of religions like Hinduism and Buddhism, and all without glitter. The books would undoubtedly have to go through some major changes if they were to make it to anything stricter than premium cable, and a The Last Vampire show could be a perfect fit for Netflix (opens in new tab) or Amazon.
Harry Potter, J.K. Rowling
What would any list about popular young adult fiction be without Harry Potter? Yes, the seven-book series has already been adapted into a hugely successful film franchise, but a TV show based on J.K. Rowling's novels could do justice to the source material in a way that just wasn't possible theatrically. A lot of the best parts of the books had to be skipped for main plot points to fit into each movie's runtime. With a show, we could get Peeves the poltergeist and S.P.E.W. and a version of Ron who gets to say his own heroic lines without turning into comic relief. A show like A Series of Unfortunate Events that gets 8 or 10 episodes per season to tell an epic series could be exactly what Harry Potter books fans need from an adaptation.
Unwind, Neal Shusterman
The Unwind series is not for the faint of heart. The very first book takes place in a future United States after a second Civil War rocked the nation over the topic of abortion. The war ended on a compromise that allowed parents to sign orders for children between 13 and 18 to be taken away, with their body parts harvested for later use. The books follow a group of teens as they try to avoid being harvested, tackling all manner of sociological issues in a twisted society. An Unwind TV show would need to air on the right network or streaming service to live up to the darkness of the books, but if done right, a live-action Unwind could be troublingly remarkable in reflecting modern times.
What young adult novel series would you like to see on TV? Let us know in the comments and stay tuned to CinemaBlend for the latest in TV news, and be sure to take a look at our midseason TV premiere schedule.
Laura turned a lifelong love of television into a valid reason to write and think about TV on a daily basis. She's not a doctor, lawyer, or detective, but watches a lot of them in primetime. Resident of One Chicago, the galaxy far, far away, and Northeast Ohio. Will not time travel, but will sneak references to The X-Files into daily conversation.