Saving Private Ryan: 10 Actors You Probably Forgot Were In The Movie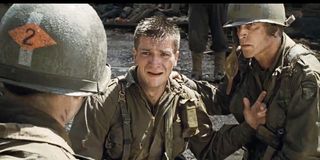 Saving Private Ryan helped cement Tom Hanks's leading man career. The movie proved that you could put him in any role and he would probably excel. The film also helped launch the careers of many aspiring actors, like Vin Diesel and Nathan Fillion. It also featured future big-name actors in small roles, like Bryan Cranston. If you're like me, you're probably going, "Wait what? Bryan Cranston and Nathan Fillion are in Saving Private Ryan?" Yes, my friend, indeed they are in it.
Recently, I rewatched Steven Spielberg's war classic and had many moments of, "Oh wait, he's in this?" Saving Private Ryan is full of appearances by many recognizable names, either in one of their first screen roles or as-sort of cameo appearances. Let's look at some of the actors featured in Saving Private Ryan that you may have forgotten appeared in the film.
Warning: Spoilers ahead. I'll be discussing some plot points from Saving Private Ryan**, so turn back if you want to remain unspoiled.**
Vin Diesel (Private Adrian Caparzo)
Vin Diesel plays Private Caparzo in Saving Private Ryan. He's one of the original men selected to join Captain Miller (Tom Hanks)'s team. Technically, one would assume that Vin Diesel was one of the main characters in Saving Private Ryan, but if you haven't seen the film in a while, I have some news for you: he dies pretty early in the movie. So many Saving Private Ryan fans may have forgotten he was even in the movie.
This was also one of Diesel's early movies, so he wasn't well known at the time. His appearance is something that I assume only people who watched it many years later (after he became a big star) would recognize. Diesel is best known for being part of the Fast & Furious franchise. He's also one of the biggest action stars today, leading other franchises like The Chronicles of Riddick and the XXX films. He has also voiced adorable Groot in The Guardians of the Galaxy films and other Marvel movies.
Bryan Cranston (Colonel Mack)
Cranston's character Colonel Mack appears in one of the opening scenes. He's one of the first colonels informed that all three other Ryan brothers have died. He makes the decision to tell General George C. Marshall (Harve Presnell), which inspires him to send Miller's crew on a mission to save the final Ryan brother.
Cranston worked consistently prior to Saving Private Ryan but hadn't had his big break yet. He only appears in two scenes in the movie, so it's easy to forget. Cranston is best known for his role as Walter White in Breaking Bad and the movie El Camino: A Breaking Bad Movie. He also spent years making viewers laugh as Hal in Malcolm in the Middle. He's also appeared in films such as Argo, Trumbo, and The One and Only Ivan.
Ted Danson (Captain Fred Hamill)
Ted Danson plays Captain Hamill in Saving Private Ryan. He's the captain of one of the units that Miller's unit encounters on their quest to find Private Ryan (Matt Damon). Ironically, Hamill's unit has a James Ryan, it's just not the right one. Ted Danson had already made a name for himself by playing Sam Malone in Cheers. He had also appeared in the films She's Having a Baby, Cousins, and the Three Men and a Baby films.
Therefore, it's easy to recognize Ted Danson when he pops up on Saving Private Ryan, but it's such a quick cameo that it's a blink and you may miss it moment. He's also a bit overshadowed by the slightly comedic scene involving a soon-to-be star. Ted Danson has become even bigger since Saving Private Ryan appearing in many movies and shows, including Fargo, CSI: Crime Scene Investigation, and The Good Place.
Nathan Fillion (Private James Frederick Ryan)
Saving Private Ryan is a pretty serious film, but it has some scenes of comedic genius. One of those scenes involves a fresh-faced Nathan Fillion. Captain Miller and his team believe that they have found the Private Ryan that they're on a mission to find. They ask his captain (played by Ted Danson) to call him, and Miller tells him that his brothers are dead. Private Ryan has a full breakdown, only for them to learn that he's Minnesota Ryan, not Ohio Ryan, and his brothers are too young to be in the war--so very likely alive.
This moment is just a prerequisite for Fillion's future comedy roles. Fillion is best known for his role as Mal in the cult-favorite Firefly and its spin-off film Serenity. He also appeared in the film version of Waitress, Percy Jackson: Sea of Monsters, and soon-to-be-released The Suicide Squad. Fillion is also best known for his role in Buffy the Vampire Slayer, Desperate Housewives, Castle, Santa Clarita Diet, and The Rookie.
Paul Giamatti (Sergeant Hill)
Sergeant Hill (Paul Giamatti) helps lead Captain Miller to Captain Hamill, but his clumsiness leads to a stand-off between some German soldiers and Miller's unit. Giamatti also has a blink and you might miss it moment. He appeared in Saving Private Ryan before he really became a recognizable name and face.
Paul Giamatti is best known for films like American Splendor, The Last Station, Win Win, Sideways, 12 Years A Slave, and Cinderella Man. He is also known for the HBO miniseries John Adams and the Showtime series Billions. Paul Giamatti is also one of those actors that has appeared in so many films that you've at least seen him in one thing or another.
Dennis Farina (Lieutenant Colonel Walter Anderson)
Dennis Farina plays Lieutenant Colonel Anderson, the man who Captain Miller reports to after the big opening battle on the beach. He also gives Miller his new assignment to find Private Ryan. Farina only appears in one scene in the film.
Farina is best known for his role as Det. Joe Fontana in Law & Order. He's also known for his roles in Midnight Run, Get Shorty, Out of Sight, and Snatch. He also played Nick (Jake Johnson)'s dad in New Girl. Farina passed away in 2013.
Leland Orser (Lieutenant DeWindt)
Leland Orser plays Lieutenant DeWindt in Saving Private Ryan. Miller and crew encounter him while searching for Ryan. He had recently led a mission that resulted in some planes being taken out of the sky by a storm. DeWindt is clearly still processing the event and all the men lost because of it. He also gives Miller's crew some dog tags to search to see if Ryan's name is among them.
Leland Orser appears in a few scenes but this is one of the most standout encounters because, in his few words, the weight of what has happened is felt by the audience and Miller's crew. Orser is best known for his roles in E.R, Berlin Station, Ray Donovan, and the I Am the Night miniseries. He has also appeared in the films Seven, Excess Baggage, The Bone Collector, Pearl Harbor, Daredevil, and the Taken films.
Max Martini (Corporal Fred Henderson)
Max Martini plays Corporal Fred Henderson in Saving Private Ryan. Henderson is protecting a bridge when he encounters Miller and his crew. He happens to be on a mission with Private Ryan and another man.
Max Martini is best known for his roles in Pacific Rim and the Fifty Shades of Grey, films He played Jack Wiley in the series Level 9, Mack Gerhardt in The Unit, Frank Stevens in Revenge, Arlo Turk in NCIS: Los Angeles, and Edward Coventry in Netflix's The Order. He also played Ryan Grant in the second season of The Purge.
Ryan Hurst (Paratrooper Michaelson)
The second humorous scene of Saving Private Ryan involves Ryan Hurst's character, Paratrooper Michaelson. He's a friend of Private Ryan. He is being questioned by Captain Miller about Private Ryan's whereabouts. Michaelson has recently suffered hearing loss (which isn't funny), so he can't hear Miller and continues to loudly repeat him without realizing it (which is funny).
Hurst is practically unrecognizable as a young clean-shaved version of himself. Saving Private Ryan was one of his first roles, but Ryan Hurst fans most likely recognize him for his roles in Remember the Titans, Sons of Anarchy, Bates Motel, Outsiders, and The Walking Dead.
Harve Presnell (General Marshall)
Harve Presnell plays General Marshall. He's the one so moved and saddened by Ryan's brothers' death that he sets things in motion for Captain Miller and his crew to go find him. He appears in a few scenes in the movie. Presnell is known both as a screen and stage performer. He appeared in The Unsinkable Molly Brown musical in the 1964 film version alongside Debbie Reynold.
Harve Presnell also appeared in Broadway productions of Scarlett, Camelot, and Annie. His TV credits include playing Matthew Crane in Ryan's Hope, Arthur Brooks in Dawson's Creek, and the voice of Leo Lionheart Sr. in The Lionhearts. His most recognizable film work is as Wade Gustafson in Fargo. He also appeared in the movies Face/Off, Mr. Deeds, Old School, and Evan Almighty. Harve Presnell passed away in 2009.
Saving Private Ryan is now not only known for being a great war movie, but also a great movie that features future big-name stars. Saving Private Ryan is available to purchase or rent on your favorite Video On Demand service. Rent it here (opens in new tab).
Spent most of my life in various parts of Illinois, including attending college in Evanston. I have been a life long lover of pop culture, especially television, turned that passion into writing about all things entertainment related. When I'm not writing about pop culture, I can be found channeling Gordon Ramsay by kicking people out the kitchen.
Your Daily Blend of Entertainment News
Thank you for signing up to CinemaBlend. You will receive a verification email shortly.
There was a problem. Please refresh the page and try again.