Bryan Cranston: 7 Movie And TV Appearances You May Have Forgotten About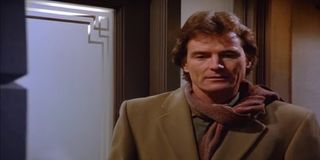 Bryan Cranston is currently one of the most well-known and respected actors of the 21st Century. He is an actor who effortlessly plays both serious and comedic roles. He has won six Emmy awards and been nominated 15 times. He won most of those Emmy awards for his portrayal as Walter White on Breaking Bad.
Bryan Cranston is an actor who is constantly taking on new projects and reinventing himself. He's such a big name in Hollywood now that it's hard to picture those days when the name Cranston didn't strike awe and amazement in the heart of movie and TV fans. Well, let's look back at some of those early roles (and some recent ones that you may have missed).
Gus Grissom - That Thing You Do
That Thing You Do is a 1996 comedy movie written and directed by Tom Hanks. It depicts the rise and fall of a one-hit-wonder pop group in the 1960s. It stars Tom Hanks, Tom Everett Scott, Liv Tyler, Johnathon Schaech, Steve Zahn, and Ethan Embry.
Bryan Cranston only has a brief appearance in That Thing You Do. It's almost a blink-and-you'll-miss it moment as he portrays real-life astronaut Gus Grissom. He appears on a scene where the band is on a variety show called The Hollywood Television Showcase. He appears before The Wonders. Cranston had been acting since the '80s, so this was far from his first role, but it was still before his name became so recognizable.
Dr. Tim Whatley - Seinfeld
Seinfeld was one of the most popular series of the '90s. It was created by Larry David and Jerry Seinfeld and starred Seinfeld, Julia Louis-Dreyfus, Michael Richards, and Jason Alexander. The NBC comedy ran for nine seasons and is considered one of the best sitcoms of all-time.
Cranston played the recurring role of Dr. Tim Whatley from 1994 to 1997. He appeared in five episodes total. Tim was the dentist of Jerry and several other characters. He also had a brief romance with Elaine (Julia Louis-Dreyfus). Like many Seinfeld characters, he becomes kookier with each appearance. Before Seinfeld, Cranston was the main character on the short-lived series Raising Miranda and an original cast member on the soap Loving, but Seinfeld was still one of his early recurring character roles.
Colonel I.W. Bryce - Saving Private Ryan
Saving Private Ryan is a World War II movie directed by Steven Spielberg. It stars Tom Hanks as a man who goes on a mission to track down Private First Class James Ryan (Matt Damon) and send him home. Saving Private Ryan's cast also includes Giovanni Ribisi, Tom Sizemore, Edward Burns, and Adam Goldberg.
Bryan Cranston only appears in a few early scenes of Saving Private Ryan. He plays Colonel I.W. Bryce. He's one of the first leaders informed that the other Ryan brothers have died. He basically sets off the quest to find and retrieve Ryan, so at least one of the Ryan children can make it back home. Saving Private Ryan came a few years before Cranston landed his breakout role on Malcolm in the Middle.
Patrick Crump - The X-Files
The X-Files was a science fiction series that began in 1993 and ran until 2002. It had a revival in 2016. It starred David Duchovny as Fox Mulder and Gillian Anderson as Dana Scully. They are two FBI special agents who investigate unusual cases, usually involving paranormal activity and extraterrestrials.
Bryan Cranston appeared in The X-Files Season 6, Episode 2, "Drive." This episode happened to be directed by Vince Gilligan, the creator of Breaking Bad and Better Call Saul. The episode revolves around Patrick kidnapping Mulder and forcing him to drive him around to keep himself from exploding. Crump is not the most compassionate character as he's full of bigoted views, but Cranston is able to make him a character that you come to care about and want to survive. Cranston appeared on X-Files in 1998, when his career was starting to pick up with him appearing in well-known shows and movies, like Seinfeld.
Lightbringer - Fallen
Fallen was an ABC Family miniseries that aired in 2006 and 2007. It had three episodes and was based on The Fallen novels by Thomas Sniegoski. My favorite actor who played a teen vampire, Paul Wesley, stars in Fallen as Aaron Corbett. The events of the film start with Aaron discovering that he's half-human and half-angel. He also learns that he's been burdened with the duty of saving the world with his powers, which are to send fallen angels back to heaven by redeeming them.
Bryan Cranston plays the Lightbringer, a mysterious figure who is trying to ensure that Aaron fulfills his destiny and prophecy. This is another role where Cranston effortlessly toes the line between good and evil. Fallen aired in 2006, after Malcolm in the Middle ended, so by this time, Cranston had become well-known as lovable quirky dad Hal.
Nick Wrigley - 'Twas the Night
'Twas the Night is a Disney Channel Original Movie that aired in 2001. It was a Christmas themed movie that aired during the holidays. Shady Uncle Nick (Bryan Cranston) decides to visit his brother and his family for the holidays -- also to escape consequences for his crimes. This excites his 14-year-old nephew Danny (Josh Zuckerman) who idolizes Nick. On Christmas Eve, while trying to deliver presents, Santa makes a mistake and Nick knocks him out.
Nick and Danny decide to borrow Santa's sleigh to deliver the gifts for Santa, but Nick is really stealing from the houses. This is a fun Holiday movie that allows Cranston to embrace his goofier side, while also creating a complex character for a movie geared towards little children. 'Twas the Night aired a year after Cranston began working on Malcolm in the Middle, so he was just gaining name recognition at the time.
Vince Lonigan - Sneaky Pete
Sneaky Pete is a series starring Giovanni Ribisi as a con artist named Marius who, once he is released from prison, steals his cellmate, Pete (Ethan Embry)'s identity to hide from Vince (Bryan Cranston), a man he and his brother owe a lot of money.
Sneaky Peter was executive produced and co-created by Bryan Cranston. Sneaky Pete was an underrated series that left too soon. Cranston's character only appeared in the first season. Sneaky Peak's first season was released on Amazon Prime in 2017, so by then, Cranston was a big name and a multiple Emmy winner. However, Sneaky Pete is one of those series that many may have missed, and it's a show worth checking out if you're a Cranston fan or just a fan of con artist series.
Cranston has built a diverse body of work since he started acting, so it's nice to look back at some of his earlier or lesser-known projects to see the evolution of Mr. "I am the danger." This summer, Cranston teamed up with Sam Rockwell, Angelina Jolie, and others for Disney's The One and Only Ivan. You can currently stream The One and Only Ivan on Disney+. Stream it here (opens in new tab).
Spent most of my life in various parts of Illinois, including attending college in Evanston. I have been a life long lover of pop culture, especially television, turned that passion into writing about all things entertainment related. When I'm not writing about pop culture, I can be found channeling Gordon Ramsay by kicking people out the kitchen.
Your Daily Blend of Entertainment News
Thank you for signing up to CinemaBlend. You will receive a verification email shortly.
There was a problem. Please refresh the page and try again.