How Disney Could Respond To Warner Bros' Theatrical Bombshell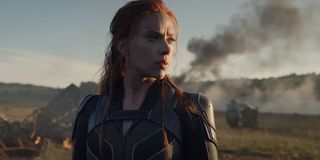 Last week, Warner Bros raised a lot of industry eyebrows when the major American film studio announced that it will release its entire 2021 theatrical film slate directly onto HBO Max on the same day that all those movies will also open in theaters. To be sure, this was a huge deal. The industry as a whole is now playing a waiting game to see how the other major studios might respond to this move. And one of those studios, Disney, already has a major event planned for Thursday where they almost certainly will do just that. The event is four hours long, so clearly something big is planned.
The Walt Disney Company revealed it would have a special Investor Day a couple of months ago after it announced a major restructuring to the company's movie production pipeline. Rather than having two different pathways to distribution, the theatrical method and the streaming platform, the new Disney Studio will run everything together, meaning that the decision of whether a movie is destined for Disney+ or theaters will be made later in the process. However, with the Warner Bros plan now announced, it would not be a surprise at all for Disney to make a similar move regarding its upcoming theatrical slate. And because of the restructuring, it would be easier to do from a business standpoint.
I don't see Disney doing exactly what Warner Bros. has done, i.e. releasing all 2021 movies directly to Disney+ on the same day they hit theaters, at least not without adding slightly more to the mix. Disney already floated the idea of adding theatrical films for an additional price when it released Mulan as a Premiere Access title, and while it's unclear exactly how successful that was, Disney has said the company was largely happy with the results. The idea that Black Widow could be the next Premiere Access movie on Disney+ has been rumored, but what if we see something a little different from Disney+ in 2020?
Premiere Access As A New Subscription Option For Disney+
Making some or all of Disney's 2021 theatrical offerings Premiere Access options is certainly one possibility, but that's potentially a lot of $30 credit card charges Disney could be asking its viewers to add. 2021 currently has three Marvel movies, three major animated releases and other high profile films, like Jungle Cruise and Cruella, that could also be added to that list. That means Marvel fans alone could be spending over $100 just to watch the three new entries in the MCU when you add together the monthly subscription fees and the Premiere Access ticket price.
What would potentially make more sense is making Premiere Access a second tier option for Disney+. Disney+ is incredibly successful as a streaming service, but it's also one of the least expensive streaming options available. It only cost $6.99 per month. There's no added price for 4K UHD video like Netflix has. You get a lot for your money. There's no question in anybody's mind that Disney+ will be seeing prince increases before too long, but one way it could do that without ruffling too many feathers is by actually providing something more for the added price tag.
It needs to be remembered that this event this week is an Investor Day, so its primary audience is Wall St. The purpose is to give the people that dictate investment decisions confidence that Disney is still a company worth investing in. A decision that is going to help increase revenue in a big way for the one part of the Disney Company that has remained strong throughout the pandemic is the sort of thing that sends stock prices skyward.
Why A New Subscription Tier Makes Sense
At $6.99 per month, Disney+ is less than half the normal price of HBO Max. As such, Disney could literally double the price of a Disney+ Premiere Access subscription, and still provide the same thing that HBO Max is providing for essentially the same price. Alternatively, Disney could make the Premiere Access price something like $9.99 a month and still offer a product at a price cheaper than most other competing streaming services, but also increase the revenue from Disney+ in a big way.
Consumers are generally more willing to spend a few extra bucks a month rather than drop larger sums once. Or in this case, more than once, so this sort of option will likely see more buy-in from the Disney+ customers. Especially since if we see a second tier option only cost three or four dollars more a month, it will basically look like a deal compared to Mulan, as the added cost will only be slightly more than what that one movie cost. Disney+ could see a lot more people subscribing to a slightly more expensive Disney+ that offers more than they would see in a series of one-off Premiere Access purchases.
Why A New Subscription Tier Doesn't Make Sense
While I certainly think there's a lot of appeal to this idea, and there's a decent chance we could see this, or something like it, revealed on Thursday, there are certainly reasons why it might not happen. While Disney and Warner Bros. are both major movie studios trying to navigate a very different marketplace, the two are certainly not identical, and while this sort of plan may work for WB, there are reasons it may not work for Disney.
First off, Disney+ is just in a very different position in the market than HBO Max. Many have suggested that the decision to move theatrical movies to the streaming platform has more to do with HBO Max not seeing Disney+ levels of success, and less to do with the potential state of theaters in 2021. There is probably at least some truth to this. Users have not flocked to HBO Max the way they did to Disney+, so Disney+ simply doesn't need this boost. People are happy with what Disney+ is now and are paying the subscription fee for it happily.
There's also the fact that, at present, there simply may not be the content to justify the second tier. While Disney has a lot of big plans for theatrical releases in 2021, right now, there are months where nothing is happening. No matter how minor the price increase might be for this new tier, customers will want to get something for it. Certainly, we could see a reshuffling of the release calendar that helps alleviate this issue, but it is worth considering.
There's no question that Disney's Investor Day on Thursday will contain big announcements; the only question is exactly what those announcements will be. Certainly we'll see announcements about content, new shows and movies that are in the pipeline, but odds are there will be at least one major announcement that will be core to Disney's entire market strategy and give investors an eye to the future of what Disney+ will be going forward, not simply what sorts of product will be on it.
Your Daily Blend of Entertainment News
Content Producer/Theme Park Beat
CinemaBlend's resident theme park junkie and amateur Disney historian. Armchair Imagineer. Epcot Stan. Future Club 33 Member.
Your Daily Blend of Entertainment News
Thank you for signing up to CinemaBlend. You will receive a verification email shortly.
There was a problem. Please refresh the page and try again.