3 Huge Questions We Have After Warner Bros' Major HBO Max Announcement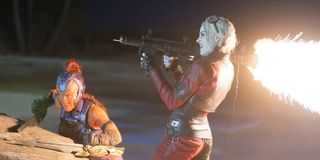 These are unprecedented times. And unprecedented times call for creative solutions. Those were the words of WarnerMedia Chair and CEO Ann Sarnoff when she revealed the studio's groundbreaking plan for 2021, that will have Warner Bros.' full slate of movies -- including Dune, In The Heights, The Suicide Squad, Godzilla vs. Kong, and The Matrix 4 -- open on the streaming platform HBO Max on the same day they reach theaters.
Wow.
Naturally, we're all reeling from this announcement. In a year filled with fluctuation, this is yet another sharp pivot toward trying to restore normalcy to the entertainment cycle. We can't just keep delaying release dates and pushing back productions as the global pandemic makes work environments and theatrical environments nearly impossible to manage. So, processing Warner's massive announcement, here are the biggest questions we hope to get answered in the coming days and weeks.
Will other studios, specifically Walt Disney, follow WB's lead?
There are signs that Disney already is warming to this idea, and the fact that they have Disney+ at their disposal just makes it all the more likely that they will follow Warner Bros. in releasing more major titles (if not all of their titles) on streaming at the same time as in theaters for the foreseeable future.
Similar to Wonder Woman 1984, Disney is going to put the next Pixar feature, Soul, on streaming on Christmas Day. Soul will not hide behind a Premium paywall the way that Disney's live-action Mulan did earlier this year. The Soul release suggests that conversations have been taking place at the Mouse House in terms of how to use streaming to bridge the gap until the world is back to a place where theatergoing is a safe experience.
Disney has released a fair amount of movies to Disney+ over this past year, but hasn't yet committed to a full slate of 2021 day-and-date releases on streaming and in theaters. Yet.
Other studios have experimented with changing the rules of the game. Universal fought for, and won, a much shorter release window, talking the major theater chains down to 17 days from when they could go to paid VOD after playing in a multiplex. We can only wonder what this new news will mean in terms of leverage power the studios have over movie theaters, who will be starving for exclusive content to lure audiences back to theaters once vaccines make it safer to congregate in crowds.
What does this mean for movie theaters?
Well, it's not the best news they've ever heard, but it's also not a total disaster. The worst-case scenario for movie theaters would be if they either had to close down and stay closed, or if major movie studios bypassed them completely and only committed to streaming. The Warner Bros. deal might not sound like it on the surface, but it does (at the very least) attempt to offer a best-of-both-worlds scenario, for the time being.
Remember, unprecedented times. It's not physically possible for a blockbuster like Wonder Woman 1984 to open safely on a worldwide scale. Weighing issues like piracy and accessibility, going to streaming and theaters on the same day gives options to all types of audiences. Those who really want to see Dune or In The Heights on the big screen have that option, so long as theaters in your area are still open, and able to operate safely. Those who do now have an open movie theater near them can still participate in the watercooler conversation for a major movie, and not risk their health to do so.
This undoubtedly will eat into the amount of money that movie theaters were hoping to earn back as 2021 rolls along. But best-case estimates about the distribution of a global vaccine shows that the general public might not get treatments until late Spring of Summer. Movie theaters would be earning nothing, theoretically, during this stretch. WB's model seems to allow them the opportunity to earn something in the short term, and be poised to roar back if and when the model changes.
That's the thing: This decision does not have to be permanent, and by no means do I think it will be permanent. Wonder Woman 1984 will be on HBO Max. But I'm quite certain that by the time The Batman rolls around in 2022, WB no longer will be making their tentpoles available on a streaming service, and you will have to go to a theater to visit Matt Reeves' Gotham.
Will this change our movie-going habits?
For some, yes. There definitely has been a subset of people who have grown accustomed to having new movies appear on streaming during the pandemic. Netflix has trained audiences to look for movies from directors like David Fincher, George Clooney and Ron Howard on its service. The examples I mentioned above will only make it easier for casual moviegoers to simply wait until a movie is available on HBO Max or Disney+ because it's easier, faster and cheaper.
For others, though, the movie-going experience will never change, and as soon as it's safe for all of us to attend a premiere on a Friday night, we will be right back to it. This can't be emphasized enough. These are unprecedented times. It's a global pandemic. The film industry held out for as long as it could, but the short term solution, which will provide SOME relief, involves utilizing streaming services to keep entertainment in front of audiences.
Can theaters come back? Of course. Will they look different? Possibly. Could they one day grow back into the thriving multiplexes packed with people hungry for the latest story from our favorite film directors and stars? I believe so, with all of my heart.
Sean O'Connell is a journalist and CinemaBlend's Managing Editor. He's frequently found on Twitter at @Sean_OConnell. ReelBlend cohost. A movie junkie who's Infatuated with comic-book films. Helped get the Snyder Cut released, then wrote a book about it.
Your Daily Blend of Entertainment News
Thank you for signing up to CinemaBlend. You will receive a verification email shortly.
There was a problem. Please refresh the page and try again.