All The Major Love Actually Character Stories, Ranked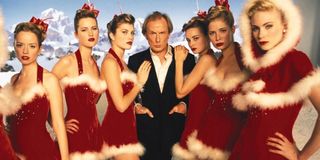 For 17 years now, Richard Curtis' Christmastime romantic comedy Love Actually has brought joy, heartache, awkwardness, lobsters, and one of the most aggressive yet best-timed turtleneck sweater zip-ups in cinematic history. Over the course of two-hour collection of intertwining stories leading up to a Christmas no one will ever forget, we love, loathe, and love to loathe an assortment of iconic characters played by the likes of Alan Rickman, Colin Firth, and Emma Thompson (god bless her and her broken heart here). But deciding on which of the nine stories features throughout the movie is best is no easy task. Trust me, I know…
In recent days, I have conferred with everyone from editors and video producers here at CinemaBlend and my wife to come up with the best possible ranking of the major character stories in Love Actually. And that was after spending way too much time watching Andrew Lincoln aggressively zipping his sweater and having one of the most iconic fits of angsty rage on the streets of London, going back and trying to come to terms with Laura Linney's story, and finding myself distracted by making yet another Christmas playlist centered around the greatest moments in this quintessential early 2000s romanic comedy. Here's how things shook out…
9. John And Judy
Starting things off, we have the story involving John (Martin Freeman) and Judy (Joanna Page), two stand-ins for sex scenes on the set of a movie who strike up a relationship after spending countless hours going through the motions. This story comes in at the bottom of the pack, not because it's a terrible story lacking humor, but because there's just not a lot there. All off the other stories featured in Love Actually have heart or at least stakes, but this one is lacking in both of those categories as well as depth.
8. Juliet, Peter And Mark
You would think that having one of the central stories of Love Actually this far down on the list would be a mistake, but hear me out. Sure, Juliet (Keira Knightley) and Peter's (Chiwetel Ejofor) wedding ceremony serves as one of the major central points in the movie where several storylines intertwine, and then Mark (Andrew Lincoln) admitting that he doesn't hate his best friend's wife but is actually in love with her (in a pretty creepy way) is a highly-emotional point in the movie, but all of this is just damn ridiculous. And once you look past the "Sweater Zip Heard Around The World" this storyline is just about a terrible person being an awful friend and being a jerk because he's too afraid to say how he feels.
7. Colin, Tony And The American Girls
Colin's (Kris Marshall) journey to Wisconsin (of all places to choose from in the United States) to meet American girls who he thinks are obsessed with British men isn't the most romantic, rational, or realistic story in Love Actually, but in a movie that's admittedly excessively sappy in pretty much every storyline, this one works because it's hilarious, not overly pretentious, and honestly defies expectations. After striking out with multiple women (including the caterer), even Colin's best friend, Tony (Abdul Salis) doesn't think that Colin will have a successful trip. But when he gets to Wisconsin (again, WISCONSIN), Colin is actually right and swoons several girls at the bar. And while it seems like it's a dream and Colin is going to wake up at any moment, the epilogue proves this is a reality and not some fantasy.
6. Sarah, Karl And Michael
One of the most maddening and excessively awkward storylines in Love Actually is the one involving Sarah (Laura Linney) an American living in England with her mentally ill brother Michael (Michael Fitzgerald). And while the strained relationship shared by the siblings brings some weight and realism to the movie, Sarah's obsession with her coworker Karl (Rodrigo Santoro) but failure to communicate is infuriating at every step. When Michael calls and then calls again while his sister and her love interest are finally hooking up, all Sarah had to do was tell Karl "Hey, I've got to handle this but can we go on an actual date at some point?" would have prevented this melodramatic failed attempt at love from becoming just so much. It's beautiful that she prioritizes her brother's needs, but frustrating that she can't also have some love in her life. Her failure to communicate makes me want to skip this story every time, and I LOVE Laura Linney.
5. Daniel, Sam, Joanna And Carol
It's time for the heavy hitters of Love Actually, and what better way to start this section off than with a story about a widower trying to connect with his stepson following the death of his wife and the boy's mother. I could watch an entire movie of Daniel (Liam Neeson) and Sam (Thomas Sangster) waxing poetic about the pitfalls of love over numerous romantic dramas in the lead-up to the big Christmas pageant where the young boy wants to impress his crush Joanna (Olivia Olson) before she goes back to America. From "Bye Bye Baby" at the funeral to "All I Want For Christmas Is You" during the pageant (even with those weird kids dancing), this entire storyline is one of the best. And then Daniel being able to find new love with Carol (Claudia Schiffer) is the icing on the Christmas cake.
4. Jamie And Aurélia
Depending on who you ask, the story of Jamie (Colin Firth) and Aurélia (Lúcia Moniz) falling in love despite not being able to speak the same language is either the best or worst stories in Love Actually. And while there's an argument to be made for both, it's honestly somewhere towards the middle of the pack with a slight lean towards the better of the nine stories told here. Watching the British writer trying to get over a failed relationship only to fall for his Portuguese housekeeper is one of the more charming and heartfelt sections of the movie, especially the drive home after the pages in the water incident where they profess their love but neither speaks the same language. There are also comical scenes when Jamie seeks out Aurélia with her family as well as the "I hate Uncle Jamie" moments earlier.
3. David And Natalie
Sometimes all you need is a passionate love story filled with attraction, a more humorous spin on the failure to communicate, and a strained relationship with a foreign superpower, and the story involving British Prime Minister David (Hugh Grant) and 10 Downing Street staff member Natalie (Martine McCutcheon) has all of that and more. There is an attraction throughout this entire chapter of Love Actually, but things come to a head when the US President (Billy Bob Thornton) make a move on Natalie, resulting in David becoming quite enraged at his foreign ally, and kicking off the final section where he seeks out Natalie and surprises random Londoners in the process. Combine that with the iconic kiss at the conclusion of the Christmas pageant and Hugh Grant's narration at the opening of the movie and you have yourself a near-perfect story.
2. Billy Mack And Joe
The tale of aging rock and roller Billy Mack (Bill Nighy) and his longtime friend and manager Joe (Gregor Fisher) doesn't tie in with the other characters in the movie (though his version of "Love Is All Around" is featured heavily on radios and TV sets throughout) but it remains one of the best in the entire movie. Watching the aging Billy Mack get a new lease on stardom by topping the pop charts is hilarious, unpredictable, and a bit asinine, and sets up one of the most fulfilling endings. Instead of staying at a Christmas party with all those young people who don't care for him, Billy Mack shows up at his oldest and dearest friend's house to get drunk and watch porn. I mean, who doesn't love watching Bill Nighy being Bill Nighy in a Richard Curtis romantic comedy?
1. Harry, Karen And Mia
And then coming in at the top of the list is the heartbreaking story of Karen (Emma Thompson) learning that her husband Harry (Alan Rickman) is having an affair with his secretary Mia (Heike Makatsch) in the most heartbreaking of ways. From the moment we see Harry go through the process of purchasing a necklace for Mia (though Rowan Atkinson's character adds some comedic relief here), we know he's gone too far and that there's no going back.
After Karen pokes around in her husband's coat and finds the necklace she thinks it's for her, only to be let down on Christmas Eve when the present she thinks is a necklace is actually a Joni Mitchell CD. Restraining herself, Karen goes to the bedroom to cry it out before confronting her husband with one of the most tragic comments in any romantic comedy and says he's made a joke of her and their marriage.
This story works so well for numerous reasons: there's a defined villain tempting the previously faithful husband, Emma Thompson's portrayal of a woman in the midst of the biggest crisis of her life, and her ability to put on a happy face and act like nothing is wrong in front of her children, her peers, and everyone at the Christmas pageant. And it leaves the viewer wondering what's next for the couple.
Richard Curtis' Love Actually remains one of the most heartwarming, heartbreaking, and sidesplitting romantic comedies of the past 20 years and is filled with great stories, characters, and situations that have us coming back time after time, even if it disappears from streaming services around this time every year. Which of these stories do you look forward to the most when you put on Love Actually? Let us know in the comments and don't forget to complete the poll down below.
This poll is no longer available.
Your Daily Blend of Entertainment News
Philip grew up in Louisiana (not New Orleans) before moving to St. Louis after graduating from Louisiana State University-Shreveport. When he's not writing about movies or television, Philip can be found being chased by his three kids, telling his dogs to stop yelling at the mailman, or yelling about professional wrestling to his wife. If the stars properly align, he will talk about For Love Of The Game being the best baseball movie of all time.
Your Daily Blend of Entertainment News
Thank you for signing up to CinemaBlend. You will receive a verification email shortly.
There was a problem. Please refresh the page and try again.