Upcoming Will Ferrell Movies And TV Shows: What's Ahead For The Elf Star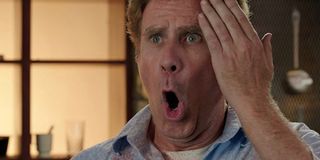 Both as an actor and producer, Will Ferrell is one of our most well-known and hardest-working A-list comedians, providing no shortage of movies and shows through his familiar brand. While they're not always as hilariously funny as his earlier hits like Anchorman, Old School, and Elf, the Eurovision Song Contest star/writer/producer will certainly give every one of his projects his all. There's no denying Ferrell's dedication, persistence, and endless enthusiasm for his craft.
For Ferrell fans, they'll be thankful to know that the comedic personality doesn't plan to slow down anytime soon. Rather, the Saturday Night Live veteran has a variety of movies and shows announced or currently in-the-works, including a new AppleTV+ series, a revamped adaptation of a Christmas classic, and a not-so-dramatic retelling of one of Netflix's most scandalous documentaries. If you love Will Ferrell movies, here's what you can look forward to in the near future! Presently, that doesn't include Elf 2, but maybe it will someday! (When there's a Will, etc. ...)
The Shrink Next Door - TBA 2021 (Pre-Production)
While Will Ferrell is mostly known for his film work nowadays, the SNL standout has gradually been returning to the small screen. Ten years ago, Ferrell played recurring roles in The Office, 30 Rock, and Eastbound & Down. He also appeared in The Spoils of Babylon, No Activity, and he headlined the Lifetime movie, A Deadly Adoption, opposite Kristen Wiig. Additionally, Ferrell made guest star appearances in The Jim Gaffigan Show, The Last Man on Earth, Throw Shade, and Drunk History. Now, the actor-producer will team up with AppleTV+ for his first starring television role since leaving SNL.
Reuniting with his Anchorman co-star Paul Rudd, Will Ferrell will lead The Shrink Next Door, a limited series based on the podcast of the same name. It follows Martin "Marty" Markowitz (Ferrell), an insecure man who seeks guidance from Dr. Isaac "Ike" Herschkopf, only for Ike to take over Marty's life. The Big Sick's Michael Showalter will direct and Succession's Georgia Pritchett is writing. Rudd and Ferrell will also serve as executive producers.
Untitled eSports Project - TBA (Pre-Production)
Whether it's Talladega Nights: The Ballad of Ricky Bobby, Blades of Glory, Semi-Pro, Kicking and Screaming, or HBO's Ferrell Takes the Field, Will Ferrell has headlined several sports comedies in his day. Now, the A-list comedian is adding another one to the roaster. More specifically, Ferrell will venture into the world of eSports, i.e. a video game sports competition, in an untitled comedy from director Richie Keen (Fist Fight).
This new movie will follow Will Ferrell as an over-the-hill middle-aged gamer who's still a member of a professional eSports team, even though most players retire from the activity in their 20s (namely due to slowing hand-eye coordination). The project has been in-the-works for a little while now, though it reportedly entered the early stages of pre-production last year. Details remain limited, but we'll keep you posted when (or if) we learn more about the newest addition to one of Ferrell's favorite comedy genres.
The Prince of Fashion - TBA (Pre-Production)
Will Ferrell has worked with a few high-profile directors in the past, including Jon Favreau, the late Nora Ephron, Phil Lord & Chris Miller, and his frequent collaborator, Adam McKay. But if this new project comes to be, it'll allow Ferrell to collaborate with one of our most distinctive working auteurs: Gus Van Sant. The actor and the director are attached to Amazon Studio's The Prince of Fashion, which follows a reporter's trip to Paris Men's Fashion week while joined by his 13-year-old son. The forthcoming film is inspired by Michael Chabon's National Magazine Award-nominated GQ article, "My Son, The Prince of Fashion," from 2016. In addition to directing, Van Sant is also adapting the screenplay.
Along with starring in the movie, Will Ferrell is boarding the project as a producer alongside Jonathan Goldstein and John Francis Daley (Game Night). Additionally, Jacob Tremblay is (or, at least, was) reportedly in talks to star as Ferrell's son. The Prince of Fashion is apparently in pre-production. There's no word yet on when it might start shooting.
Fruitcake - TBA (Pre-Production)
Having built a career based on playing petulant and stentorian-voiced man-children hoping to prove themselves to their parents, their loved ones, and/or the world-at-large (often in competitive industries) Will Ferrell has been easing into the second phase of his career, which involves middle-aged suburbanites and/or unconfident everymen struggling to adapt to the difficulties they face, often related to parenthood and/or their personal well-being. Examples include The House, Downhill, the Daddy's Home movies, Get Hard, and even The LEGO Movie. Now, another addition will be added to this burgeoning Ferrell genre with Fruitcake, which pairs him with Oscar-winner Julianne Moore.
While Will Ferrell is known for his comedies, the newest film from director Max Winkler (Flower, Jungleland) is apparently a crime drama. It follows Sandy (Ferrell) and Kay Jenkins (Moore), a seemingly upstanding middle-class couple who use Sandy's accountant job to embezzle $17 million. Ferrell has previously etched his way into dramatic territory with Stranger Than Fiction, Winter Passing, and Everything Must Go. It'll be interesting to see how the actor handles his latest tonal departure.
A Christmas Carol - TBA (Pre-Production)
Will Ferrell is no stranger to Christmas movies. Certainly, Elf has become a regular favorite during the holiday season, while Daddy's Home Two also served as another yuletide comedy on Ferrell's ever-growing resume. Now, the actor-producer will reunite with Daddy's Home directors Sean Anders and John Morris for another holiday-based lark. This time, they'll draw from the iconic words of Charles Dickens to provide a new musical adaptation of his classic 1843 novel, A Christmas Carol. Ferrell will be joined by Ryan Reynolds for this latest Christmas endeavor, though details remain limited otherwise.
It's currently unclear if Will Ferrell is playing Ebenezer Scrooge or Bob Cratchit, with Ryan Reynolds (presumably) filling in the other role, though it would make more sense for Ferrell to play Scrooge than Cratchit. Nevertheless, we'll have to wait and see if it's another Elf-worthy celebration or, well, another Daddy's Home Two.
The Legend Of Cocaine Island - TBA (Announced)
Last year, Netflix debuted The Legend of Cocaine Island, a documentary filled with so many absurd stories and details that it fits the definition of "stranger than fiction." Certainly, the bizarre true story of a man's desperate search for buried loot of $2 million worth of cocaine located in the Caribbean has the makings of a rich Hollywood comedy, and Will Ferrell is itching to make a (not-so-)dramatized retelling.
The remake, which will also debut on Netflix, was announced late last year, and it's still in the early stages of development. Peter Steinfeld (21) is on-board to write the screenplay, while Ferrell will also produce this streaming exclusive. More details should arrive later on, as it's easy to see how this movie might eventually get fast-tracked.
American Huckster - TBA (Announced)
Based on the 2016 book American Huckster: How Chuck Blazer Got Rich from — and Sold Out — the Most Powerful Cabal in World Sports by Mary Papenfuss and Teri Thompson, Deadline reports that Will Ferrell will take on the role of Chuck Blazer. He's a Queens hustler who managed to "wheel and deal his way to the top of FIFA," i.e. the governing body of soccer and the most corrupt sports organization in the world, in the latest film from playwright-turned-filmmaker Leslye Headland (Bachelorette, Sleeping with Other People). Also on board to rewrite Robert Siegel's screenplay, Headland continues her working relationship with Ferrell, as he produced her first two films. Should this movie come together, though, it'll be the first time Headland directs him.
The project was set up with HBO Films last year, though progress has been slow. That said, Leslye Headland has kept herself busy with several television shows, most notably Netflix's outstanding Russian Doll, which was renewed for a second season.
Untitled Will Ferrell/Jason Momoa Project - TBA (Announced)
One of them is Aquaman. The other is Anchorman. Soon, they'll be teaming up (maybe) for a brand new movie. More specifically, Will Ferrell and Jason Momoa are attached to an untitled show business comedy, which sees Ferrell as a washed-up TV star who reunites with an actor (Momoa) who once played his son on a TV show. In the intervening years since the actors worked together, Momoa's character has become a huge star, which probably doesn't sit well with Ferrell's character. Certainly, that sounds like the recipe for a promising comedy, though it's hard to know how it's coming along.
Produced by Nick Stoller and Will Ferrell, with a screenplay written by Andy Mogel and Jarrad Paul, progress has also been slow-going for this forthcoming movie; it was announced (with no new updates) back in 2017 (via Variety).
Will it come to be? Certainly, Will Ferrell and Jason Momoa have a lot of their plates, particularly with Momoa's profile rising with Aquaman's billion-dollar success. This one might fall apart if it hasn't already, but it could be fun if it comes to pass.
The 100-Year-Old Man Who Climbed Out The Window And Disappeared - TBA (Announced)
Hollywood hasn't had the best luck remaking foreign-language films for an American audience. Certainly, Will Ferrell learned that lesson the hard way when he released this year's mediocre Downhill, based on the excellent Force Majeure. Nevertheless, prior to that film's soft debut, Ferrell signed on to another remake, this one inspired by the Oscar-nominated 2013 Swedish comedy, The 100-Year-Old Man Who Climbed Out The Window And Disappeared, based on the novel of the same (long-winded) name.
Telling the story of a century-old explosives expert who grows bored of his retirement home and jumps out the window to embark on an unexpected adventure, this remake/re-adaptation would see Ferrell playing the (very old) lead role, thus continuing the tradition of the original movie, which had 48-year-old Robert Gustafsson playing the titular senior citizen.
This well-liked comedy was certainly a big crowd-pleaser, becoming Sweden's highest-grossing film. It's easy to see how Hollywood would want to capitalize on that success, but the last developments were back in 2017.
It should also be noted that, in addition to all these projects, Will Ferrell is also attached to produce several more movies and shows, which we don't have the time or space to discuss at length in this article. But, a few of his high-profile producing-only projects include Barb and Star Go to Vista Del Mar, 79ers, The Woman in the House, Bad Blood, First Ladies, and the third season of HBO's Emmy-winning Succession.
Of course, there are several more projects in various stages of development with Ferrell attached, and it's a testament to his staying power in Hollywood that he's able to stay involved with so many different movies and shows at any given time. And, suffice it to say, if you love Will Ferrell, you have several projects worth keeping an eye on.
Your Daily Blend of Entertainment News
Will is an entertainment writer based in Pittsburgh, PA. His writing can also be found in The Playlist, Cut Print Film, We Got This Covered, The Young Folks, Slate and other outlets. He also co-hosts the weekly film/TV podcast Cinemaholics with Jon Negroni and he likes to think he's a professional Garfield enthusiast.