How To Watch Christmas Vacation Streaming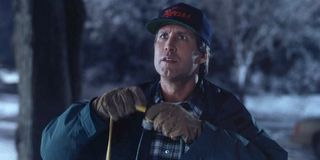 CinemaBlend participates in affiliate programs with various companies. We may earn a commission when you click on or make purchases via links.
No Christmas movie marathon is complete until Clark Griswold risks life, limb, and sanity in the name of holiday spirit. But with more options than unwanted family members showing up on your doorstep a more than a week before the big day, finding out where to watch National Lampoon's Christmas Vacation streaming is about as easy as checking all 6,250 lights hanging from the Griswold's house.
Well, in order for everyone to have the hap-hap-happiest Christmas, here is a rundown that will have you enjoying the classic so fast you won't have a need for a non-caloric, silicon-based kitchen lubricant that's 500 times more slippery than any cooking oil. Just make sure you don't have a plastic plate in your head before starting…
Where Is National Lampoon's Christmas Vacation Streaming
If you want to see Clark Griswold battle his neighbors, encourage his cousin-in-law to kidnap his greedy boss, and cause a blackout in the greater Chicago area, you will need to subscribe to the AMC+ streaming service. You can get AMC+ as an add-on through a number of different services like the Roku Channel, Apple TV, and cable providers, but the easiest method is found by using Amazon Prime (opens in new tab). All you have to do is search for National Lampoon's Christmas Vacation and the different options will pop up, including AMC+.There is a seven-day free trial of AMC+ when used through Amazon, and the streaming service will cost you $8.99/month after that expires.
Have you considered using a VPN? You may already use one as a way to keep your internet access secure when using public wi-fi, but did you know you can use a VPN to watch your favorite streaming content when you're traveling out of region? If you're traveling out of the U.S. area and still want to catch Christmas Vacation on AMC+, consider using a VPN (opens in new tab).
Will National Lampoon's Christmas Vacation Be On Netflix?
One of the biggest questions that comes up with any holiday classic is if it is streaming on Netflix. Unfortunately, National Lampoon's Christmas Vacation is not streaming on Netflix and can only be streamed through AMC+ this year. Like a lot of Christmas movies, Christmas Vacation tends to pop on different streaming services throughout the year before dropping off around the holidays.
Other Ways To Watch National Lampoon's Christmas Vacation
But what if you were banking on National Lampoon's Christmas Vacation being on Netflix this year and you don't want to add another streaming service to your ever-growing collection? Well, you're not out of luck as you can catch up with Clark and the rest of the Griswold (very) extended family through other ways this holiday season.
One option is to watch National Lampoon's Christmas Vacation when it airs on AMC throughout the month of December. According to TV Guide, the third entry in the Vacation series will be airing quite regularly on AMC between now and Christmas 2020, meaning you have plenty of opportunities to watch it again. If you have a busy schedule, you can always record it for later or check with your cable provider to see if it is in the on-demand library.
You can also rent or purchase digital copies of National Lampoon's Christmas Vacation through services like Amazon if you none of the other options work out. The online retailer also has physical copies of the timeless Christmastime family comedy, so you can always pick up a Blu-ray (opens in new tab) or DVD copy and enjoy the movie for years to come.
That should be more than enough to set you on the right path to enjoying National Lampoon's Christmas Vacation for the first, second, or 100th time this holiday season. And like that jelly of the month club, it's the gift that keeps on giving.
Philip grew up in Louisiana (not New Orleans) before moving to St. Louis after graduating from Louisiana State University-Shreveport. When he's not writing about movies or television, Philip can be found being chased by his three kids, telling his dogs to stop yelling at the mailman, or yelling about professional wrestling to his wife. If the stars properly align, he will talk about For Love Of The Game being the best baseball movie of all time.
Your Daily Blend of Entertainment News
Thank you for signing up to CinemaBlend. You will receive a verification email shortly.
There was a problem. Please refresh the page and try again.