Cousin Eddie And 8 Other Christmas Movie Characters You'd Hate To Spend The Holidays With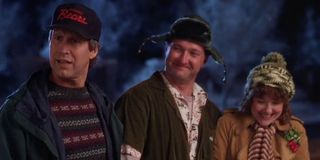 The holidays are typically a time for family getting together, and while not everyone may be doing that this year, which can be a bummer, there are some upsides. Let's be honest, we all have at least one person we tolerate during the holiday season, but it's important to realize now more than ever that it can always be worse.
For example, that person in your life could be anybody on this list, who would, without question, be some of the worst people to spend the holidays with. Some of these people are included because they're straight-up monsters, and others just because they'd kill the vibe on an otherwise fun time of the year. Let's dive in and remember this holiday season that everything can always be worse.
Cousin Eddie - Christmas Vacation
Unexpected guests for the holidays can be a delightful surprise, though less so when you're already in a packed house. Granted, it was almost worse that Christmas Vacation (opens in new tab)'s Cousin Eddie and his entire family arrived in their RV and proceeded to make every holiday event after that much worse with his presence. Eddie is the type of relative that we all know to some degree, though I would hope none of us have the full-blown experience.
Aunt Clara - A Christmas Story
Ralph's Aunt Clara is one of the worst kinds of people around the holiday season, because everyone knows there are few things worse around the holidays than a bad gift-giver. Ralph's Aunt Clara is the worst of them, in that she bought a gift not for her nephew to enjoy, but for his mother to enjoy. Typically when that happens, a kid knows they're getting clothes, but the full-on bunny outfit was just flat-out evil. Hopefully Ralphie stuffed that thing in a closet soon after he got it.
Walter Hobbs - Elf
I don't think many people would disagree that Walter is a bad guy at the beginning of Elf; the guy was on the naughty list, for crying out loud. I think the hot take here is that most people think Buddy's biological father is mostly over his naughtiness by the end of the movie, and I'm not so sure. He essentially quit a job that he felt disrespected him, only to turn around and create a bestseller that is based on Buddy's life. How much of that money did Buddy see, I wonder? Obviously, we may never know, but I'd think whatever percentage Buddy got wasn't enough.
Rizzo - The Muppet Christmas Carol
The Muppet Christmas Carol is arguably the best version of A Christmas Carol, as The Muppets put Charles Dickens' classic tale on their backs and tell the story like no one has ever done it before. Well, most everyone contributes anyway, as Rizzo is just the worst narrator. Gonzo could've easily done the whole thing himself, and not been distracted by Rizzo's jelly bean-hiding antics. If I knew Rizzo was narrating my story of greed, I'd just ask the Ghost of Christmas Future to end it right then and there.
Mayor Augustus MayWho - How The Grinch Stole Christmas
Ron Howard's How The Grinch Stole Christmas knew he needed a villain to carry his live-action adaptation of the classic Dr. Seuss tale, and obviously, it defeated the purpose of the movie if it ultimately was The Grinch. Enter the arrogant and seedy Augustus MayWho, the man who was so cruel to The Grinch that he ruined Christmas for him. Augustus deserved everything he got coming to him, which was devastating heartbreak while the Grinch carved up food on Christmas day with the town.
Krampus - Krampus
Krampus is a double whammy because him showing up means you're already having a shitty Christmas. Imagine the worst Christmas you ever had, and then some creature shows up and starts attacking your family for not having a happy enough holiday! It's certainly not going to make my terrible holiday any better, and I honestly wonder how bad kids had to be in ancient Europe that they had to construct such a creature to keep the young ones in line.
Willie - Bad Santa
This may sound weird to say, but I almost respect Willie from Bad Santa more than anyone else on this list. He's a bad person, he owns it and really, more or less, remains a bad person at the end of the movie. Sure, he stuck up for Thurman and tried to be there for him when no one else was, but it's not like he changed his life in a significant way. Willie more or less lucked into legitimate work because cops didn't want bad press for shooting a mall Santa, and if you saw Bad Santa 2, you know it didn't work out.
Know-It-All - The Polar Express
Imagine how much it would take to ruin a magical experience like that of The Polar Express. You're headed to the North Pole to meet Santa Claus, and you have this loudmouth kid going on about how everything works, and just being obnoxious. And let's be honest, this is an advanced level of obnoxious. Like, so obnoxious that other children (who, by nature, can be a little obnoxious) notice it. He gets a little better by the end of the movie, and he may grow up to be a perfectly normal dude, but still, I'm not willing to take the chance and let this dweeb ruin my holiday.
Buzz - Home Alone
I'm not sure there's a worse person on this list, and that's saying something with Krampus and Rizzo in the fold. Buzz McAllister was an absolute terror to his brother, but he's also the type of snake who wouldn't own up to any of it. It goes without saying you don't want a skeeze like this breaking bread at the dinner table, and anyone in your family should understand that. The McAllister family may indulge Buzz and his lame candle drumming shenanigans, but I'd sooner spend the holidays alone 100 times over before spending one with him.
Do you have any other Christmas movie characters who it would be absolute torture to spend the holidays with? List them down in the comments below, and continue to stick with CinemaBlend for all the latest happening in the world of movies and television.
Mick likes good television, but also reality television. He grew up on Star Wars, DC, Marvel, and pro wrestling and loves to discuss and dissect most of it. He's been writing online for over a decade and never dreamed he'd be in the position he is today.
Your Daily Blend of Entertainment News
Thank you for signing up to CinemaBlend. You will receive a verification email shortly.
There was a problem. Please refresh the page and try again.